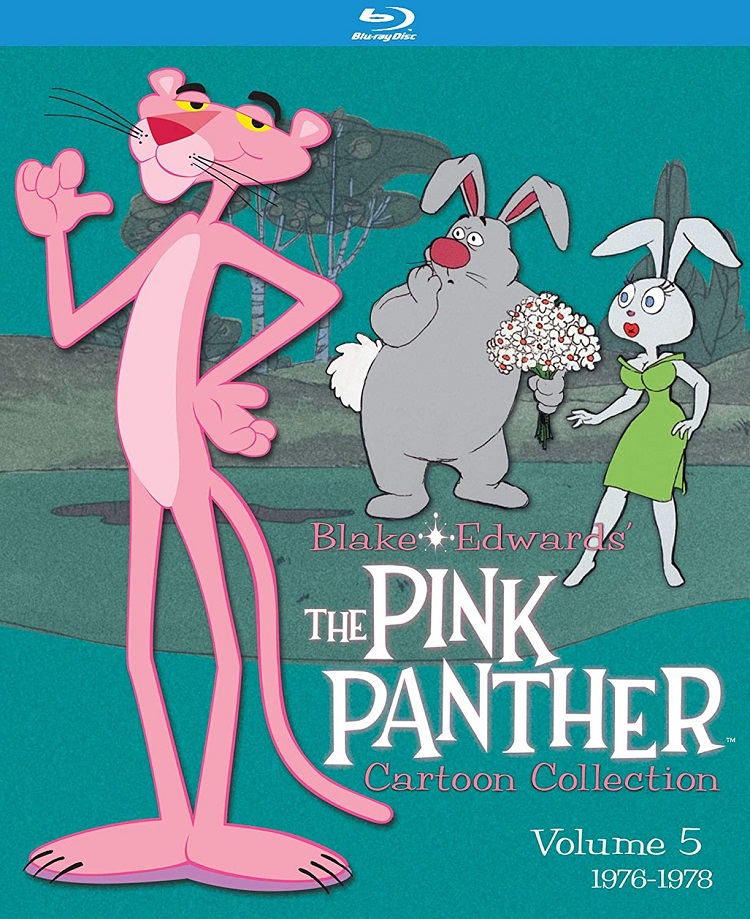 As mentioned in my past reviews of past volumes, Friz Freleng was an instrumental figure in animation history because of his work on Warner Brothers' Merrie Melodies and Looney Tunes. He and producer David H. DePatie went on to form DePatie-Freleng Enterprises. Kino Lorber Animation has been releasing that company's work on Blu-ray. After a few years of creating theatrical Pink Panther cartoons, DePatie-Freleng brought them to television with The Pink Panther Show, which premiered on NBC on September 6, 1969. DePatie-Freleng resumed producing theatrical shorts again in 1971. The Pink Panther Cartoon Collection Volume 5 presents 22 cartoons, including three which were revised and given different names. Eight of them were theatrical releases, from Mystic Pink to Therapeutic Pink. The remaining 15 were made for The All New Pink Panther Show, which ran from 1978-1980 on ABC. Later, they were screened in theaters.
Depending on the cartoon, the Panther is either a chaotic force or on the receiving end of one. In The Pink Pro, the Panther teaches the Little Man different sports, but with similar outcomes involving bodily injury. In Sherlock Pink, he plays detective to find out who ate his cake (unaware he did it in his sleep). He comes across a masked criminal Little Man and chases him through a Wonderland-esque house, in a fun bit of role reversal.
In The Pink of Arabee (1976), a swami's rope falls in love with the Panther's tale. It was reissued as The Pink of Bagdad in 1978 with new music by composer Steve DePatie, son of the series co-producer; different sound effects; and running about 30 seconds longer with additional scenes and the removal of the rope slapping the Panther. The reissue didn't get the same clean-up that the original short did. Similarly, Pinky Doodle was reissued as Yankee Doodle Pink, and Rocky Pink as Pet Pink Pebbles. In the former, set in 1776, the Panther is tasked with Paul Revere's job, but he has trouble getting along with a horse, like he did in Pinto Pink.
When the cartoons debut on TV (Pink Pictures), the title card changes, as does the music. The animation is also a bit odd in this one. When running away from an alligator and later a bear, the Panther has up to five legs and they aren't all attached. There's more grain evident (seen in patches of blue in the background) and the objects on the cel layers don't blend as well.
Little Man gets a rest as the Panther takes on a slew of different nemeses: A family dog in Pink Lemonade, a storm cloud in Sprinkle Me Pink, a tiny alien in Pink U.F.O., a car that has been souped up thanks to a potion from Dr Jekyll in Pink Lightning, and a giant in Cat and the Beanstalk.
Pink Trumpet is a partial remake of Pink Tuba-Dore (1971) as Panther annoys his hotel neighbor, Little Man. Pink Daddy is a partial remake of Congratulations It's Pink. (1967), but the Panther has to raise an alligator baby instead of a human one. Pink S.W.A.T. is the last of a trio of cartoons where the panther battles a fly, which he also did in The Pink Tail Fly (1965) and A Fly in the Pink (1971).
Like the previous volumes, the video has received 1080p/MPEG-4 AVC encoded transfer displayed at an aspect ratio of 1.33:1. Colors continue to stand out in strong hues with blacks inky and whites accurate. The image suffers from some minor black and whites in the theatrical shorts. The TV shorts exhibit even more more marks. The focus isn't always sharp in Pink Pictures and Pink U.F.O. and film grain varies.
The audio is available in DTS-HD MA 2.0. The Panther cartoons are like silent films, predominantly using music and effects with only a few instances of noise in place of dialogue. The music comes through with strong clarity and are balanced well mixed with the effects. The track exhibits no signs of age or defect.
For the Special Features, there are 15 with commentaries. Returning speakers from the previous volumes are filmmaker Greg Ford (four), historian Jerry Beck (two), cartoon writer Wiliam Hohauser (four, two of which, Rocky Pink and Pet Pink Pebbles, with director Art Leonardi), and author Mark Arnold (five). "Think Pink – How to Draw Pink Panther" (SD, 4 min) with director Art Leonardi. Animated Main Titles – 8 Blake Edwards Films (HD, 33 min) is self explanatory. It's nice to have them all collected in one spot, from The Pink Panther (1963) through to Son of the Pink Panther (1993).
Although the collection sees a higher rate of recycling ideas with the end of the original production run near, the cartoons presented still provide a lot of laughs and demonstrate why the Panther, thanks to the creative team behind him, was a stand-out character in the medium. The Blu-ray delivers a satisfying high-def experience, although some of the cartoons are due for clean up. The commentary gang continues to offer good insight. While not the place to jump into the series, Volume 5 is still a worthy addition for collectors.