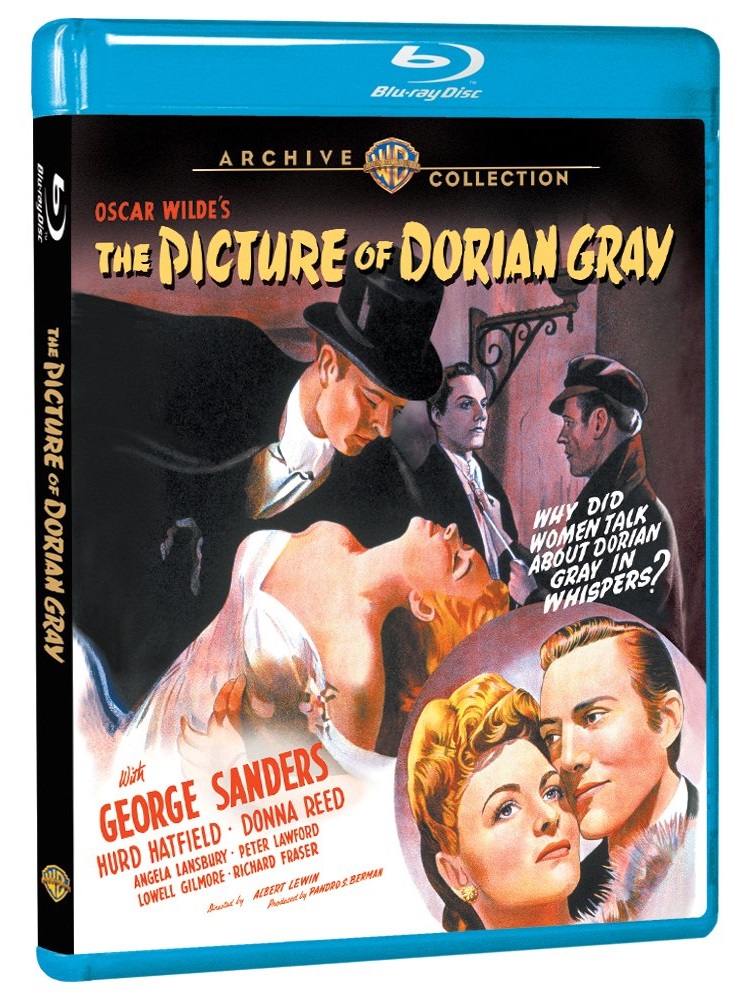 While it certainly wasn't the first motion picture adaptation of the Oscar Wilde classic, MGM's 1945 version of The Picture of Dorian Gray did have the honor of not only being the first feature-length American version of the tale, as well as the first to employ the use of color when black-and-white was the norm (during the war, even). Fortunately, Albert Lewin's masterpiece does so sparingly. Reserving the bulk of his (black-and-white) stock so that cinematographer Harry Stradling may deliver some truly atmospheric noir-like (and Oscar winning) photography, Lewin then dazzles viewers with four very brief – but simplistically powerful – color shots of the eponymous, cursed object of vanity set to just the right amount of mood music by Herbert (The Wizard of Oz) Stothart.
Now, for those of you who have never had the intellectual blessing of being able to distinguish the difference between classic literature from celebrity gossip magazine headlines on display near the Walmart checkstands, Wilde's original story centers on a young man whose portrait ages and corrupts while he does not. There. Chances are, you've seen some traces of it in other stories/TV shows/movies/comics/celebrity gossip magazine headlines. You may have even seen some of the many, usually inferior filmed versions of the tale before in your lifetime. (And no, just in case you're going to be a smartass and ask, Sean Connery's The League of Extraordinary Gentlemen most assuredly does not count – although it certainly did hit the "inferior" mark quite well.)
Here, the one and only George Sanders takes top-billing as Lord Henry Wotton, an extremely hedonistic, opinionated, and very cynical aristocrat in Victorian Era England who is truly only able to enjoy life via the various elements of vice: vicariously or otherwise. His friends aren't really that, as his world views and impure lifestyle tend to overwhelm them. One such acquaintance is the decidedly more moral artist Basil Hallward (Lowell Gilmore), who has been so busy painting his latest masterpiece – a life-size portrait of a young hunk o' flesh with the name Dorian Gray – that he has refused admittance to Lord Henry. Arriving unannounced one day, Lord Henry balks at the notion of being barred by his buddy, and barges in – only to meet and be instantly taken in by the young Mr. Gray.
And it's hard not to be instantly drawn to the youthful, innocence of Dorian Gray – especially when he's portrayed onscreen by a man like Hurd Hatfield (you can't make a name like that up), who appears to be a cross between Mads Mikkelsen and Benedict Cumberbatch (two more names you can't make up). A New York-born actor, Hatfield had studied drama in England before returning to the States for a brief career in film. The Picture of Dorian Gray was his first big picture, and his dangerous, deadpan demeanor throughout the course of this electrifying oldie was so effective that it all-but ruined his career in the process; everyone perceived him to be Dorian Gray and not a guy with a goofy name like Hurd Hatfield. Though the late Mr. Hatfield never truly understood why he landed the very part that would make and break him as a motion picture actor, one look at those deep, dark, full and fully hypnotic ocular organs will make it clear to all.
Those eyes are just as mesmerizing in Ivan Le Lorraine Albright's iconic portrait of the actor used in the film, wherein Stradling's beautiful early color photography comes into play. So is the rest of the film, too, naturally – once Lord Henry plants the seed of hedonism into the head of Dorian, who is eager to experience life to its fullest. Promising his very soul so that he may stay forever young instead of his painting, Gray soon finds himself indulging in every kind of (off screen) corruption known to man. Alas, every person he comes into contact with over the next twenty years is pretty much doomed from the start, be it a poor young songstress (a young Angela Lansbury) or Basil's grown niece (Donna Reed), who has an undying love for the seemingly wholesome man whose painted image becomes older and uglier with each passing sin.
Most of said sin is left to the inner creativity of the individual viewer (as it was in the original publication), but we are still privy to several bad deeds committed by our titular character. He promises to marry a girl, cruelly persuades her to stay the night (in sin), then banishes her for her promiscuous behavior (something men still do today, sadly enough). He murders, manipulates, and more – each time witnessing a substantial, evil change in the increasingly hideous portrait that he himself must banish into his attic room to prevent anyone from seeing it and discovering the truth. A young Peter Lawford (as an ineffectual hero type – or Peter Lawford, if you will), Richard Fraser, Douglas Walton, and Miles Mander co-star (usually in very small roles), while Sir Cedric Hardwicke provides the solid, uncredited narration.
The trained eye may also spot a number of familiar faces here and there. I couldn't help but spot the likes of Herbert Evans and Skelton Knaggs, and if you look closely, you might spot Bernard Gorcey, Reginald Owen, Frank O'Connor and several other reasonably famous faces from yesteryear. Alas, many of these actors' parts appear to have been reduced in post-production; the trailer for The Picture of Dorian Gray shows at least two scenes that did not make the final cut, including a creepy shot of (what I presume is) a woman drowning in a muddy, quicksand-like death. The trailer in question is included here with this Blu-ray from the Warner Archive Collection, and a quick comparison between it and the feature film will reveal just how truly superior this 1080p/MPEG-4 AVC transfer is to the average vault material.
In a nutshell, Warner Archive's The Picture of Dorian Gray is truly magnificent. The black-and-white photography is inky in all of the right places, and the various subtle touches to the background by Stradling and Lewin (from a watchful "eye" towards the beginning to that mysterious darn cat statue that accompanies Gray's painting) are all the more effective now. Likewise, the color inserts are positively gorgeous; breaking away from the confines of the rest of the film and leaving an impression on you – even when it's a still-pure image of Dorian Gray. The original mono soundtrack is presented here in DTS-HD MA 2.0 form, and is remarkably well-balanced and devoid of any annoyances. The feature film is presented in its original 1.37:1 theatrical aspect ratio and optional English (SDH) subtitles with very easy to see and read yellow letters are available.
Several special features from Warner's 2008 DVD of the movie. These goodies start out with an audio commentary with star Angela Lansbury and film historian Steve Haberman. The later of the two goes into the production of this highly innovative movie, while Ms. Lansbury gives us even more interesting information on the film's cast (she and Mr. Hatfield became great friends over the years). Two Oscar winning short subjects (also from 1945) are included, too. The first is a fun Passing Parade entry about Philippe Pinel featuring Wolfgang Zilzer and Gene Roth, Stairway to Light; the second is Quiet Please! – one of many Tom and Jerry cartoons I have never been able to watch since childhood. The aforementioned theatrical trailer rounds out this, another fine, highly recommended offering from the Warner Archive Collection.