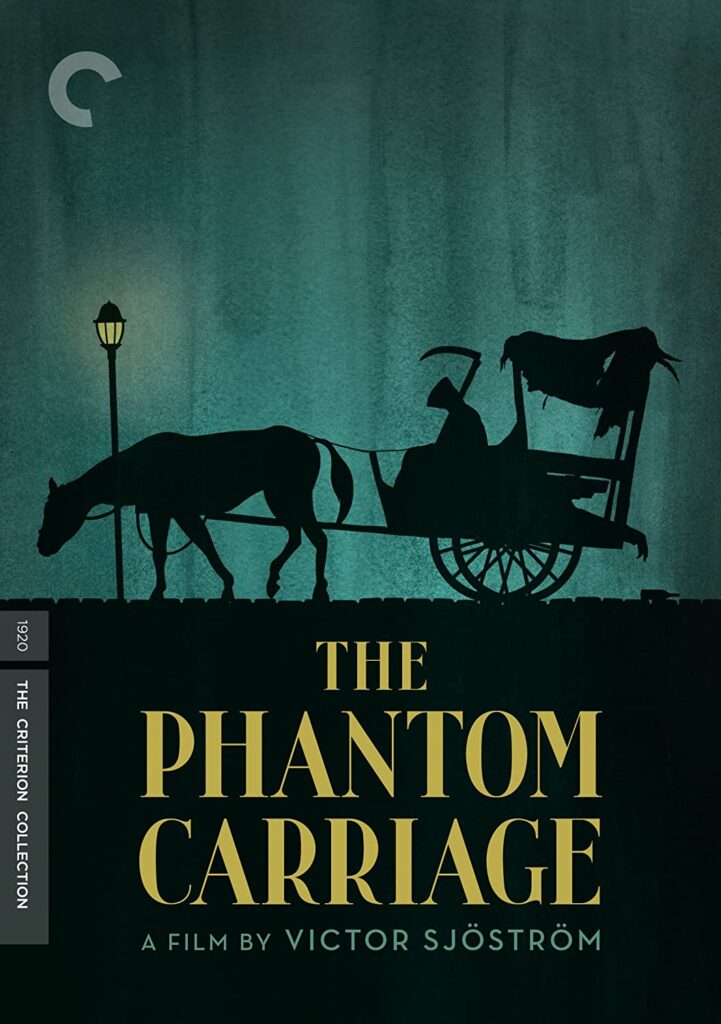 The Film
Victor Sjöström's intensely atmospheric, technically brilliant The Phantom Carriage was highly influential on the career of Ingmar Bergman, who would go on to cast Sjöström in several of his films, including Wild Strawberries. It's not difficult to understand why Bergman was so taken with the film and why Sjöström is considered the father of Swedish cinema. The Phantom Carriage is moody and spooky, but it's no mere genre film. Sjöström penetrates the human soul and captures some of the most stunning images of the silent era with his emotionally wrenching morality tale.
Legend has it that the last person to die before midnight on New Year's Eve is doomed to spend an entire year as death's carriage driver. As the clock ticks toward 12, Salvation Army Sister Edit (Astrid Holm) lies on her deathbed, wracked with tuberculosis. She pleads with her attendants to bring a local man named David Holm (Sjöström himself) to her bedside, but he refuses, as he's too busy drunk and carousing in the street.
Earlier, Holm had been recounting the legend of death's driver to his drinking buddies, but a drunken accident puts him face-to-face with the legend as he dies just before the clock strikes. Holm experiences Christmas Carol-like visions of his past mistakes and his despicable behavior toward his wife and children and Sister Edit, who we learn tried to care for him despite his resistance.
The events of The Phantom Carriage could easily tip over into overwrought histrionics, but Sjöström's elegantly crafted narrative path helps to prevent this. Flashbacks and structural disruptions are weaved together to create an altogether moving picture of the character's fate.
Technically, the film features incredible effects work, with some scenes double exposed up to four times to create the dynamic ghostly visages that collect the souls of the dead. Both the wispy carriage of death and the expressive, tortured faces of the actors become indelible images in The Phantom Carriage.
The Blu-ray Disc
The Phantom Carriage is presented in 1080i high definition with an aspect ratio of 1.37:1. Working from a restoration performed by the Swedish Film Institute, the Criterion Collection has created a stunning high definition transfer here. Despite being more than 90 years old, the film looks vital and fresh, with intricate detail work and sharp, bold clarity of image. Naturally, scratches abound on the surface, but the integrity of the image beneath is startling, and it's a treasure to have a work like this so well preserved. The various color tints used in the film are consistent in the transfer, which I can't praise highly enough.
Two score options are presented — a more traditional chamber piece by Swedish composer Matti Bye and an experimental option by duo KTL. Both are recently recorded and feature excellent range and fidelity.
Special Features
Bergman expert Peter Cowie contributes an excellent visual essay on the connections between Sjöström and Bergman and The Phantom Carriage and a number of Bergman's films. A 1981 interview with Bergman himself gives more insight into his appreciation of the film. Silent footage of the studio where The Phantom Carriage was the first film shot being built is also included. Historian Casper Tybjerg contributes an audio commentary, and the package includes a booklet with an essay by screenwriter Paul Mayersberg.
The Bottom Line
Exhibit A in what Blu-ray can do not just for modern big-budget spectacles, but for decades-old silent film, Criterion's superb disc of The Phantom Carriage is essential.