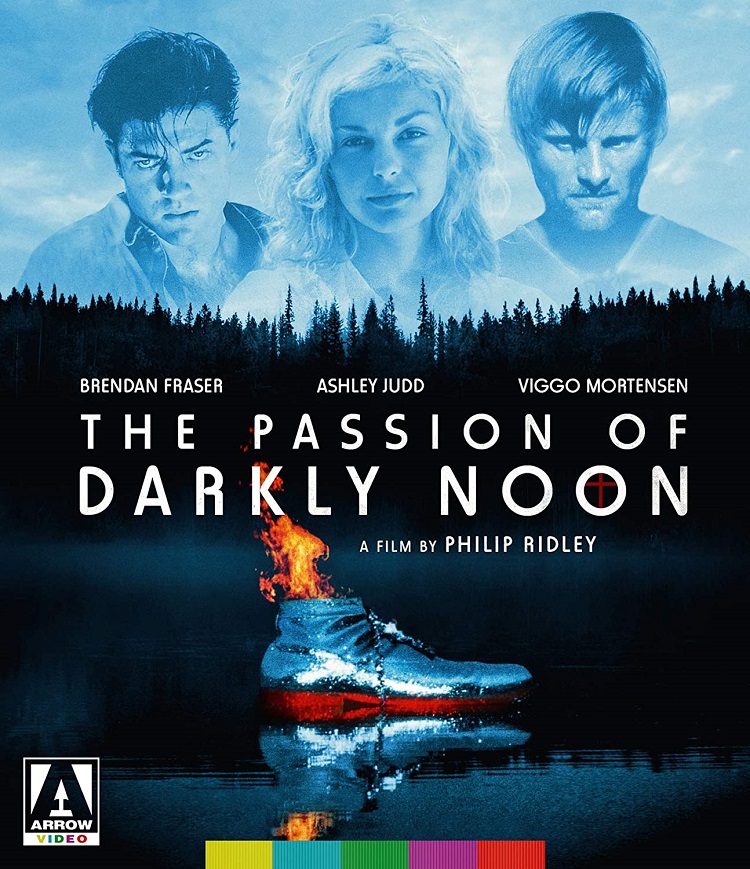 A man, dressed in a suit and tie but bruised and battered, comes running through the woods. He stumbles and falls, landing unconscious in the middle of a country road. He's picked up by a delivery driver who takes him to a secluded old house where a young woman swears she'll take care of him.
The man is Darkly Noon (Brendan Fraser) and he's just narrowly escaped being killed by local townspeople who were no longer willing to abide with the cult Darkly has been a part of. He's a peculiar young man who obviously has had little interaction with the outside world. Especially not anyone like Callie (Ashley Judd), the sultry woman whose care he is now under. She's fond of thin, low-cut dresses; cooling herself with ice cubes; and taking baths in hot springs while he watches. Darkly is torn between his ultraconservative religious upbringing and his newfound desire.
When Clay (Viggo Mortensen), Callie's mute boyfriend shows up a few days later a balance of sorts is found. Darkly helps Clay with his woodworking and Callie with the dishes. They form an odd family for a time. Darkly's past still haunts and confuses him. He still speaks of sin and the Bible. He chastises Clay and Callie for living in sin yet watches them at night while they make love.
Writer/director Phillip Ridley has made a deeply strange and not at all congruent film with The Passion of Darkly Noon. It is an odd mixture of the erotic thriller and social commentary that is filled with beautiful imagery and out of nowhere comedic elements. The script seems to be aiming for a cross between David Lynch and the Coen Brothers and tries to had to be profound while failing at all three.
When Darkly can no longer handle the imbalance between his pious upbringing and his increasing desire, he takes to the woods where he meets an old woman (Grace Zabriskie) who believes Callie to be a witch who destroyed her husband and put her son, Clay, under her spell. This pushes Darkly to the breaking point and unspools the disaster that's been lurking just out of the frame the entire film.
Made in 1995, The Passion of Darkly Noon hit theaters right in the middle of the end of the 1990s indie film boom. You can see how people trying to cash in on that Tarantino box-office would buy into a film like this. It is weird and sexy, with interesting ideas and a keen visual style. But it is also easy to see why it didn't make any kind of splash with audiences or critics. It has no sense of what it's actually about and one leaves the theater scratching his head and thinking about whether or not to finish off that tub of popcorn rather than pondering what you've just seen.
The three main leads are able to liven up the dialogue that is neither naturalistic nor stylized in any interesting way. It would fall completely limp in less capable hands. Brendan Fraser shows once again that when given the chance he's a much more interesting actor than he's usually given the chance to be. The visuals are a delight and are filled with beautiful images and enough quirky tricks to keep one entertained. Philip Ridley started his career as an artist and this is apparent in both his compositions and visual design. But the story goes nowhere and after a time, one realizes the magician has run out of tricks.
Arrow Video presents The Passion of Darkly Noon with a new 2K restoration from the original camera negative. Extras include an audio commentary from Phillip Ridley, an isolated score track, new interviews with the editor, cinematographer and the film's composer. Plus an archival making-of featurette, unreleased score demos, trailers, image gallery and an illustrated booklet featuring a career retrospective of the director.