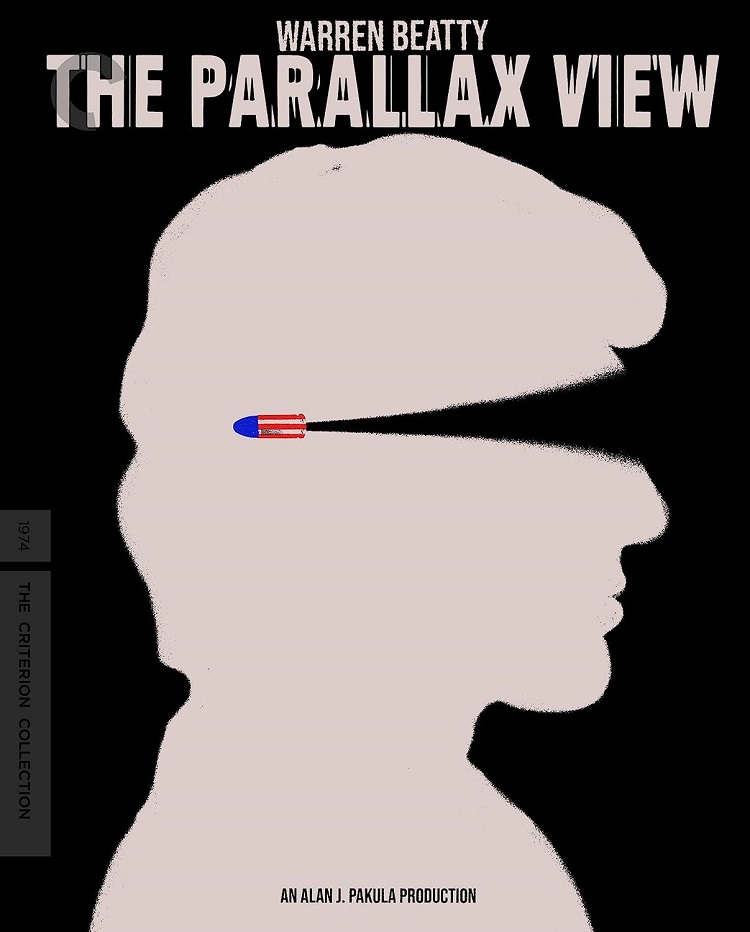 Based on Loren Singer's 1970 novel of the same name, Alan J. Pakula's The Parallax View is the second entry in his Political Paranoia trilogy, which includes Klute (1971) and All the President's Men (1976), and takes a deep dive into conspiracy. Having gone through a decade of political assassinations during the 1960s in the United States, the book's subject matter was timely upon its release. The same goes for when the film released in 1974, a couple months before President Richard Nixon resigned due to the Watergate scandal. With a portion of the current U.S. population concerned about the "Deep State" within its government, the film remains topical upon its entry into the Criterion Collection.
Evoking the assassinations of the brothers President and Senator Kennedy, presidential candidate Senator Charles Carroll rides in a July 4th parade before being killed at a reception atop Seattle's Space Needle. A congressional committee determines a lone wolf shot and killed the Carroll, but the audience knows he was not alone.
Three years later, Lee Carter (Paula Prentiss) seeks out former flame, newspaper reporter Joe Frady (Warren Beatty), both were on scene at Carroll's assassination. Lee claims witnesses are being killed in what are deemed accidents and she thinks she's next. Joe is dismissive, but the audience next sees Lee dead in the morgue from an alcohol and barbiturates overdose, ruled a suicide by the coroner.
Joe gives Lee's theory credence and investigates. He goes to a small town to follow up on the drowning of one witness. The film becomes an action movie as Joe deals with the local police. There is an over-the-top bar fight that seems better suited for a comedy, a car chase, and a stunt sequence set in water. While in this town, Joe finds an advertisement for The Parallax Corporation, an organization he thinks is hiring assassins.
As Joe gets closer to Parallax, they closer to him. Undercover, he applies to the ad. After passing a written test, Jack, a representative from the company, comes to his home to interview him. Joe goes to their office and sits for a test, watching a montage of images, words, and music. This emotionally evocative sequence plays on screen directly for the viewer. Also, evocative are the terrorist plots Joe gets himself into the middle of, keeping the audience guessing until the climax.
The video is presented in an 1080p encoded transfer displayed at an aspect ratio of 2.39:1. According to the liner notes, "this new digital transfer was created in 16-bit 4K resolution on an Lasergraphics Director film scanner from the 35 mm original camera negative at Roundabout Entertainment in Burbank, CA. The color was referenced from a 2005 master approved by cinematographer Gordon Willis, and this new version was supervised by the original color timer, Jon Boorstin, who fine-tuned the look of the film in order to get it closer to Willis's original vision than it has ever been before. Thousands of instances of dirt, debris, scratches, splices, and warps were manually removed using MTI's DRS, while Digital Visions Phoenix was used for jitter, flicker, small dirt, grain, and noise management."
Colors appear in strong hues, with lush reds seem during the parade popping off the screen and the various browns are rich. The image displays strong texture detail and depth. Blacks are inky. Willis's use of shadows is bold, but delineation can get lost. An example is when only half of Jack's face appears when he talks to Joe in the apartment. But that imagery works within the scene because Joe is hiding from Jack. Film grains is noticeable throughout.
In regards to the audio, "the original monaural soundtrack was remastered at 24-bit from 17.5 mm magnetic track. Clicks, thumps, hiss, hum, and crackle were manually removed using Pro Tools HD. AudioCube's integrated workstation, and iZotope RX 3." Dialogue is clear. Composer Michael Small's score comes through with solid fidelity. The ambient effects add authenticity.
The special edition features, which are in HD unless noted, include:
Alex Cox Introduction (15 min) – The filmmaker discusses the JFK assassination, not believing Oswald did it alone, and other political conspiracy films like Executive Action, Chinatown, and The Mattei Affair.
Alan J. Pakula, 1974 (audio, 18 min) – Recorded November 20, 1974, as part of AFI's Harold Lloyd Master Seminar series, discusses his approach to directing his early films and the making of The Parallax View, including the montage.
Alan J. Pakula, 1995 (6 min) – Also recorded by AFI, Pakula talks about how the anxieties of the early '70s influenced the film.
Gordon Willis (18 min) – Recorded in 2004 for the American Society of Cinematographers, he talks about working with Pakula and their approach to this film
Jon Boorstin (HD, 15 min) – Worked on the written psych test and the Parallax test video.
The Parallax View is an engaging political thriller with a well-written story that contains believable plot twists. The filmmaking is aesthetically satisfying. Highlights include cinematographer Gordon Willis's work with light and darkness; Pakula's camera placement in some scenes, which suggest Joe might be under surveillance; and John W. Wheeler's editing of the montage. Criterion's Blu-ray delivers a pleasing HD image and a nice, albeit brief, focus on the filmmakers.