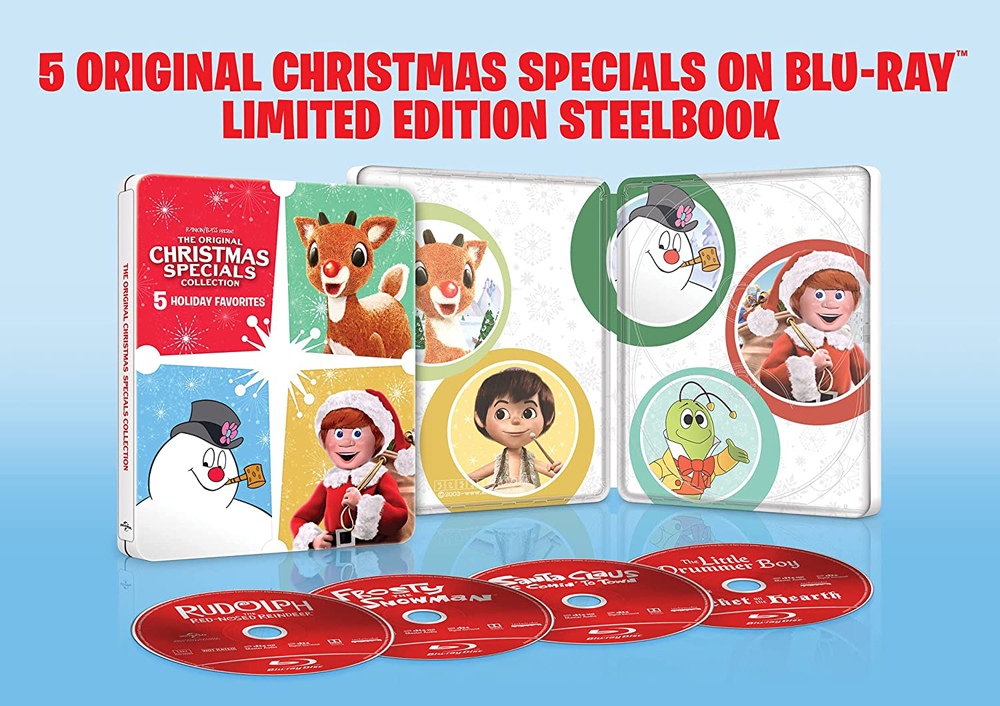 For many years, Arthur Rankin Jr. and Jules Bass dominated the small screens with their holiday specials. Even after the fact that their company, Rankin/Bass Productions, closed up shop in 1987, the impact they made with several of their made-for-TV Christmas specials inspired many generations, including myself, and still continues to air around November and December each year. It was always a treat to grow up and come across Rudolph the Red-Nosed Reindeer and Frosty the Snowman every year and watch it with my family.
Despite the age of streaming, many of the Rankin/Bass specials still continue to air on regular, over-the-air channels (namely CBS). And for those who don't have access to over-the-air television, Universal has now released a steelbook edition of five Rankin/Bass Christmas specials that fans can watch at any time. And for those who have only experienced the main staples, Rudolph the Red-Nosed Reindeer and Frosty the Snowman, they can now see what other holiday specials they did during their tenure. In the case of The Original Christmas Specials Collection, there are three that are truly worthy, one that is a slight departure but still mildly worthy, and one that is a travesty. Since there are five specials, this article will break it down into capsule reviews. Let's start with the two that are the most well-known in the collection.
Rudolph the Red-Nosed Reindeer:
You know all the other reindeer that help Santa Claus get around on his sleigh. But, of course, the one that leads them all is young Rudolph. He's different than all of the other reindeer, due to the fact that his nose shines bright red. He's mocked by all, but his story eventually serves as an inspiration for those who are different. Despite what others say, your uniqueness can be beneficial and serve others.
The beautiful, stop-motion animation still holds up all these years later. Rudolph is still a treat to watch with the whole family. The songs are all catchy, and the special is filled with plenty of fun characters. One of the best is Yukon Cornelius (great name!), voiced by Larry Mann, who's always on the hunt for silver and gold. His gag of throwing his ice pick in the air, letting it land in the ice, and then tasting it to see if he's struck it rich is hysterical.
Frosty the Snowman:
While Rankin/Bass was mainly known for its stop-motion animation, or "Animagic" as it was called, their regular, hand-drawn animation was pretty terrific as well. Frosty the Snowman is no exception. It's a treat to watch Frosty, voiced wonderfully by Jackie Vernon, come to life and say "Happy birthday" to everyone once the top hat is placed on his head.
It's amazing how emotional Frosty can be, watching it now as an adult. He's like that imaginary friend that one would have in their younger years, whom you could always trust and whom you didn't want to go. Some of the perils that the titular character gets into, where he risks heat to save others, is more emotionally charged than I remember.
Now, let's talk about the ones that aren't as well known in the Rankin/Bass catalog.
Santa Claus is Coming to Town:
This is one I only remember seeing once when I was much younger. At first, I wasn't sure if I had seen it at all. But as I was recently watching it, some of the images jogged my memory to when I had seen it as a kid. It's amazing this one doesn't get as much air time as Frosty and Rudolph. It's just as memorable, and, in some cases, more emotionally charged. Although it does air on Freeform, it should also be shown on over-the-air channels in addition.
Fred Astaire and Mickey Rooney headline the cast in this wonderfully animated special that is created with the Animagic of Rankin/Bass. It serves as the introduction to how Santa Claus became who he is known as now. Originally introduced as an infant named Claus, the Kringle family takes him in and raises him to be a giving individual – one who would later go on to inspire and delight millions worldwide. Of course, his story does have some conflict, as the rich and greedy Burgermeister Meisterburger (what a name!) outlaws all the toys in Sombertown. That's where Santa, known solely as Kris in the beginning of this story, tries to bring joy to the children of Sombertown and have Burgermeister change his stance.
The musical numbers in Santa Claus is Coming to Town are wonderful, and the story is another terrific entry in the Rankin/Bass catalog. Like Frosty and Rudolph, it should also be put on an annual rotation with the whole family.
The Little Drummer Boy:
As a studio, Rankin/Bass did venture off into some darker territory. They were responsible for the animated version of The Hobbit amongst other projects. But before they ventured into the world of Tolkien and other non-holiday specials, they released The Little Drummer Boy.
While done in the same Animagic style as Rudolph and Santa Claus is Coming to Town, this special is a more mature entry in the Rankin/Bass catalog. Its approach is dourer and not quite as appealing. The animation seems to be rougher around the edges than its other specials. I'm sure that's what the company was going for when they conceived it, but it's also not as welcoming of a special for the family. The ending leaves an impact on the viewer, but the journey to it is a bit bumpy.
Cricket on the Hearth:
The opening narration explains how this is based on a Charles Dickens story that is not as well known as A Christmas Carol. While I'm not too familiar with the original story, it's pretty clear why this special doesn't get as much air time, if any at all.
Cricket on the Hearth is a horrendous entry in the Rankin/Bass collection, and the worst that is on this collection of Christmas specials. It tells the story of a cricket named Crockett who helps a toymaker and his daughter, as they overcome some unbearable tragedies. Crockett is hoping to bring some cheer and joy back into their life.
The animation style in Cricket on the Hearth is poorly done, and the songs are unbearably obnoxious. Who would have thought that this came from Rankin/Bass? Granted, not everything a studio creates can be gold (or silver, for that matter), but this is one of the worst holiday specials ever created. The hour-long runtime feels like a never-ending torture session.
The picture and special features:
All of the specials in this collection are presented in 4×3, just like how they were when they first aired. The conversion to Blu-ray looks magnificent on a big TV, and the sound quality comes across nicely. The special features are mostly the same as a previous 2018 Blu-ray release. They include the following:
The Animagic World of Rankin/Bass
Restoring the Puppets of Rudolph
Reimagining Rudolph in 4D
Rudolph the Red-Nosed Reindeer Attraction Film
Frosty the Snowman Original Pencil Test
Commentaries for Santa Claus is Coming to Town and Frosty the Snowman
Conclusion:
If you're in the mood for some traditional holiday cheer and don't have access to cable or over-the-air television, this steelbook is worthy of adding to your collection. Not all of the specials are gems, but the ones that are in this collection make it worth owning.