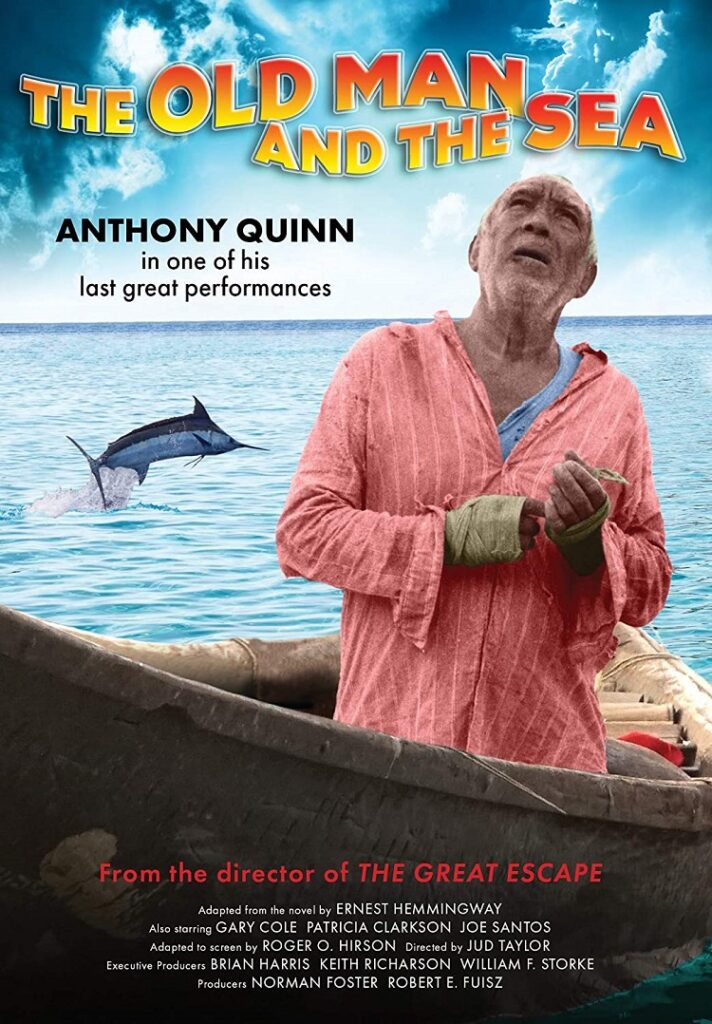 Anthony Quinn gives a riveting performance as the elderly fisherman Santiago, who has gone 84 days without catching a fish, in this 1990 made-for-TV movie based on Ernest Hemingway's novel. Once a great fisherman, Santiago is now reduced to struggling and worrying about losing his skills and his luck.
Manolin (Alexis Cruz), his young, self-appointed apprentice, visits him at night to give him pep talks and help him prepare for the next day's fishing expedition. They talk about how Santiago's favorite baseball team, the Yankees, is playing, to break the monotony of their daily routine.
Translating the 127-page novel into a film turns out to be a tough proposition, no matter who helms it. Unlike the 1958 theatrical film starring Spencer Tracy, this 1990 film isn't entirely faithful to the book. However, this version is slow-paced but well-made. The film editing and sound lend credibility to the fishing and village scenes. (The film was nominated for a Primetime Emmy for Sound Editing.) The background characters, such as the resort bartender and the other fishermen, also add authenticity to the film.
In an effort to pad out the story, the filmmakers added extra characters. There's an American writer (Gary Cole) and his wife (Patricia Clarkson), who don't add much to the film. It's apparent that this character was meant as a nod to Hemingway, but the execution isn't very interesting.
Another original character, Santiago's daughter Angela, is played by Valentina Quinn, Anthony's real-life daughter. Her brief appearances are natural, unlike the extraneous performances by Cole and Clarkson. Quinn's son Francesco appears as the young Santiago in one scene.
Quinn is mesmerizing as Santiago, and he exhibits the character's spirit and dignity throughout the whole film, especially during the struggle with the sharks. This DVD of The Old Man and the Sea is a good tool for students reading the text. Fans of Hemingway or book-to-film adaptations may have mixed feelings about some of the changes to the story in this version, and casual viewers may find the film somewhat boring.