W. C. Fields got his start in vaudeville as a juggler. He went on to create an iconic comic persona, an man whose vices don't overwhelm his virtue. He uses a verbose vocabulary and braggadocious stories to overcompensate for his station in life but dreams big. He's frustated by all around him, responding with funny wisecracks and actions that make viewers envious they can't respond in similar fashions in real life. He bluffs and misleads outsiders while caring for his family even though they frequently don't think much of him. KL Studio Classics has added three more Fields comedies to their roster in which, under pseudonyms, he was involved in the writing.
The Old Fashioned Way (1934) finds Fields as the Great McGonigle, the leader of a traveling theater troupe whose financial struggles have led them on occasion to skip town on their bills. McGonigle's daughter Betty (Judith Allen) is followed around by a young suitor, Wally (Joe Morrison), whose father wants him to return to college. Rich widow Cleopatra Pepperday (Jan Duggan) wants a part in McGonigle's next production. Even though she's a terrible singer, he strings her along to help pay for expenses by promising her a line in the play. However, rather than letting her say the line, he performs a juggling routine after the play. While a wonderful archive of Fields' talents and previous stage work, it's rather jarring, feeling more like the filmmakers added it.
McGonigle hears that Betty has a chance to marry Wally but his father doesn't want McGonigle around. Rather than do something comical to wrap up the story, there's a touching moment where the selfish McGonigle makes a sacrifice, revealing how much he cares for his daughter and her well being.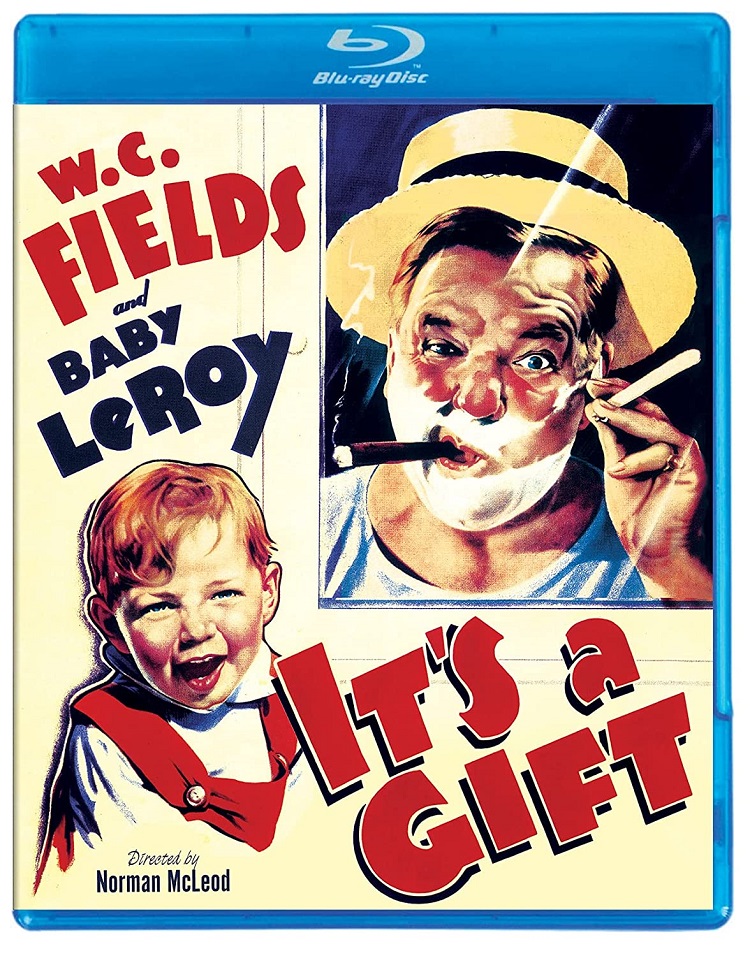 It's a Gift (1934) is one of my all-time favorite comedies. Fields, who illustrates how deft he is at verbal and physical comedy, plays Harold Bissonette, a grocery store owner with dreams of buying an orange grove. He has to deal with a number of indiginities, such as frequent verbal abuse from his distrusting wife. When someone mistakenly calls in the middle of the night looking for the maternity ward, she misunderstands and wants to know why someone was calling him from the maternity ward. His store is wrecked by blind Mr. Muckle and a young toddler (Baby LeRoy). In the film's grandest sequence, he tries sleeping on the porch but is bothered by his neighbors and an insurance salesman.
Harold inherits some money and buys an orange grove. Upon arrival, after a funny picnic scene, they discover the land doesn't match the brochure. However a twist of fate allows Harold to come out on top when he is tipped off that racetrack owners want to buy the land, allowing him to put the squeeze on.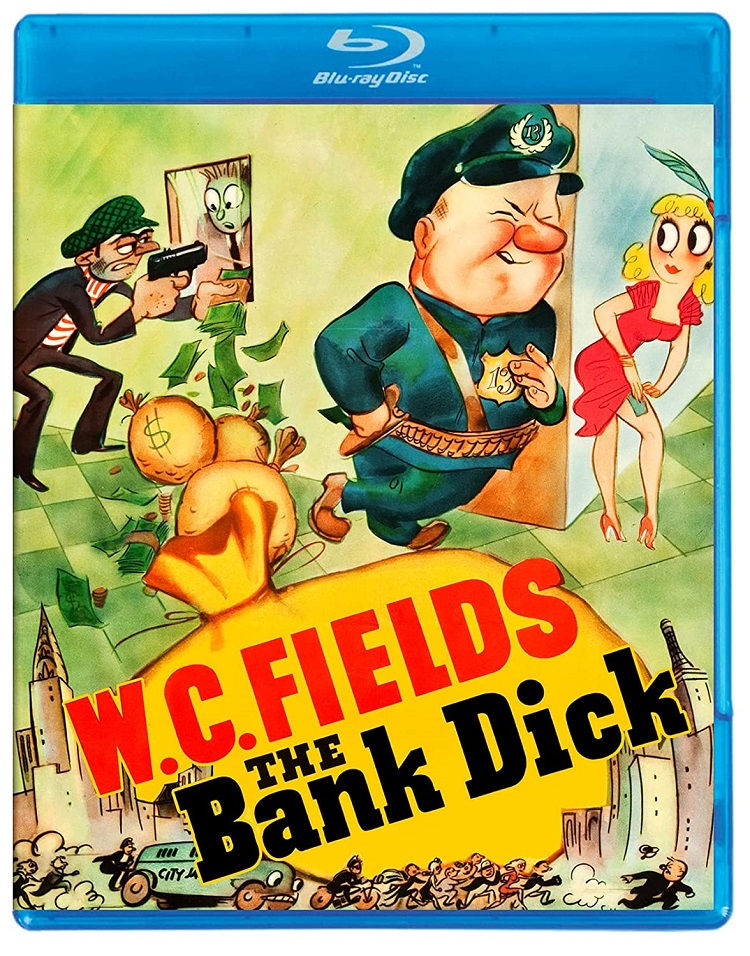 Set in Lompoc, The Bank Dick is a job title Egbert Sousé (Fields) will soon have. Unemployed as the film opens, Egbert lives with wife, mother-in-law, two daughters. Times are tough so he leaves IOUs in the youngest's piggy bank. While at the Black Pussy Cat Cafe with bartender Joe (Shemp Howard), he runs into a producer dealing with a movie director at the start of a 10-day bender. Egbert talks his way into directing the project. On the set, Egbert alters the script, leading to a number of laughs. Oddly, Egbert is not long for the job, seeming like the filmmakers forgot, because while on lunch break, he unintentionally catches one of two bank robbers. This leads to a job as a bank dick, but there's no mention on the directing gig.
Egbert meets a guy selling shares in the Beefsteak Mining Company and talks his future son-in-law Og into taking an unapproved advance on his bonus from the bank four days early. But then the bank examiner shows up. Souse spends a lot of time distracting him, stepping on his glasses and getting Joe to slip him a Mickey.
Similar to the Gift plot, the Mining shares are worthless after obtained only to soon become valuable. Before they can cash in, the other bank robber returns, and takes Egbert hostage in an absolutely ridiculous car chase that was more concerned with generating laughs rather than caring how fake the undercranking or reverse screen look.
The video for all three titles has been given a 1080p/MPEG-4 AVC encoded transfer displayed at the original aspect ratio of 1.37:1. They each have a strong variety of grays with blacks that are sufficent without being inky. For Old Fashioned, the image has film grain. The focus quality varies, sharp in some scene soft in others. Whites occassionally bloom like the shot of McGonigle being serenaded by Cleopatra or his outfit while juggling. A black smear appears as Cleopatra concludes her audition. It's a Gift suffers from more wear on the source material. The image is very grainy. Print damage like white scratches appear. However, whites are under control. The Bank Dick delivers the best video image with a pleasing amount of film grain and only infrequnt black specks.
The audio for all three titles is available in DTS-HD Master Audio 2.0. Dialogue is clear throughout, although Fields speaks under his breath when saying things he doesn't want others to hear. The scores by John Leipold on the first two titles and Charles Previn on the third are sufficent, but the films don't feature a lot of music. The tracks sound free of hiss or defect. There's an audio commentary by author/film historian James L. Neibur on the first two titles and by film historian Michael Schlesinger on the third.
I recommend all three films because they show a range of Fields' work. Not only do I find it the funniest and best of the trio, but director Norman McLeod creates a pace in It's a Gift where not a moment is wasted and the comedy scenes feel a part of the larger story. Under director Edward F. Cline, The Bank Dick has a looser feel and the comedy scenes don't always feel like they are from the same movie. In Old Fashioned Way, Fields is a con man and not the henpecked husband of the other two films. He also gets to show a tender, fatherly side. KL Studio Classics do a fine job with the high-definition presentation and keeping Fields accessible an important endeavor.