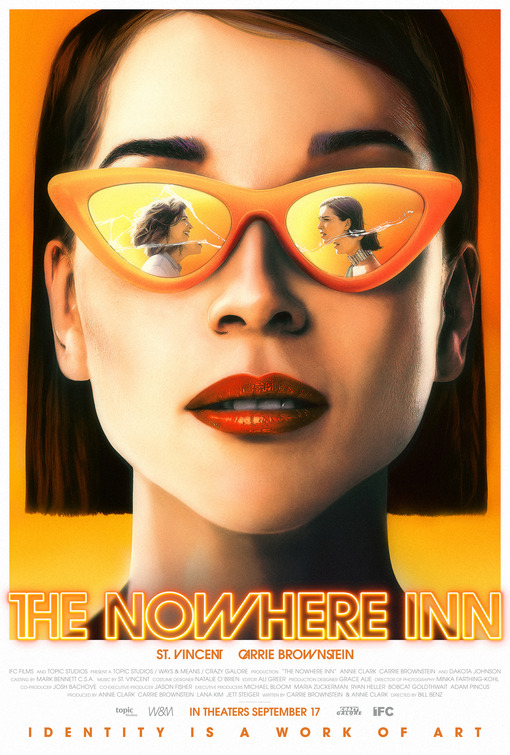 St. Vincent decides to try out smoking during the production of her concert tour documentary film, declaring to her friend and director Carrie Brownstein "this is how actors play rock stars in movies", to which Brownstein replies "yeah, but…you are a rock star". St. Vincent's ongoing conflict between artifice and reality colors the whole film, as she struggles to reconcile her normal existence as Annie Clark from Texas with her public persona as the internationally known musician St. Vincent. Or does she? The Nowhere Inn is structured in such a way that we initially question how much of it is staged vs. reality, leaving the only certain thing as Clark gleefully tweaking all expectations of concert films.
Brownstein gained fame as a member of the rock trio Sleater-Kinney before honing her comedy chops opposite Fred Armisen in the long-running sketch series Portlandia. She really is Clark's friend, but she's not the actual director of the film; she's just playing the onscreen role of director while actual director Bill Benz works behind the scenes. When her character first signs on to follow St. Vincent's U.S. tour, she's faced with a dilemma when she realizes that her subject isn't all that interesting. Her initial attempt to capture Clark's pre-concert routines results in boring footage of Clark playing games on her Switch, playing Scrabble on the tour bus, and doing floor exercises in her hotel room, not exactly the scintillating revelations she was hoping to record. Turns out Clark is apparently nerdy and boring in real life, so Brownstein pressures her to be more like her captivating stage persona, leading to a string of progressively ridiculous attempts by Clark to be cool, culminating with the smoking and a staged lingerie-clad makeout session with Dakota Johnson.
Of course this all sounds suspiciously more like a mockumentary than an actual concert film, which it gradually embraces in full, resulting in a final act that goes off the rails a bit when Clark invites Brownstein to a "family reunion" in Texas filled with hired actors performing the worst small-town country clichés. The film is filled with archly comic moments as Clark struggles with her identity crisis, such as when she meets a fan in her dressing room and breaks down in tears after hearing the fan's sad story, leading to the fan comforting her. Clark proves to be a really strong, charismatic actress who could easily transition into other roles if she ever wanted to pursue another career. Brownstein has already proven her comedic chops and is a perfect co-star for Clark's artsy film experiment.
While the film was produced during the U.S. tour for St. Vincent's previous and most commercially successful album to date, Masseduction, the actual concert footage is in surprisingly short supply. If you're looking for a St. Vincent concert film, this isn't it. When we do get music footage, it's only portions of performances, with what I recall to be the only full song performance happening offstage. Thankfully, St. Vincent is electrifying in the footage we do get, it's just a shame that a fake documentary about a concert tour skimps on the concert part of the equation. Clark declares on screen that she wanted her concert film to be different, and she definitely delivers on that desire.
Real director Bill Benz has a fairly easy gig capturing the natural rapport between Clark and Brownstein, but fumbles a bit with a misguided decision to incorporate occasionally shifting film stock and formats, likely hoping to give the film more visual flair but instead becoming a bit of an annoyance. The film is enough of an art project already without the image shifts. On the plus side, he comes from a comedy background, so proves to be adept at capturing the many funny moments. I laughed quite a bit, much more than I ever expected, but then I was anticipating a more conventional tour documentary. I should have remembered that conventional has never been a term associated with Clark. Her completely unconventional film is certain to find a devoted fan base, even as it risks disappointing her most ardent supporters hoping for more music.
The Nowhere Inn opens in theaters and VOD on September 17th. For more information, visit the film's website.