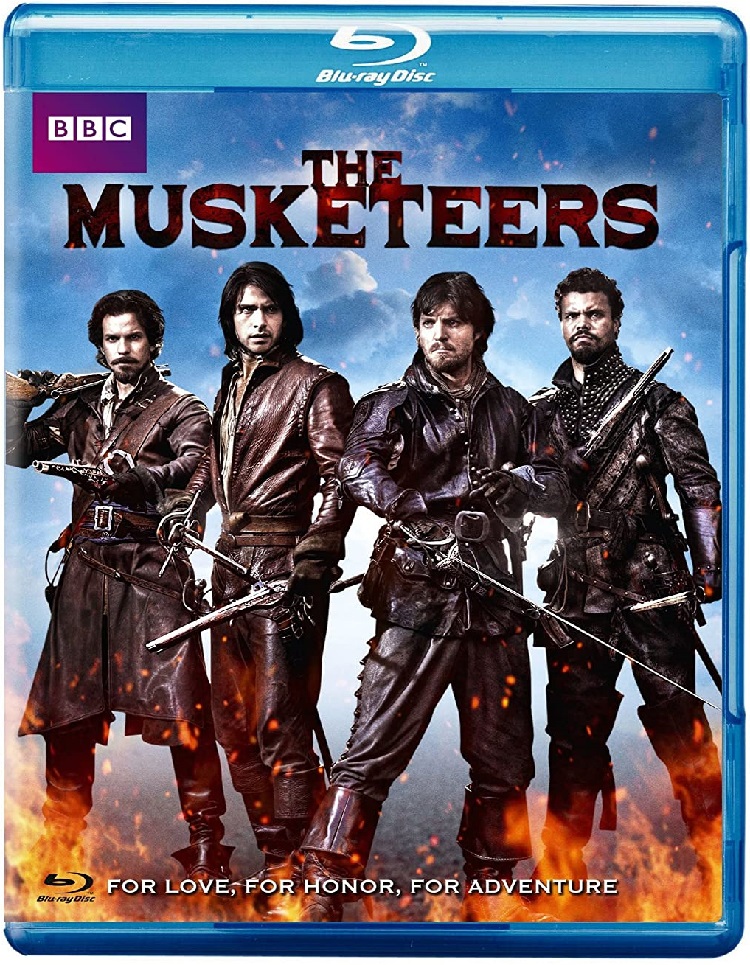 As I had iterated in a somewhat recent article, there are really only a venerable handful of classic literary characters and stories that seem to re-emerge in order to be retold time and time again upon small and big screens alike. And there is certainly little doubt in my own mind that the classic Alexandre Dumas 1844 work Les Trois Mousquetaires falls somewhere at the very top of that limited grouping; its immortal characters having appeared in many various adaptations over the last couple of centuries, along with the particular tale itself. Granted, some of us may be prone to remembering bits and pieces of the tale more than anything else. My own epic failure to remember the actual names of the story's titular characters is a grand example.
But of course, I have a very good excuse. For you see, the last time I bore witness to a filmic adaptation of The Three Musketeers, it was bad. Very, very bad. In fact, I am pleased to say I successfully managed to erase virtually all elements of the horrid excuse for entertainment from my mind; remembering only fragmentary chunks of hideousness such as guys climbing up unbelievably tall ladders at rapid speeds to cross swords (not a euphemism) and a number of extrinsic fight scenes fashioned after the international success of Crouching Tiger, Hidden Dragon (and you know who you are, movie). Sadly, it was with the voluntary, perhaps humane eradicating of that portion of my memory bank all but caused me to forget the legacy the incredible M. Dumas left upon the world.
Naturally, when I observed that there was a new BBC Television adaptation of the tale that had taken a somewhat new spin on things, I was a bit hesitant. But I was also quite a bit curious. And then, a voice from out of nowhere seemed to say to me "Hey, it's OK. You can trust this one. There's no high-wire kung-fu action, Mena Suvari, Percy Jackson, or that Chris O'Donnell bastard in this." Initially, I suspected M. Dumas was trying to contact me from the great beyond, but I quickly snapped out of that crazy delusion when I remembered I was, in fact, playing R.E.M.'s "The Great Beyond" backwards on my turntable, and that that, incredibly enough, was what the track's secret message revealed when played in reverse. So, feeling most assuredly undaunted and confident I could once again stomach yet another Musketeer incarnation, I took a chance.
It is now my pleasure to report to you that this was a wise move on my part. Originally envisioned as a filler programme to be broadcast between airings of some semi-popular series entitled Doctor Who (which my editor keeps trying to convince me I should watch), it took seven years for this fresh reimagining of the Dumas tale to actually become a reality. While the subject matter tends to stray a bit from its own, and the series itself takes a few episodes to truly find its foothold on the rocky ascent upward (at least they're not rapidly climbing really tall ladders, right?), I dare say it was well worth the wait. Not only does the BBC's The Musketeers offer up plenty of thrills and humor alike, but it also possesses a great deal of heart as well.
We begin with a young D'Artagnan (the boyishly handsome Luke Pasqualino) witnessing the murder of his own father by a man claiming to be musketeer Athos. Granted, the Athos in question is an impostor – out to frame the real Athos (Tom Burke) at the behest of the season's main criminals, the manipulative Cardinal Richelieu (expertly played by Scottish actor Peter Capaldi, who was cast as the new star of that aforementioned Doctor Who show during the filming of this one) and his apprentice, the diabolical Milady de Winter (Maimie McCoy), who used to be married to Athos before one turn of events or another (depending on whose account of the sordid details you choose to believe) caused him to unsuccessfully have her executed for murder.
Once D'Artagnan realizes the genuine Athos is not his enemy, he becomes the soldier's friend and protégé, joining forces with the inseparable trio of Athos and his fellow comrades: Aramis (Santiago Cabrera), the easily-bored womanizer, and Porthos (Howard Charles), who this time 'round, was an orphan of African descent (hey, Dumas himself was a quarter black, so quit your bitching) born into poverty. The great Hugo Speer portrays the intrepid Captain Treville, Alexandra Dowling and Ryan Gage are Queen Anne of Austria and King Louis XIII, respectively (the latter resembles Billie Joe Armstrong impersonating "Weird Al" Yankovic in his royal wig), and the lovely Tamla Kari is Constance Bonacieux, whom the writers still have as D'Artagnan's love interest, but who is simply the wife of a struggling dressmaker here.
From therein, we witness many a tale of intrigue and romance, many of which are set in and around factual events in French history (which I suppose is exactly what Dumas accomplished, but which is apparently very hard for some modern-day writers to grasp). Our brave heroes engage in many a well-choreographed fight as well as laugh and love – only to usually lose out on the latter by the end of the episode. Filmed near Prague (where civilization has yet to completely catch up), the show's true heroes have to be production designer Will Hughes-Jones and costume designer extraordinaire Phoebe De Gaye,Hughes-Jones has done an outstanding job converting the locale into 17th-century Paris (a few architecture anachronisms notwithstanding, I'm certain – but it's not like any of us were there). Likewise, Ms. De Gaye whips up some incredible creations, and I shall not hesitate to commission to design all of my own outfits should I ever become king (of anything) someday. And wait until you see the hairdos guest star Tara Fitzgerald – as Marie de Medici – sports. Wowzers!
As those of you who are at least halfway familiar with the original Dumas tale may have noticed, the writers of The Musketeers have taken a number of liberties here. The show even comes dangerously close to formulaic all-too American-esque background noise fodder in the beginning. After four episodes, its makers succeed in establishing its characters, only to take a nearly catastrophic turn to transforming into a 17th-century police procedural at one point. Fortunately, the series quickly sets itself straight after this. The dialogue is noticeably modern for the most part, due probably in part to the fact that nobody speaks, writes, or completely understands the 19th-century language of any nation anymore. Fortunately, the writers refrain from making it completely contemporary, thus saving us from any truly unnecessary embarrassing moments.
My only regret as I reached the end of The Musketeers was learning that Mr. Capaldi's casting of The Doctor ultimately jeopardized his subsequent appearances in any further seasons. It's a pity, too, as I came to really enjoy his persona and how he encompassed the epitome of organized religious evil with the greatest of ease. He is a most formidable foe and occasional ally, when the situation calls upon it. (In fact, so enthralling is he, that I almost might consider finally contemplating about possibly someday giving Doctor Who a small slice of thought towards viewing. But don't quote me on that.) We can only hope his successor, the younger Marc Warren will be at least half as awesome in Season Two as Rochefort.
But enough about the future of the series, let's look at the specs of this first series. Spread out over three discs, BBC Video's The Musketeers brings us all ten episodes in a very crisp High-Definition presentation that shows off just about every minute artifact in great detail. The careful timing and hues of various locations throughout effectively transport viewers to the fictional take on a historical past, and an English DTS-HD MA lossless 2.0 soundtrack delivers admirably – though it's a darn shame there is no 5.1 option to further engulf viewers. Optional English (SDH) subtitles are on-hand, and Disc Three concludes with four special features that look into the making-of this potentially long-lasting series (and wherein Mr. Capaldi is given the opportunity to make a very appropriate Monty Python pun).
Highly recommended.