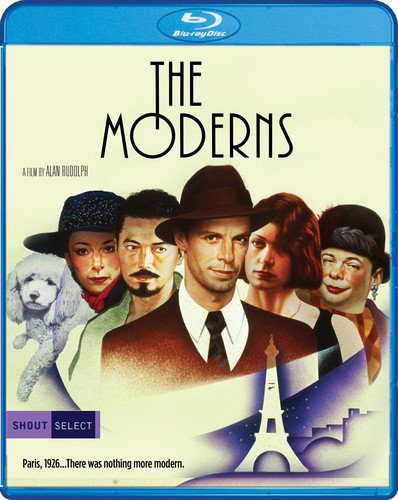 At one point in time, filmmaker Alan Rudolph described his 1988 film The Moderns ‒ a project which took him a full 12 years to nurture ‒ as "the most rejected screenplay in Hollywood." That in itself is the sort of thing which should fuel more artistically-inclined minds to take note of this underrated cult drama, particularly once you stop to take a good long look at the very sort of cinematic ilk the industry has descended into cranking out on a perpetual weekly basis ever since then. Set in 1926 Paris (and doubled by Montreal), Rudolph's fascinatingly oddball character study focuses on a small group of expatriates living abroad, all of whom live up to the title bestowed upon them: The Lost Generation.
Keith Carradine takes center stage here as Nick Hart, an American artist who keeps good company with a number of other expats in the area, all of whom are in the midst of shaping the very world of art and literature we still hail the era for today. At the tip of the iceberg is feisty gossip columnist Oiseau, played to the hilt by the usually superb Wallace Shawn, who is officially "over" Paris and is ready to begin anew in Hollywood. Another character included in the mix is a young loner war veteran with a clear-cut case of PTSD on his hands named Ernest Hemingway (Kevin J. O'Connor). Gertrude Stein (Elsa Raven) and Alice B. Toklas (Ali Giron) are also seen as part of this modernist set.
But it's when Nick notices Rachel (Linda Fiorentino, so you know there will be nudity involved), the beautiful young bride of Bertram Stone (The Last Emperor's John Lone) a wealthy and very eccentric prophylactic magnate (I'm not making this up, kids). Granted, it's not so much a case of who Rachel is as it is who she is not, for the free-spirited head-turner is actually the legendary "one who got away" from good ol' Nick. Determined to retrieve more than just her, Nick enters the dangerous battlefield of love once more, this time going up against an antagonist who is just as rich as he is unhinged; paving the way for a few pissing contests, most notably a boxing match between artist and elite.
Meanwhile, Nick's current financial destitution (he is an artist, after all) leads him into a precarious situation where he is asked by his art dealer lady-friend Libby (Geneviève Bujold) to paint a few harmless copies of a trio of rare works owned by a snobby divorceé dame, Nathalie de Ville (Geraldine Chaplin). This leads to one of the most fascinating tidbits of information behind the making-of this entrancing motion picture: some actors actors do their own stunts, but Mr. Carradine paints his own portraits. In fact, we have him to thank for the very artwork adorn the theatrical one-sheet for The Moderns. Ultimately, little slices of trivia like that only make the subtle appeal of the film all the more alluring.
Fusing heartfelt drama with a number of delightfully witty moments ‒ to say nothing of Kevin J. O'Connor's intriguing representation of Hemingway ‒ The Moderns hits Blu-ray for the very first time as part of Shout! Factory's "Shout Select" tier. The Collector's Edition release brings us a gorgeous 2k, 1080p MPEG-4 AVC transfer, as scanned from a newly-struck interpositive. Accompanying the feature are DTS-HD MA soundtracks in 5.1 and 2.0, and English (SDH) subtitles. The disc only includes two bonus goodies, but they are well worth the price of admission, considering the first is a feature-length presentation interviewing director Alan Rudolph, producer Carolyn Pfeiffer, and star Keith Carradine.
The original theatrical trailer is also included, and should serve as a stalwart example of '80s "We really don't know how to market this film, so we're gonna make it look like some sort of weird-ass New Wave flick" advertising. Then again, The Moderns was "the most rejected screenplay in Hollywood" at one point in time. Fortunately, thanks to Shout! Factory, you can now check this nifty little offbeat gem out for yourself. But be warned: This is exactly the type of movie that artistically-inclined minds of any generation can get Lost in.
Highly Recommended.