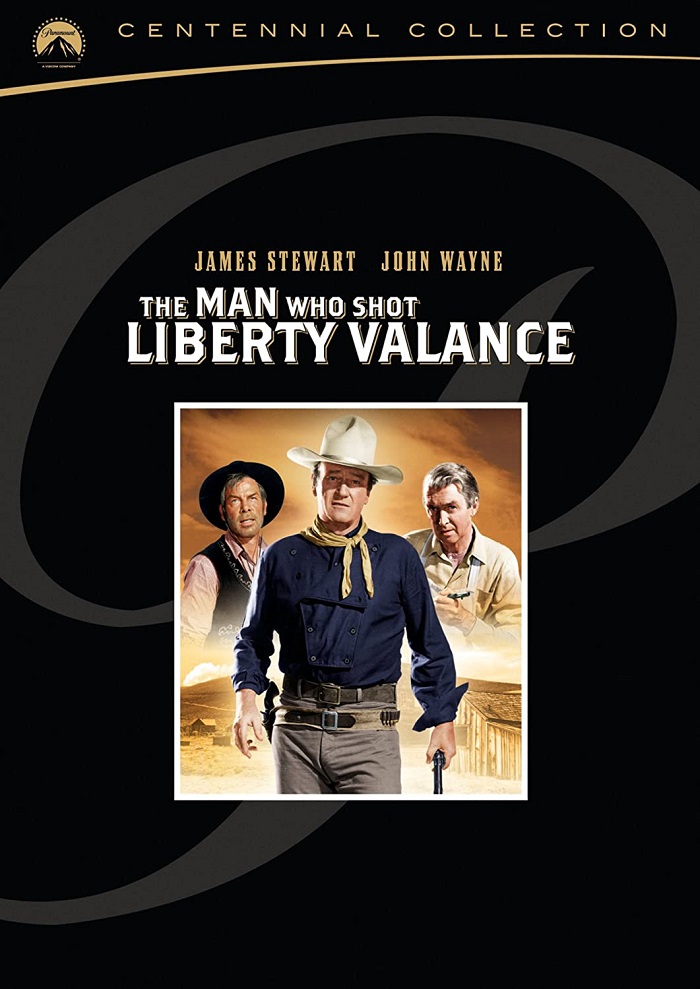 The Man Who Shot Liberty Valance is more than your average western; the team of master director John Ford and legendary star John Wayne make sure of that. When the two of them are on a project, it tends to be an overall good film with a story more than just cowboys, Indians, and cattle drives. Those elements are sometimes involved but are used to further the tale along and usually mean more than what is simply shown. Meeting on film for the first time are James Stewart and John Wayne, who would pair up again years later on The Shootist. The Man Who Shot Liberty Valance is a love story, a vengeance tale, and the classic confrontation of old versus new now available in a two-disc set as part of Paramount's Centennial Collection.
Ransom Stoddard (James Stewart), an older lawyer turned politician heads back to the town that launched his career to attend the funeral of an old "friend." While there, Stoddard recounts to a newspaperman the true tale of the events that led to his election. As the tale unwinds we hear how the young Stoddard got tangled up with outlaw Liberty Valance (played well by Lee Marvin), met his wife Hallie (Vera Miles), and met the now-deceased local rancher that no one's heard of, Tom Doniphon (John Wayne, 'nuff said). Stoddard's whole career was built on the fact that this law-abiding Easterner shot down the meanest, baddest gunman to roam "south of the Picketwire"or did he?
All is not as it seems or as legend has it. Stoddard's arrival in the town of Shinbone upset the applecart of lives already established there. Doniphon and Valance were already set to clash and it was only a matter of time; now Stoddard is determined to put the villain behind bars instead of six feet under. Doniphon was also set on wedding the beautiful Miss Hallie and taking her back to his ranch. With Stoddard now in the picture, things shift and he is now in the spotlight and set to steal some thunder. As times goes on Doniphon can see that Stoddard is the way of the future and the key to settling a wild land. He knows that in Stoddard the people have a greater champion and Hallie has a brighter, more eventful life ahead of her. Doniphon is now a guardian angel of sorts that will assist the lawyer and his love in the only way he knows how, with a six-shooter, even if it means that no one but a very few will ever know of his deeds as he goes on to live out his life alone.
Filmed mostly on a soundstage in black and white is a bit different for Ford as he loved to film on location in Monument Valley and in color. Reasons differ as to why Liberty Valance was shot this way. Ford said he wanted to shoot in b&w to give the picture more depth while others say Paramount was cutting cost especially with stars Wayne and Stewart in the mix. There is also the theory that due to Ford's poor health the production was shot on the backlots. Another point on the dual stars is that both were portraying younger men with Stewart was to be fresh out of law school. Filmed in color, it would have clear that Stewart was nowhere near that young. Wayne too was starting to show he was getting up years and moving to the next phase in his career. Although Wayne's character can get away with being a bit of an older man in the west, Stewart's role was clearly that of a very young man at the beginning of his life's path.
The two-disc set is packed with great bonus material, including commentary by Peter Bogdanovich and his archival recordings with John Ford and James Stewart. The other commentary also consists of archival recordings by Dan Ford with John Ford, Stewart, and Marvin. There is a seven-part featurette, "The Size Of Legend, The Soul Of Myth" that further delves into the facts behind the making of the film. Also included is an eight-page booklet with more details and tidbits of information along with a few photos. I love booklets and they seem so rare to find unless you purchase some massive gift set that contains a ton of overkill. Just a simple booklet is all I ask for studios and distribution folks.
The Man Who Shot Liberty Valance is an excellent western that I appreciate more now that I've seen it though adult eyes. I can see the deeper story of doing what's right for the greater good at the risk of losing all that you have worked for. Filming in black and white is perfect for this film as it becomes more expressive in its dark take on the western myth of outlaw and lawmen. The film also boasts a good supporting cast. Not only is Lee Marvin cast in his first major heavy role that sent him on the road to stardom, we see as his sidekick another young Lee, Lee Van Clef, who would go on to greater roles in many westerns. In smaller roles we also get to see some old Hollywood staples in Andy Devine, John Carradine, Woody Strode and Edmond O'Brien.