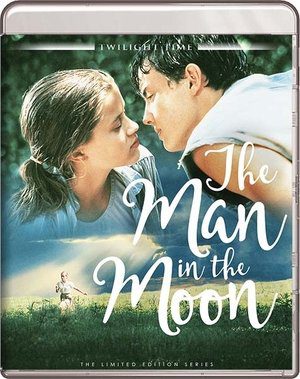 At the beginning of the 1960s, a fairly new motion picture director by the name of Robert Mulligan accepted a project very few people in Hollywood had an interest in touching. It was a story about a small Southern community, where people were simple and problems were complicated. There was nary a trace of action or romance, and the only violence that happened occurred in-between the pages of its source material, as penned by a one-hit writer. The result, 1962's To Kill a Mockingbird, would go on to become an Oscar-winning American classic, thanks to Mulligan's ability to focus on something all of those other folks in Hollywood seemed to have lost their connection with: human emotion.
Nearly thirty years later, Mulligan ‒ his career as a filmmaker having hit a few highs mixed many lows since ‒ found himself helming yet another emotional human drama from a one-hit writer set in a small Southern community: The Man in the Moon, now on Blu-ray thanks to Twilight Time. It would prove to be a fitting, final feature for the director, enabling him to end his chosen calling on a high note. Even if the story is so goddamned bittersweet. But then, growing up truly is not an easy thing to do, as 1991's The Man in the Moon's teenaged protagonist, Dani Trant (as played to the hilt by Mulligan's last major discovery, a 14-year-old nobody by the name of Reese Witherspoon), can full well attest to.
Set during the summer of '57 in rural Louisiana (which is nowhere near as racist as the good state of Alabama, judging by the absence of biased, unfounded murder trials as depicted in To Kill a Mockingbird), The Man in the Moon tells the many trials and tribulations of the Trant Family: hard-working patriarch Matthew (top-billed Sam Waterston); matriarch Abigail (Tess Harper), pregnant with the pair's third offspring; and eldest sister Maureen (Emily Warfield), who has already figured out a few facts of life. Then there's the innocent Dani, who has reached that ceremoniously unceremonious age of little-womanhood where things almost look like they might start to make sense.
Providing one doesn't encounter many major traumas, that is ‒ which is something Jenny Wingfield's tragedy-filled tale really doesn't skimp on. Because that's just how life is, kids. And so, in the grand tradition of all of those other classic coming-of-age dramas many of you probably still quote on a daily basis, The Man in the Moon explores the awkward tenderness of discovering the existence of one's sexuality, which is put to the test with much ferocity as young Dani feels Cupid tuggin' at her li'l teeny tiny feelers for the first time. Naturally, it's for her hunky 17-year-old cousin (Jason London). After all, The Man in the Moon may not take place in Alabama, but it is still set in the South!
Alas, Dani isn't the only girl to notice the farm boy next door: her older, "experienced" sister does, too ‒ creating a classic cumbersome conundrum of incest. If that weren't frustrating enough, further tragedies for both families start crawling out of the woodwork like the many weird people who tend to pop up at reunions and rallies. Gail Strickland and Bentley Mitchum (one of the many heirs to the great Robert Mitchum's legacy) also star in this majestic sendoff for Robert Mulligan, who wisely used Jason London's less-reputable twin brother Jeremy as a stand-in for a few scenes.
Of course, I cannot so much as mention stand-ins without bringing up the youngling Witherspoon's legendary uncredited (adult) nude body double ‒ whose memorable bare asset is all the more noticeable in this positively gorgeous 1080p AVC/MPEG-4 transfer from Twilight Time, as made available from the MGM/UA vaults. Presented in its original theatrical aspect ratio of 1.85:1, Twilight Time's Blu-ray of The Man in the Moon provides us a nearly flawless picture all around (although it should be noted MGM never bothered correcting the color during a day-for-night sequence) which complements the magnificent cinematography by former Hammer horror film director Freddie Francis.
The Man in the Moon boasts an equally stellar 2.0 Stereo DTS-HD MA soundtrack with optional English (SDH) subtitles. A secondary audio selection in the form of an isolated score (the film features several Elvis Presley tunes on its soundtrack, as well as an additional classic from The Platters) begins the bonus materials section of this Region Free release, and is also presented in DTS-HD MA 2.0. The original theatrical trailer is included (in Standard-Definition), and Julie Kirgo's fondness for the flick are on-hand to thumb through at your leisure via the liner notes of the title's collectible booklet. Like most of Twilight Time's offerings, this Limited Edition release is reserved to 3,000 pressings.
So be sure to get this one before the proverbial sun sets on the ol' lunar landscape, kids.