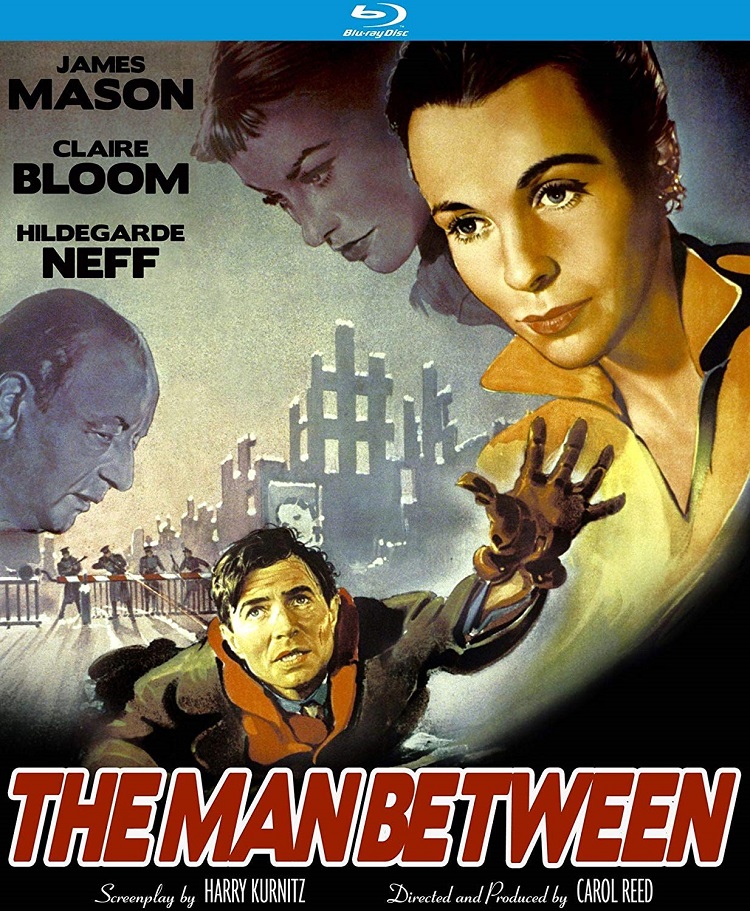 It is difficult not to compare The Man Between, Carol Reed's 1953 thriller to a film he made four years earlier, The Third Man. Both films are set in bombed-out, post-war European cities (The Third Man in Vienna, The Man Between in Berlin). Both films feature espionage, intrigue, and flexible sympathies towards some of the main cast. I won't argue that The Man Between is the better of the films, but it deserves to be a part of the conversation. Hopefully, this new Blu-ray transfer from Kino Lorber Studio Classics will pull it out from underneath The Third Man's shadow.
Not long after the Germans lost World War II, British citizen Susanne Mallinson (Claire Bloom) travels to Berlin to visit her brother Martin (Geoffrey Toone), a soldier who is helping with the reconstruction process. There, she meets his new German wife, Bettina (Hildegard Knef), who takes her across the checkpoints to the East Side of the city for a visit. A strange little boy on a bicycle follows them like a tiny spy. In a cafe, Ivo Kern (James Mason), an old friend of Bettina's comes up to them for a peculiar chat. He's quite charming and later invites Susanne out to lunch which she accepts, even though Bettina seems to distrust him. The following day when Susanne returns from an outting she finds Ivo and Bettina having a heated argument. She can't understand what they are saying as they speak German, but clearly they are both angry. When she makes a noise alerting them to her presence, they act happy as if nothing had happened.
That night Bettina receives a strange message from the boy on the bicycle which she hides from Susanne. She initially thinks Bettina must be having an affair with Ivo but then he keeps taking Susanne out while Bettina gives him the cold shoulder. Susanne doesn't know what to think but likes the attention he gives her and seems happy to go with whatever flow she finds herself in.
In time, we learn the truth about Bettina and Ivo, but I'll not spoil it here. The Man Between is definitely a movie that's best enjoyed the less you know about it. The film allows you to change allegiances between who might be the bad guy and who is the hero, ultimately making them all land somewhere in the middle. Carol Reed seemed to love his morally ambiguous characters and we get them in spades here. There is a glorious chase sequence in the back half that is suspenseful, thrilling, and intensely entertaining.
Like with The Third Man, Reed makes great use of black and white photography. Cinematographer Desmond Dickinson crafted images that are as beautiful as they are menacing. Great shadows fill the screen along with some impressionistic framing he most certainly learned from the German expressionists.
It was filmed on location in Berlin (with interiors being shot at Shepperton Studios in England) and it's interesting to see how much of the city is still in ruins (it was filmed in 1953, the war ended in 1945). Berlin is just as much a part of the story as Vienna is in The Third Man, and seeing how so much of it has yet to be rebuilt gives it an eerie look and feel. It makes great use of the East/West divide in the city. The Berlin Wall had not yet been built but there are plenty of soldiers guarding every passage between the two sides of the city. It is a time in which those in the West could freely pass into the East if they wished, but Easterners had to get permission to travel to the West and this was rarely allowed. There are several tense scenes in which someone tries to get past the guards.
James Mason is terrific as Ivo, a man who has done some terrible things, isn't necessarily sorry for having done them, but still understands how they've destroyed his soul. Carol Bloom plays Susanna with a knowing innocence. Hildegard Knef is fascinating at Bettina. She's sweet one minute, then secretive and bitter the next. The whole cast is great, really. The whole film is marvelous. It isn't quite up to the level of The Third Man, but it's not too far off either. I hope this new release gives it a much wider audience and starts all sorts of interesting conversations.
Kino Lorber Studio Classics presents The Man Between with a 1080p transfer and a 1.37:1 aspect ratio. Extras include an audio commentary by film critic Simon Abrams, an interview with Claire Bloom, a nice retrospective on Carol Reed, an archival interview with James Mason, and several film trailers.