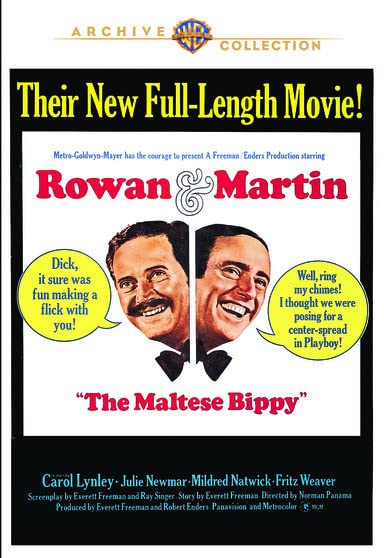 During a time when five crazy Britons and one expatriate American were producing bizarre sketch comedy for the BBC, two US-born contemporaries on the other side of The Pond were running amok on national television. Thus, Rowan & Martin's Laugh-In (complete with a soon-to-be-dated title about the hippie revolution) amassed a huge following, launching its hosts, comedians Dan Rowan and Dick Martin, to success status for a brief period. Naturally, no one in the motion picture business was about to let a hot commodity like Rowan and Martin slip past them; because, as anyone who has ever seen any Saturday Night Live-inspired feature film knows, there's no possible way anything could go wrong with that kind of notion.
Thus, in the fine tradition of future cinematic epics such as Coneheads and It's Pat: The Movie came The Maltese Bippy: the one and only feature film to star the acclaimed comedy duo after the success of their landmark (and now, all-but-forgotten) television series. And if doesn't take long once the movie opens to realize why Dan and Dick never made another feature-length film together, as The Maltese Bippy is about as weak as its title implies. Here, after several openings, the duo start out as themselves before materializing into a diluted form of Abbott and Costello, with Mr. Rowan playing a shifty, mooching stag moviemaker, and Mr. Martin as his relatively clueless partner, who has been duped by his pal into buying a dilapidated old mansion near a cemetery.
After a ghastly murder is committed nearby, our anti-heroes begin to suspect their neighbors are shapeshifting creatures of the night (look, when you have some budget vampire costumes and werewolf masks on hand, you might as well use them, right?). Fritz Weaver and the lovely Julie Newmar represent the heads of the next door would-be ghouls, while the Rowan and Martin household also sports the beauty of Ms. Carol Lynley and the scene-stealing Mildred Natwick – although, when you're in a movie like The Maltese Bippy, do you really want to be stealing the scenes? Even co-stars Robert Reed and Dana Elcar (as cops) don't try to stand out more than they need to in this fairly unfunny flick that somehow manages to redeem itself in a sincerely hilarious ending Mike Myers must have "borrowed" from in Wayne's World.
Doomed to a shelf life of late night TV showings and long absent from every single form of home video for decades (for reasons that should be pretty clear by now), The Maltese Bippy finally finds its way onto DVD via the folks at the Warner Archive Collection, who believe every movie – even this one – is worthy of another chance. Presented in its original 2.35:1 aspect ratio, the transfer looks pretty good overall, with some of the many bad optical zooms standing out from an otherwise decent presentation. The original theatrical trailer is included here as a bonus, and it's interesting to note that the narrator for this preview is the same voice actor who (in)famously tried way too hard to sell the original Night of the Living Dead the previous year for that cult horror classic's now-iconic creepy trailer.
Yes, The Maltese Bippy is a bad movie. It's dated, the jokes are routine, predictable, and will usually probably just make you wince more than anything. That said, however, this is a rare, unique look at a long-gone comedy duo who never had a chance to get past their famous television medium (even the DVD sets of Rowan & Martin's Laugh-In are out of print now, making their work even harder to find!) from a period in history that we will truly never experience again. Plus, that ending truly is damn funny, so I'll still recommend this late '60s horror/comedy just the same.