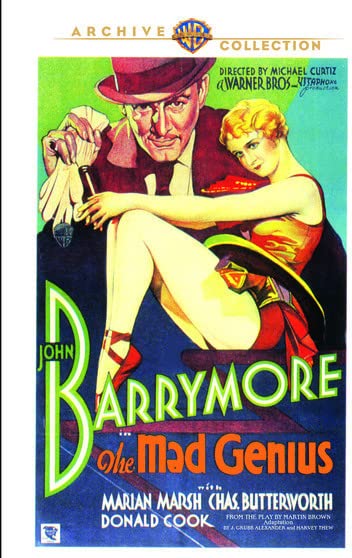 What's in a name? These days, not a whole heck of a lot. We've witnessed the offspring, the grandchildren, and various poor relations try to follow in the footprints of their much more famous ancestors. The result? Filmic outputs that have, more often than nought, wound up as experiments on Mystery Science Theater 3000 or lampooned in equally lamentable Hollywood in-jokes such as Bowfinger. And while the bulk of modern actress Drew Barrymore's nominations are mostly in association with her unforgivable multiple appearances in movies starring Adam Sandler (and which are commonly limited to MTV Music Awards and Golden Razzies), there is ultimately no denying her family's roots in the moving pictures.
Take, for example, Drew's famous grandfather, John "The Great Profile" Barrymore: father of John Drew Barrymore, brother of Lionel Barrymore (the original Dr. Gillespie). Born into a regular dynasty of stage performers in 1882, John was at first reluctant to join the family business, but that near-extinct of insect known as the acting-bug was adamant in making him one of its many victims, and soon, John Barrymore was one of the most mightiest titans of Hollywood's illustrious Silent Era. And while these two Warner Archive Collection offerings from Barrymore's latter-days, The Mad Genuis and The Great Man Votes have understandably been buried by the sands of time over the years, they do give one a great look at how far even the mightiest of titans may fall.
Released on November 7, 1931, the Warner Bros. pre-Code horror/drama The Mad Genius was rushed into production after the massive success of Barrymore's immortal Svengali earlier that year. The Mad Genius finds John Barrymore as an aging Russian puppeteer with a passion for music and movement by the handle of Tsarakov. Born with a bum foot, Tsarakov holds quite the everlasting grudge against most (if not all) of the world for not just his physical deformity, which has prevented him from being the world class ballet dancer he had aspired to be from his youth (or something like that; he's a Mad Genius, after all ‒ and it's always best if we don't attempt to dissect their train of thought), but man's tendency to underappreciate art and beauty in-general.
Now, in case you missed it, The Mad Genius is partly categorized as a horror film, which begs a question beget by another member of an entirely different famous lineage, "Where's the beef?" At first, it seems Tsarakov is on his way to becoming cinema's first Puppet Master; making mention of stuff Colin Clive would refute in Bride of Frankenstein (1935) as "…black magic." Instead, Tsarakov "rescues" young Frankie Darro from his abusive father when he senses the boy has what it takes to become a great dancer ‒ with the guidance of a good Mad Genius, that is. (Interestingly, not only is a reference to the Frankenstein monster made, but the actor playing the boy's abusive father, Boris Karloff, would debut as Colin Clive's creation in Frankenstein only two weeks later!)
Indeed, Tsarakov's protégé (now played by Donald Cook) becomes a success. But once one of those evil woman creatures appears in the ballet troupe and catches the eye of his prized discovery, Tsarakov starts to play those annoying little games usually reserved for possessive friends and family. Marian Marsh, who was also cast as Barrymore's co-star in Svengali, is the young innocent temptress; Charles Butterworth is the comic-relief business partner who may very well possess the single worst idea for a play in the history of mankind; and Spanish-born actor Luis Alberni chews (or at least destroys) scenery as a maniacal stage director under the influence of Barrymore's illegal drugs in this unusual relic from the past from future Casablanca director Michael Curtiz.
Switching gears substantially for the next feature, The Great Man Votes from 1939 (the same year as Son of Frankenstein, since that legacy seems to paralleling this one), we find Mr. Barrymore at a different studio (RKO Radio Pictures), in a whole 'nother kind of film genre (lighthearted comedy), and at the tail-end of both his career (this would prove to be his last serious role), and life (the performer's sad decline into alcoholism would take its toll just three years later). Nevertheless, Barrymore is in full form here as a former college professor who has since turned into a meager, hard-drinking (is it typecasting, or self-mocking?) nightwatchman since the beloved mother of his two children (played here by ill-fated actress Virginia Weidler and the never-to-be-seen-again Peter Holden) passed away many moons ago.
While the first to drunkenly shout his political views out loud ‒ especially as people like two-faced "Iron Hat" McCarthy (the great Donald MacBride) are roaming about gaining votes by hook or crook ‒ Gregory Vance (Barrymore) nevertheless has not taken part in the local mayoral voting process. In fact, McCarthy even exercises his muscle to oust Vance from his job when his loyal offspring fight back against ol' Iron Hat's own bully of a son at school, sparking the interest of newly-appointed school teacher Agnes Billow (Katherine Alexander). But when it is revealed Vance's absent ballot is vital to the entire election, McCarthy is forced to change his tune and butter up to his rival. (And if it sounds to you like the makers of Swing Vote may have been inspired here, you're not alone in that assessment.)
Future Bowery Boys regular Benny (Bennie) Bartlett is MacBride's tyrannizing tyke of the playground; Luis Alberni (again!) is cast as Barrymore's drunken comrade, a milkman in a horse-drawn carriage who secretly supplies bootleg booze (and whose name happens to be Manos!); and William Demarest ‒ who would later find out all about widowed fatherhood as Uncle Charley in My Three Sons ‒ is the party member who sets the whole plot into motion. Serial and horror aficionados will spot Robert Strange at the party meeting; the actor also appeared in the 1936 Boris Karloff vehicle The Walking Dead (directed by Michael Curtiz), as well as a couple of Dead End Kids movies. Born Yesterday's own Garson Kanin directs this tale, originally penned by playwright Gordon Malherbe Hillman.
Both of these "unburiedmore" features make their official debuts to home video by the Warner Archive Collection, and are presented in their intended 1.37:1 aspect ratios with their original theatrical trailers in accompaniment. While neither film is necessarily a testament to The Great Profile's film legacy (the late performer's contributions to the Silent Era, such as Dr. Jekyll and Mr. Hyde ‒ wherein Barrymore relied on his own contorting face for his famous first transformation scene ‒ and the aforementioned Svengali are much stronger films), these two minor entries in a major player's career are well worth a viewing (maybe even two). And besides, any film to feature a pre-fame Boris Karloff or the slow burn expressions of Donald MacBride are always worth checking out.
Recommended.