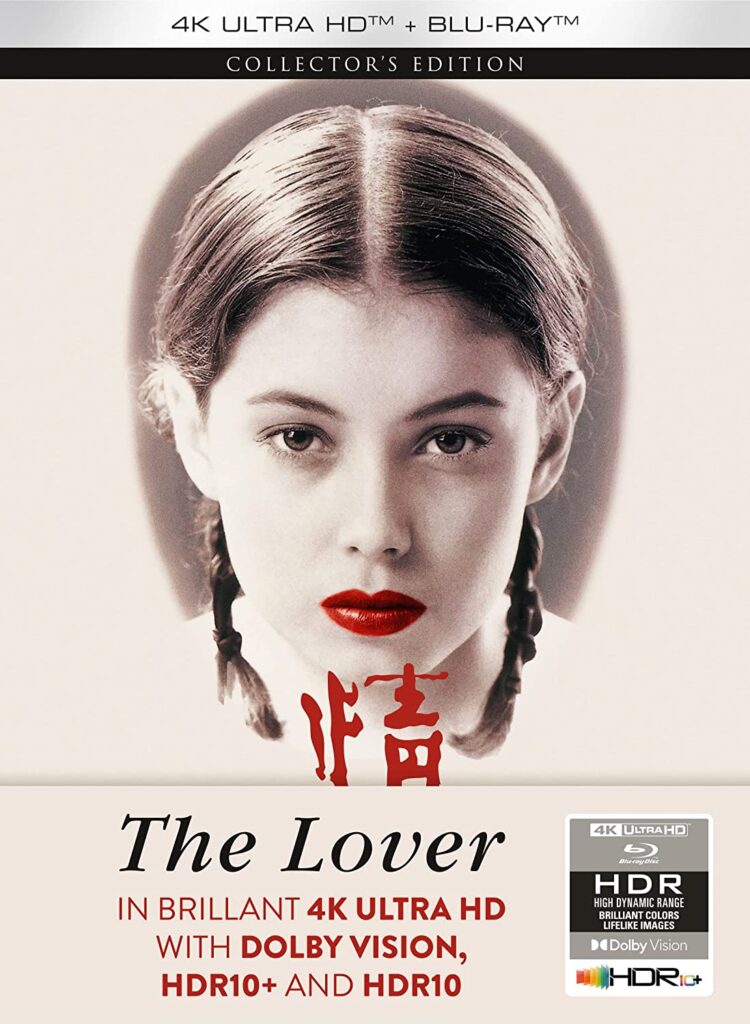 Famed director Jean-Jacques Annaud's adaptation of this steamy semi-autobiographical tale by author Marguerite Duras caused a sensation upon its 1992 theatrical release, and now it's back in a stunning new 4K collector's edition. The film follows the sordid adventures of a teen French girl and a Chinese man who meet by chance in Vietnam in 1929 and carry out a prolonged love affair, the first for the girl. Within that framework, the film also explores the sense of alienation they both feel in their temporary adopted homeland, as well as the outside factors working to drive them apart. Filmed on location in Vietnam, Annaud brings the exteriors to life with abundant period-specific attire, vehicles, and buildings, with exquisite cinematography that elevates the lurid subject matter.
Watching the film again for the first time since its original theatrical release, I was most struck by the stark contrast in acting abilities between the two leads. Jane March was a model with no acting experience before this film, and it shows, with tragically wooden line reading in the early going that thankfully gets better as the story progresses. While her inexperience ultimately plays into the role's demands for a teen ingenue, she's clearly here more for her incandescent looks than her thespian skills. Conversely, Tony Leung Ka-Fai was already a well-established leading man in Hong Kong films with a decade of continuous screen work under his belt, and it's evident in his nuanced performance that brings to life the interior pain felt by a character who initially appears to be little more than a carefree playboy. His character is just as trapped in his situation as March's, a stranger in a strange land restricted by familial obligations. The difference is that in Leung's capable hands we fully understand and feel the extent of the character's torment. While he has never reached the worldwide fame of the "other" amazing Tony Leung (Chiu-Wai, Shang Chi), his superb handling of this challenging role ensures that he'll never be forgotten.
While the film as a whole has aged remarkably well, there's little chance it could be made today. March was only 17 when filming started, with the script making pains to point out twice that her character was just 15 ½ while her paramour was 32, clearly problematic in spite of its basis in fact. Its script occasionally exhibits blatant racism toward the Chinese man, with the girl exclaiming that she doesn't actually like the Chinese, would never marry one, and is amazed that she would even consent to be with one. That's all the more cringeworthy considering that March is coincidentally half Asian, although hired to play the role as wholly white. The extent of nudity in the film has of course long since fallen out of favor in the local cineplex, but the biggest mark against anything like it ever happening again at this scale is its budget. With serious dramas and art house fare nearly extinct in theaters, there's simply no conceivable way the film's original $30 million budget, let alone its inflation-adjusted number, would be financed now by anyone but the least risk-averse streamer. These factors contribute to make the film's mere existence, let alone this lavish new release, all the more remarkable.
The 4K disc presents the film in Dolby Vision, HDR10+ and HDR10. The transfer is impeccable, with no perceptible defects. The film as a whole looks better than ever, as if a gauze filter had been removed from the camera lens. While the improved color reproduction is notable, it's not so overpowering that any scenes appear oversaturated. The only fault is that dimly lit scenes exhibit far more film grain than one would expect, especially in contrast to the nearly grain-free daytime footage. Sound is presented in a DTS-HD 5.1 Master Audio mix on both the 4K and Blu-ray discs.
Bonus features are surprisingly robust, most notably an hour-long archival making-of documentary including behind the scenes footage and interviews. The next best featurette is an archival conversation conducted between Duras and Annaud before the film's production where he picks her brain about plot points and she gives her thoughts on how certain aspects of the film should be handled. There's also a brief selection of unreleased scenes, really just alternate takes and angles of existing scenes rather than anything deleted from the final film. Finally, the disc includes trailers and a generous collection of photo galleries broken into three series: "On Set", "Filming Locations", and "Marguerite Duras and Jane March".
The package itself is high quality that more than earns its "collector's edition" designation. The discs are stored in a sturdy gatefold case with separate trays for each disc, along with a 24-page attached booklet in between them. The booklet includes a lengthy essay about the production process as well as numerous stills from the film. The case looks and feels like a hardcover book, with an aesthetically pleasing matte finish on sturdy boards thoroughly protecting the enclosed discs and booklet. It's an excellent design that is certain to satisfy even the most discerning of collectors.
Now 30 years after its theatrical release, the film has lost none of its power and is instead more stunning than ever thanks to this lush presentation. While its subject matter remains decidedly dicey for many viewers, fans of the film will fall in love with this gorgeous new set.