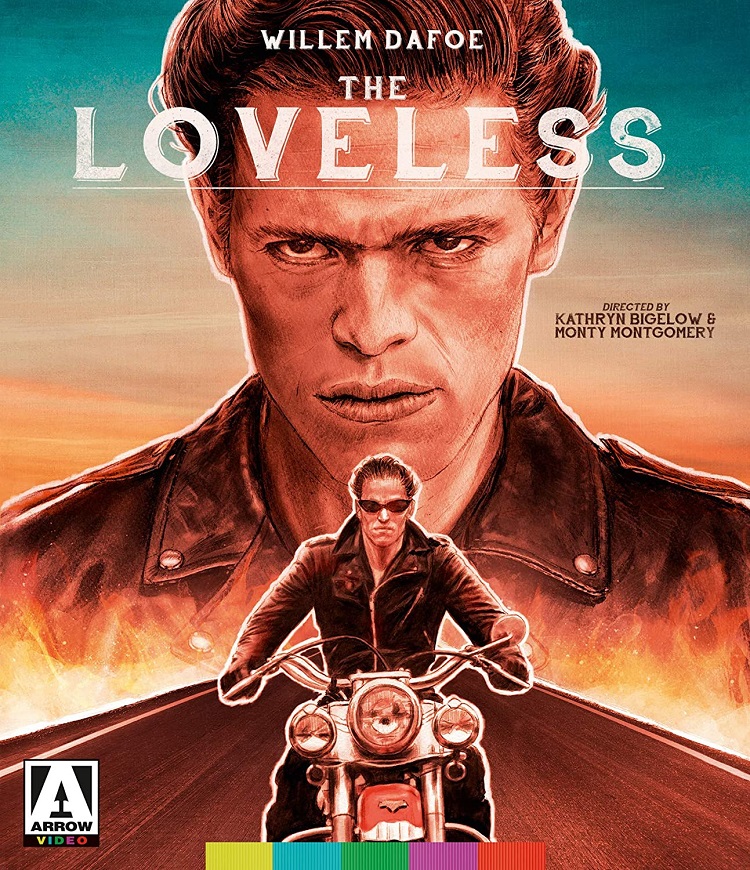 They're loud, fast, and out of control! And that's just the motorcycles! Engines roar and trouble soars when this relentless crew of Hell's boozefighters led by a wild young Willem Dafoe, rock, roll, and tumble into a sleepy little town. Throwing it all around and down as they carve a path of destruction and expose the rotten core of this highway pitstop. They ain't no angels and for sure no man's friend today, baby!
That's an over-the-top description of 1981's The Loveless but it sounded good flowing from my mind in Wolfman Jack's voice, and I have a flair for the dramatic at times as well. The Loveless does star Willem Dafoe (in his first feature role) as Vance and rockabilly revival icon Robert Gordon as Davis, wild delinquents who are forced to spend a day in a very small town on their way to Daytona to "watch them howl" at the races. Along with a handful of other fiends on two wheels, including Tina L'Hotsky, Phillip Kimbrough, Lawrence Matarese, and Danny Rosen, they converge in a small town to repair one of their motorcycles, using the local garage for a work space. We watch as they casually interact with the locals, who fear their little town will be tomorrow's headline of mayhem. Sadly, it will be but not quite how one would imagine.
It's slow going getting the bike repaired and "the gang" winds up staying in town late into the night. It's also a slow build to the movie's climax with not much happening in between. Through his reckless ways, Vance manages to expose the town's seedy side as he meets Telena (Marin Kanter), a troubled teen who drives a fast car and lives just as fast. Telena, who had witnessed her mother's suicide before she fell victim to her fathers perverted hands, will spend the afternoon with Vance in a motel before pops shows up with a shotgun. Her father, Tarver (J. Don Ferguson), who is somehow pilfering oil from a local supply line (this is never fully explored, co-director Monty Montgomery doesn't even recall why it's part of the movie besides to show he's a real jerk, I suppose), will get his comeuppance at the end of the picture during the final brouhaha at the local watering hole. This frenzied dust-up between locals led by Tarver and the outsiders will bring all the drama to a boil leaving two dead and a town's dirty laundry exposed all while Davis, laughing like a complete idiot, shoots up the bar. Our anti-heroes couldn't give a hang though and coolly gather up, mount their sickles, and zoom outta town, never glancing back at the carnage left in their rear-view mirrors.
That's pretty much it. The major damage isn't really caused by the gang themselves, besides the shot-up bar, it's what Vance and his unapologetically selfish crew unwittingly expose in the town that causes the most destruction. There's no riding motorbikes into saloon; overly annoying, pestering antics; or tearing up the town physically a la The Wild One or some '60s biker exploitation flick. It's the seedy side of Mayberry that drives The Loveless to be more than just a drive-in cast off film.
First-time directors Kathryn Bigelow (Near Dark, The Hurt Locker) and Monty Montgomery (better know as a producer for such films as David Lynch's Wild at Heart) share the captain]s seat as well as writing credits. The dialog is a little odd and clunky at times but is also nihilistically poetic at others. Inspired by classic Hollywood directors like Douglas Sirk and armed with sharp camera eyes for framing beautiful shots, the two manage to make The Loveless a cult classic.
There are also a lot of stylish, leather-clad, metal-studded, pretty boy/tough guy posturing scenes to fill the screen, inspired here by Kenneth Anger's short film Scorpio Rising (1963) without all the Nazi stuff. Like Scorpio Rising, there is a good amount of music that fills the air as the movie rolls on. The Loveless is loaded with originals by Robert Gordon and Eddy Dixon ("Relentless" is the movie's theme) who have a great ear for early rock and roll beats and rhythms as they build a solid soundtrack that further drives the authentic feel of The Loveless.
As always with Arrow Video productions there are many great special features and extras. The audio commentary with Montgomery is fun and informative as he shares his thoughts on his sole directorial outing.
No Man's Friend Today; Making The Loveless is a great 35-minute featurette that catches up with some of the cast 40 years later as they discuss their experience while filming and beyond. It's especially cool to watch Kimbrough and Matarese discuss how they loved working with musical hero Robert Gordon on a period piece with a theme they're very familiar with, that whole '50s motorcycle, rock 'n roll/rockabilly culture. Gordon's reflections on his role in the movie and N.Y. music scene are tops along with Dafoe admitting he had to check out a book on how to ride a motorcycle before filming began. Being a rockabilly guy myself, I highly recommend this to fans of Dafoe or rockabilly culture in general. A really good supplement to the movie itself, filled with laughter and fond cast member memories.
Special Features include
Brand new 2k restoration from the original camera negative by Arrow Films, approved by co-writer/co-director Monty Montgomery and director of photography Doyle Smith
High definition Blu-ray (1080p) presentation
Original lossless mono audio
New audio commentary with Monte Montgomery, moderated by Elijah Drenner
No Man's Friend Today; Making The Loveless new video interviews with actors Willem Dafoe, Marin Kanter, Robert Gordon, Phillip Kimbrough and Lawrence Matarese
U.S. 17; Shooting The Loveless new video interviews with producers Grafton Nunes, and A. Kitman Ho.
Chrome and Hot Leather; The Look of The Loveless new video interviews with production designer Lilly Kilvert and director of photography Doyle Smith
Reckless, new audio interview with musician Eddy Dixon
Extensive image gallery
Theatrical trailer
Reversible sleeve featuring commissioned artwork by Gilles Vranckx
The Loveless opens like The Wild One, postures like Scorpio Rising. and speaks like Brando's Johnny while lacking the action of both but that's okay as it all jibes together well in this stylish mash-up of those two very different outlaw motorcycle classics. Kathryn Bigelow and Monty Montgomery do well in their debut outing, leaving a lasting impression and a foreshadowing of future brightness as they colorfully capture and expose the darker side of 1950s nostalgia.