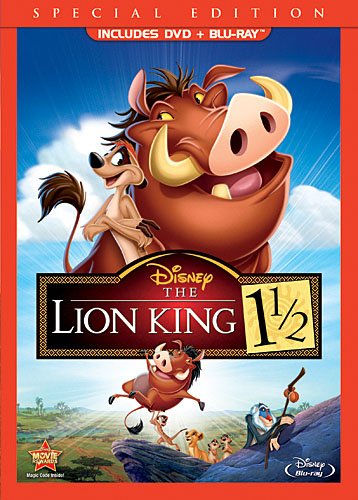 The Lion King 1 1/2 Special Edition Blu-Ray/DVD Combo Pack hit store shelves on March 6th and was advertised as a retelling of Simba's quest to follow his father's legacy by Timon and Pumba. What was actually delivered to the stores is more of a 75-minute long shiny toy to hold up in front of children in hopes of distracting them for a while.
The film contains fun songs, colorful scenes, and plenty of cute animals, but there is nothing that remotely resembles a story. The production certainly benefits from incredible vocal talent including Nathan Lane, Ernie Sabella, Julie Kavner, Jerry Stiller, Mathew Broderick, Robert Guillaume, Moira Kelly, Whoopi Goldberg, Cheech Marin, and many more, but screenplay writer Tom Rodgers who has penned many sequels to Disney classics including Cinderella 2, The Jungle Book 2, and Lady and the Tramp 2, fails to take us anywhere. Much of the time is spent trying to tie Pumba and Simon into the events of the first film, and the efforts result in overly contrived scenes with little payoff from a humor perspective.
Our story opens with Timon and Pumba sitting down in a theater to watch the first film, but they decide to tell their story instead. The storyline of them being in a theater is revisited several times throughout the film, but serves as nothing more than a cheap gag utilized to lengthen this plotless endeavor.
Timon meets Pumba as he sets out on his own, breaking away from the meerkat way of life, in search of a new place to live. Their search, which is in essence our story, never really goes anywhere. We cross paths with the cast members from the first film, discover Pumba's rare gift for flatulence, and watch Timon come into his own in a far too obvious conclusion to the tale.
There a few funny scenes in the film, as well as some new cute songs, but in the end, one cannot help but wonder where the time went. Unfortunately, like this tale, the time went nowhere.
There's not much in the way of bonus material on the DVD. "Timon and Pumba's Vacation Safari" consists of them narrating shots of wild animals. Like the main feature for the kids. There's plenty of bonus material on the Blu-ray, such as deleted scenes, a behind-the-scenes look, and a music video, which would lead one to comment to Disney: If you're going to provide a combo pack, with DVD and Blu-ray, you should provide the same material on both.
Recommendation: If someone gives you this as a gift, open it carefully, let the kids watch it once, close it back up, and re-gift it. It's sure to be the one that shows up at the family gift exchange every year.