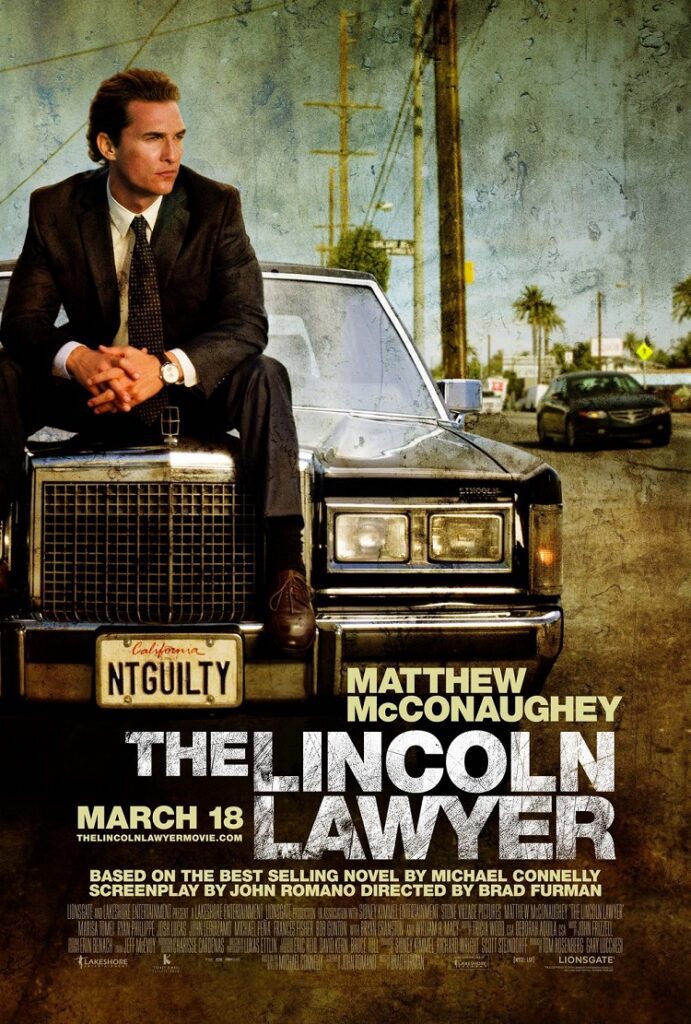 Based on the novel of the same name by Michael Connelly, The Lincoln Lawyer stars Matthew McConaughey in an impressive performance as Los Angeles attorney Michael "Mick" Haller. Mick's a slick manipulator of the legal system; a guy who plays all sides to his advantage while defending his less-than-model-citizen clientele and annoying the police.
However, he meets his match when, at the request of bail bondsman Val (John Leguizamo), he represents Louis Roulet (Ryan Phillipe), a Beverly Hills rich kid accused of attempted rape and murder. The case seems like easy money, and even better big money, with Louis vehemently denying the charges and the incident looking like a set up by the victim, who is also a call girl. As the facts reveal themselves, they oddly echo back to a previous case of Mick's. Unfortunately, once that realization occurs, Mick finds himself trapped in the case, unable to reveal the truth and with everyone close to him in grave danger.
Author Connelly, who stated at a Santa Monica screening that he was completely satisfied with the film, laid down a very good blueprint and the cast and crew did a great job adapting it for the screen. McConaughey shines in the lead. He has a classic Hollywood appeal (good looks, intelligence, and charm) that exudes from the screen, compelling the viewer to follow Mick on this journey. His stock will surely rise if this catches on with audiences like I expect it will. Director Brad Furman's work is reminiscent of classic Hollywood as well. Rather than calling attention his work, he wisely stands back and allows the strength of the story and the talents of his cast to shine through. It seems so simple, but so many fail at it. Screenwriter John Romano delivers a very smart script, and though I haven't read the novel, nothing feels missing. As expected with the genre, there are multiple plot twists and they are as crafty as they are believable, but the real strength of the story is the character moments.
Reminiscent of a good television series, relationships already exist and the film doesn't stop to dump information and offer explanations. Mick has an ex-wife (Marisa Tomei), who works for the DA, and they have a child together. His PI, Frank Levin (William H. Macy), has a brief time onscreen, but seems like a very interesting character that could be the lead of a story. Bad blood exists between Mick and detectives Lankford and Kurlen (Bryan Cranston and Michael Paré) who have obviously crossed swords before.
Connelly created a world within Los Angeles that deserves to be further explored, and as the credits rolled, I thought for sure The Lincoln Lawyer could launch a series. I was delighted to later learn it is the first of four Mick Haller novels. The other books are The Brass Verdict, The Reversal and the upcoming The Fifth Witness. He also has a cameo in 9 Dragons due to being brothers with Connelly's most notable character, LAPD Detective Hieronymus "Harry" Bosch.
If filmgoers are looking for a smart, well-acted story, they should make an appointment with The Lincoln Lawyer.