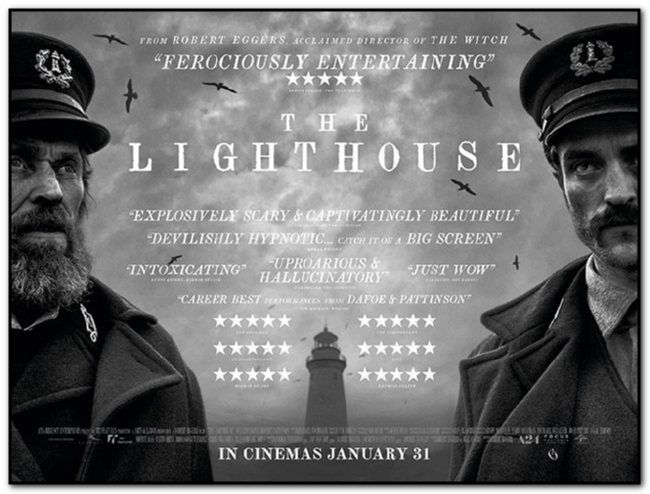 I wasn't at all familiar with director and co-writer Robert Eggers until this masterful sophomore effort, but immediately added his debut, The Witch, to my must-see queue after falling under the spell of The Lighthouse. The film really shouldn't work, and yet it's about as close to perfection as I encountered in last year's film slate. It's a dialogue-rich two-hander that is so stage-ready it's just missing spotlights, it's a twisted cerebral thriller with some insane freak-out moments, and it's filmed on actual film in black and white in a nearly-square 1.19:1 aspect ratio that legitimately makes it seem like a musty old European release from Criterion. In short, it's a Victorian-era horror play staged on location, and it is amazing.
Willem Dafoe and Robert Pattinson star as New England lighthouse keepers shipped out to tend a barren, remote location for a one-month term. Dafoe's character Thomas Wake is a crusty sea dog who has been stationed at the lighthouse before, while Pattinson's character Thomas Howard is his newbie assistant ready to learn the ropes. Those ropes mostly include doing all of the manual labor needed for groundskeeping, while Wake saves the plum job of tending to the actual light to himself. The men don't really know each other, so enter their relationship with a healthy amount of distrust that only deepens as Wake's peculiarities and the harsh environment begin to fray Howard's perception of reality. Eggers gleefully plays with our perceptions as well, making us question whether they're the same person, whether time has jumped ahead by weeks or only minutes, and whether Howard's visions of bloodthirsty mermaids and Wake's odd obsession with the light are real or imagined, keeping us guessing until the end.
Dafoe reminds us once again of his acting prowess, delivering another searing, bonkers performance with no holds barred. Pattinson's role is a bit of a slow burn, with him initially acting as the straight man to Dafoe's nutjob, but as the claustrophic isolation of the lighthouse takes hold he eventually matches Dafoe's intensity and comes off with a very impressive addition to his filmography. The cinematography by Jarin Blaschke is astounding, with every scene lit and composed so well that it's like walking through a museum photography exhibit. If there's any Oscar justice for the film, he should be a shoe-in for a nomination this year, if not the outright win. The sparse, creepy score by Mark Korven is at times indistinguishable from the atmospheric sound effects, melding together to enhance the thrills. Finally, there's Eggers, who much like his fellow young sophomore writer-director Ari Aster (Midsommar), has made himself a name to watch here with a truly unique take on horror by totally transcending the genre, proving that he's capable of great things to come in any genre.
The primary bonus feature is a generous 40-minute making-of featurette with cast and crew interviews. Eggers talks about the development process of the film and reveals with behind-the-scenes footage that the full-size lighthouse and surrounding facilities were actually built from scratch on location in Nova Scotia for the production, all the more astonishing because construction had to occur during the winter in order to accommodate his desired shooting window in the spring. His cinematographer shares intriguing insight about the craft needed to carry out the director's vision, including the use of a red camera filter to make the actors appear even more haggard on the black and white film. The Blu-ray also includes a handful of deleted scenes, with nothing much of note omitted from the final cut.
In a perfect Academy world, the film would be a shoe-in for Oscar nominations for Dafoe and Blaschke, with Pattinson and Eggers as dark horse candidates. I fear it just didn't get the necessary exposure to compete, especially with its glaring total omission from Golden Globe nominations, but all awards considerations aside, the film is an absolute winner that will be worth watching ages after most of this year's actual contenders fade into obscurity.