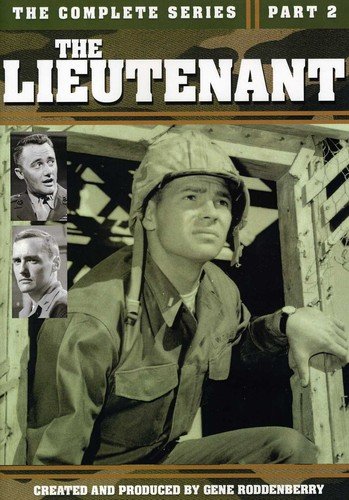 The Lieutenant was the first TV series created by legendary Star Trek guru Gene Roddenberry. The show ran for one season, from September 1963 to June 1964. Despite all of his later success, Roddenberry's first effort has rarely been seen until now. Warner Archive has just released all 29 original episodes of The Lieutenant as a two-part set. It provides a fascinating glimpse at the way Roddenberry initially approached the medium of television.
Part Two of the set contains 13 episodes plus a bonus theatrical film spread out over the course of four-DVDs. This set begins with the 17th episode of the series, "Between Music and Laughter." Both The Lieutenant and Star Trek were ostensibly about military life, be it in the Marine Corps, or Star Fleet. But Roddenberry had much more on his mind than just life in the service. He wanted to explore the emotional makeup of his characters, and does so to great effect in "Between Music and Laughter."
This episode centers around Captain Rambridge (Robert Vaughn) and his ex-wife. When Lt. William Tiberius Rice (Gary Lockwood) meets Susan Rambridge (Patricia Crowley) he is thrown when she introduces herself as "Mrs. Rambridge." She has come to visit the Captain a few years after their divorce, to try and rekindle the romance. Presenting divorce at all on television in 1964 was really pushing the boundaries, and I guess the blow was lessened a bit by her taking responsibility for initiating it. When the couple go out on a date, we quickly see that they are a mismatch. Although they will always love each other "in a special way," the Rambridges realize that they are better off apart.
On Star Trek, and Star Trek: The Next Generation, there was always a balance of stories that probed the emotions of the characters, as well as much more action-packed adventures. "Green Water, Green Flag" is an example of the action taking precedent. The premise of The Lieutenant is that the Bravo Platoon are in training for deployment to Vietnam. This involves war exercises, which are conducted at various locations. During the early part of this episode, the Platoon loads onto a ship in San Diego. They are headed to a beach nearby to simulate combat conditions. When Captain Rambridge is taken ill with acute appendicitis, Lt. Rice finds himself in charge of Bravo.
It would be easy for one to mistake this episode for one in which real combat was engaged. The amphibious landings, the helicopters, and all the gunfire make it seem like they are actually in a war situation. The program does explore the emotional life of the officers, in addition to all of the action. Rice is paired with an old adversary, and must get past his inherent dislike of the man to work with him.
This is nothing compared to "To Set it Right" though, which deals with racism straight on. The show was never aired, probably due to its controversial nature. In it, we meet two very promising recruits, one black and one white. As soon as they lay eyes on each other, they get into a fight. After the fight is broken up, they trade such slurs as "black monkey," and "white ape," right in front of Lt. Rice. It is a matter of prejudice dating back to their days in the same small town high school. With the Captain's permission, Rice works with the two to get them to cooperate with each other. In the end, the inherent goodness in people wins out over prejudice, which was a theme Roddenberry would revisit many times to come.
"To Set it Right" stars Dennis Hopper as the white racist, and Nichelle Nichols appears as well. Others future Trekkers who appeared on The Lieutenant include Leonard Nimoy, Majel Barrett, Walter Koenig, and Ricardo Mantalban. Besides those who would go on to Star Trek, the second half of The Lieutenant hosted Robert Duvall, Greg Morris, Chad Everett, Ted Knight, and many others who would find big success in the coming years.
The final episode of The Lieutenant is titled "To Kill a Man." In this one, Rice is sent to Vietnam on a special mission. Although all of the action up to this point has been simulated, when he goes in country things become very real very quickly. When the helicopter Rice and his fellow Marines are on gets shot up, they are forced to land. Soon they are reduced to Rice and his Vietnamese liaison. But who can be trusted in this foreign land where the Vietnamese are both friend and foe?
"To Kill a Man" was certainly Gene Roddenberry's strongest first statement of intent. So much so that the episode was expanded to 86 minutes, and released theatrically in 1964. The theatrical version of To Kill a Man (1964), and the trailer for it are included as bonus features. It is a very basic story, and one which Roddenberry would return to a number of times over the years. In it we find two men facing off in a kill or be killed situation.

Fans of Star Trek and Gene Roddenberry are obviously the intended market, but The Lieutenant was a very good series on its own terms. Both parts are available now as separate four-DVD sets from Warner Archive.