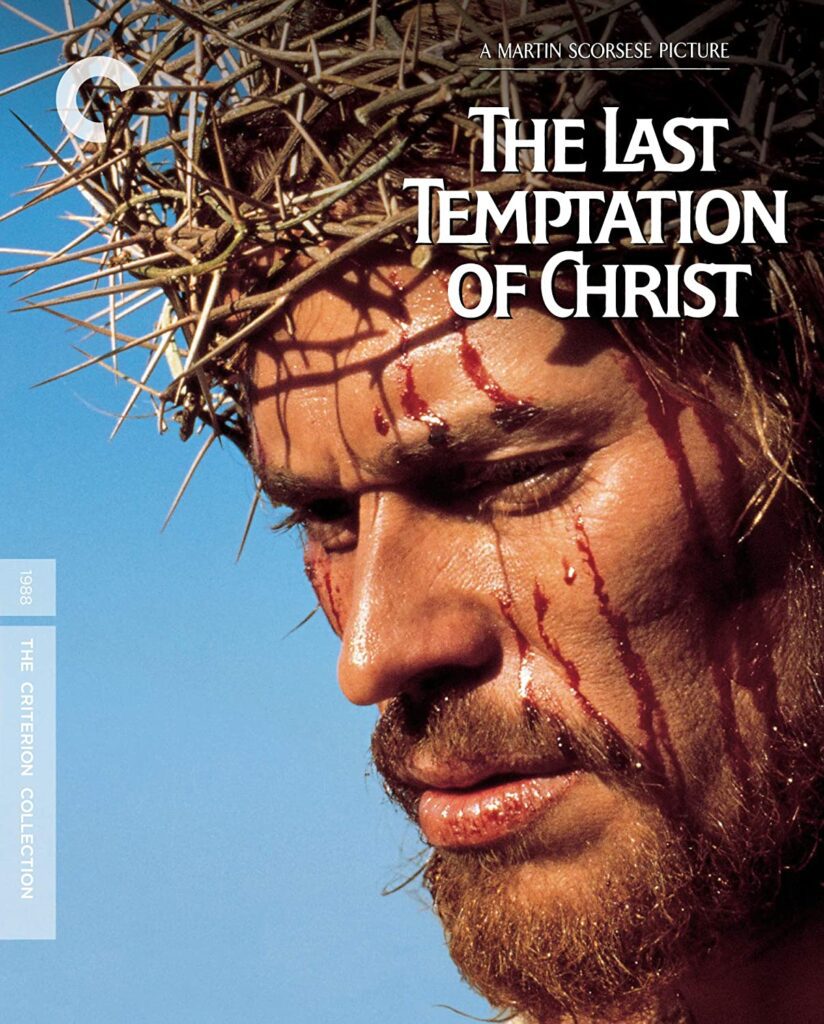 Nearly a quarter of a century ago, famed director Martin Scorsese sparked a firestorm of controversy via the release of this film. Religious zealots were outraged, theaters boycotted the film, and its notoriety far outweighed critical attempts to weigh in on its actual worth as a cinematic achievement. Thanks to the passage of time and Criterion's sparkling new digital restoration, it's now more possible to view the film based on its merits rather than its baggage.
The film tracks the path of Jesus (Willem Dafoe) from his skeptical early adulthood to his self-assured death, with the story roughly following the accepted Bible stories up until that controversial crucifixion. He spends the early part of the film questioning whether or not he's really the Savior come to Earth before a multi-day vision quest in the desert assures him of that truth. Once aware of his destiny, he begins assembling his army of apostles, a group headed by closest confidant and biggest traitor Judas (Harvey Keitel). He then sets out on a series of miraculous adventures that find him turning water into wine, curing blindness, and raising Lazarus from the dead. All along the way, he's tormented by repressed feelings he has for local prostitute Mary Magdalene (Barbara Hershey), with him going so far as to rescue her from an enraged crowd intent on stoning her to death for her whoring ways. Eventually, he runs afoul of the Romans and finds himself hanging on the cross, which is the exact moment the film (and I assume the original novel) runs completely off the tracks.
While awaiting his certain death, he's approached by a young girl purporting to be his guardian angel come to rescue him at God's request. She whisks him away from the cross and into the waiting arms of Magdalene, setting up his continued existence as a common man intent on nothing more than starting a typical family. Magdalene dies late in their first pregnancy, at which point the angel steers Jesus to a couple of other women whom he quickly impregnates and lives with in a commune populated with his numerous offspring until his imminent natural death as an old man. Huh, can't imagine why any viewers might have had an issue with that!
As revealed shortly before his final breath, the guardian angel was actually Satan in disguise, misdirecting him from God's intended path for him as a sacrifice for our sins. By choosing his humanity over his destiny, he went against God's will and changed the course of human history. It's an interesting but completely outrageous idea, and greatly detracts from what was, until the crucifixion, a fairly conventional recounting of the Christ story. It's also completely negated by the final scene of Jesus back on the cross, seemingly painting it as nothing more than the surreal fever dream of a condemned man, and also making its mere inclusion pointless and inciting ire for no logical reason. Regardless of your beliefs, the cinematic effect of taking a severe left turn in the final half hour of any story, only to take another turn right back at the very end, devalues everything that came before it.
I initially questioned the selection of Dafoe for the lead role when the film was first released, but can now state unequivocally that his performance was the best aspect of the film. While Hershey, and to a lesser extent Keitel, were still putting in overly theatrical performances that hearkened back to earlier film eras and the stage, Dafoe's assured and naturalistic delivery made him thoroughly believable in this challenging role. He's completely convincing as a doubting normal human as well as a confident leader of men, and never makes the role overly hysterical in spite of the tribulations it entails.
As for Scorsese, he manages to make this 2 ½ movie seem much shorter and clearly has great reverence for the subject matter, but aside from the film's occasionally surreal sidesteps there's not much noticeable imprint from the auteur. He's aided by some great cinematography and at times artsy lighting, but hindered by a world music soundtrack cobbled together by Peter Gabriel. That soundtrack is okay when centered on the eclectic guest musicians assembled for its production, but now woefully dated and distracting when focused on Gabriel's own electronic noodlings.
The image quality is dazzling on Blu-ray, with no noticeable defects detracting from its crisp and precise presentation. Colors are nicely saturated but not overly so, retaining the intended subdued palette rather than punching it up. The DTS-HD 5.1 Master Audio soundtrack doesn't convey much surround aside from soundtrack cues.
Bonus features include some fascinating behind-the-scenes VHS footage shot by Scorsese during the film's production, offering a welcome informal glimpse of the action including ruminations from Scorsese himself. There's also an interview with Gabriel about the creation of the soundtrack, along with many other stills of the production and costume designs.
The film is now available on Blu-ray and continues to be available on DVD. For more information, visit the Criterion website.