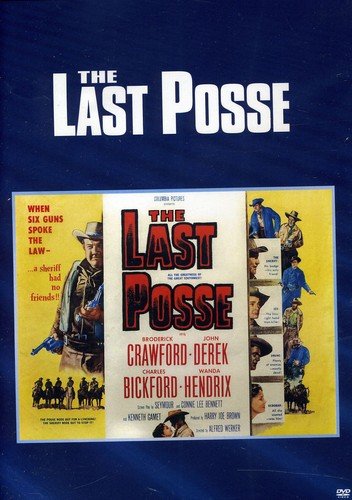 There's nothing I like more than sitting back and watching a good ol' B-Western, and 1953's The Last Posse is my cup of tea. But this isn't your average cowboy film fare, folks — this one has a strange bit of intrigue and noir woven into its material. Filmed in the beautiful rocky terrain of Lone Pine, California, this forgotten Columbia Pictures gem stars the great Broderick Crawford and a young John Derek (their third feature together), and tells the tale of a small sheriff's posse that rode out of Roswell, New Mexico one day to apprehend a trio who took off with a local cattleman's money.
Opening with the posse returning to town, with Sheriff Frazier (Crawford, who surely must have been a bit of a burden for that poor horse his large physique was riding on), a man that has spent the last couple of years in the bottom of a whisky bottle, having been critically injured during the previously-transpired events — which are soon relayed to us all via flashback by several different characters. From the get-go, it's clear something is amiss with the remaining posse members — all of whom are local dignitaries. Meanwhile, the thieves as well as the man they stole from are dead. Why? Well, you'll just have to watch and see for yourself, won't you?
Also featured in this overlooked moving picture are Charles Bickford, Wanda Hendrix, Warner Anderson, Henry Hull, Will Wright, and Skip Homeier — as well as the usual lineup of familiar faces from the Columbia Pictures lot.
Boasting some wonderful photography by Burnet Guffey as well as some tight direction by Alfred Werker (He Walked By Night), The Last Posse is an excellent example of what happens when an above-average story is shipped off to the B-Unit department of an already low-budget studio. It's fun, but it has been made on the cheap, so there are (naturally) a number of flaws to be found. Had this tale had been told with a proper amount of funding behind it, it could have resulted in something eternal as opposed to a picture people quickly forgot about. Nevertheless, this classic "B" gem is a wonderful entry in the annals of westerns, and definitely deserves a chance to be seen.
The film's all-but-unknown status in history has resulted in it being bypassed for a regular home video release all these years, so it's most fortunate that this Manufactured-on-Demand generation of DVDs have come to pass. Sony's own Columbia Classics label has been kind enough to make this one available for future generations to draw inspiration from, and the menu-less DVD-R gives us a more-than-adequate transfer.
Highly recommended.