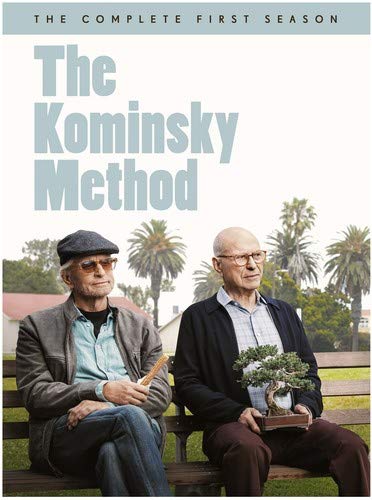 Warner Bros. Home Entertainment provided the writer with a free copy of the DVD reviewed in this Blog Post. The opinions shared are his own.
From producer Chuck Lorre and Netflix via Warner Brothers, Michael Douglas stars in this interesting series as Sandy Kminisky, an aging acting teacher known more for his coaching than his acting career. Represented by successful agent and best friend Norman Newlander (Alan Arkin), this not quite odd couple take on the challenges of getting old and surviving in youthful Hollywood.
Though the two don't cover a lot of new ground in the first eight episodes of the series that became available on DVD November 19th, each episode is an enjoyable look into the world of the education process for actors, the business behind the process, and more importantly, the foibles of men struggling to accept all that accompanies the later years of life.
The vulnerability of both lead characters is on display from the start as we are introduced to Eileen (Susan Sullivan), the wife of Norman. Sandy introduced the two of them and now struggles to offer support to his friends while Eileen deals with terminal cancer. Both men struggle with their own mortality when Eileen passes, and they are tasked with planning the unique funeral Eileen requested. The funeral brings more characters to the show including Phoebe (Lisa Edelstein), the estranged daughter of Norman who, like Eileen, sticks around after the funeral to add to the already entertaining and talented cast.
When Sandy deals with a medical issue, Michael Douglas is reunited with Danny Devito, though it is more of a jewel than a stone they are working with on this outing. Sadly, Devito's portrayal of Dr. Wexler is a bit too cartoonish to fit in here and ultimately disappoints.
Another disappointment in this new release is a complete lack of bonus material. If ever a show was ripe with opportunities to show us some behind the scenes footage, interviews, and more, it is this one. The cavalcade of Hollywood royalty that shows up in Season Pne is amazing and to give us nothing extra is a crime.
Recommendation: If you're an aging male, there is much here to relate to and some material to laugh at. If you have ever taken an acting class, there is much here to relate to and some material to laugh at. If you don't fit into those categories or don't know people like this, you may not find this an entertaining show. Ultimately, watching this cast act together is a lesson in acting, and honestly, that is enough to make most want to see more. Ultimately, the show is as humorous and dramatic as real life and supplies enough emotion on all fronts to make it an enjoyable distraction.