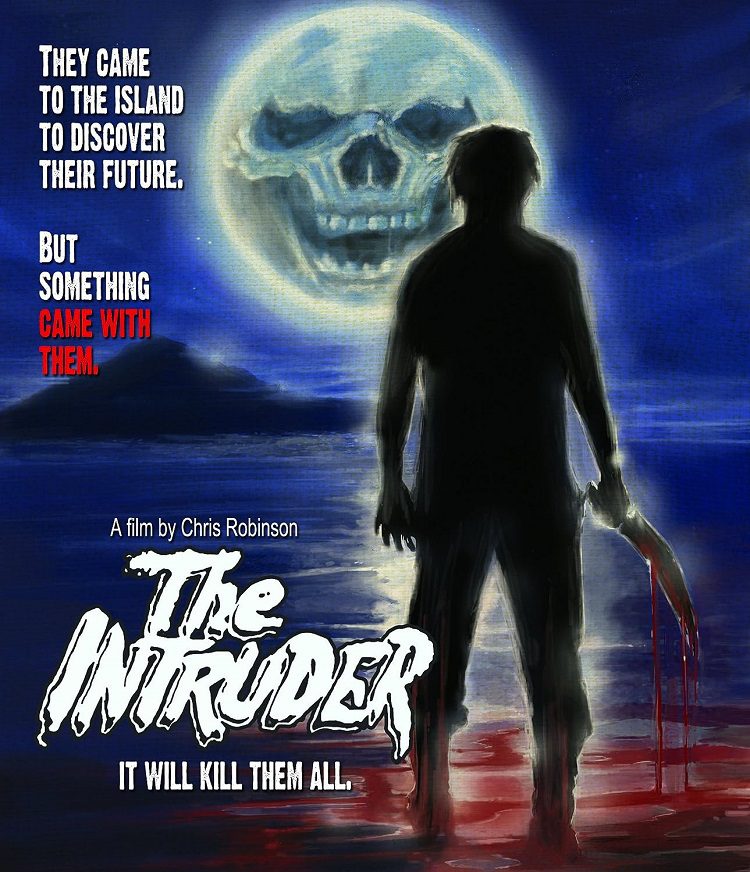 Even after one viewing of Chris Robinson's 1975 regional horror flick The Intruder, you can roughly envision what would have befallen the film had it ever made it to cinemas. The frequent releases it would have seen on drive-in double feature programs throughout the rest of the decade, usually under a misleading alias coupled with an equally deceptive ad campaign. The inevitability of falling into the Public Domain, only to be released by every grey-market videocassette label in the '80s, wherein the names of the picture's marquee value stars ‒ Mickey Rooney, Ted Cassidy, and Yvonne De Carlo ‒ would have been accompanied by photos of said actors from other, better-recognizable projects to lure its audience in with.
Alas, The Intruder would experience no such fate. Rather, this utterly amazing, early "proto-slasher" ‒ filmed for a mere $25,000 in Florida a full three years before John Carpenter officially gave birth to the slasher genre with Halloween ‒ never saw so much as a limited engagement premiere in the town it was filmed in. In fact, thanks to disagreements with the film's (apparently petty and vindictive) distributors, the rushed work from the same man who brought us the '70s regional snake horror cult classic Stanley wound up being shelved. Were that not bad enough, the one and only 35mm print struck from the original negative soon vanished from the face of the Earth, presumably buried forever by the sands of time.
Fortunately, however, the sands of time occasionally give up their buried treasures. In 2012, Garagehouse Pictures' Harry Guerro accidentally stumbled across that sole print in as unlikely of a place as there can be to find a coastal Floridian horror film: a storage facility in the Mojave Desert. Now, after meticulous restoration by Garagehouse Pictures and 42 years of being trapped within the merciless confines of unpreserved obscurity, Chris Robinson's The Intruder has finally come home to slay.
Taking a cue from the Italian gialli movement and (most notably) Agatha Christie's immortal whodunit And Then There Were None (Ten Little Indians), Robinson's film finds a group of strangers assembling at the plush island estate of a character who will eventually be played by Ted Cassidy (The Addams Family). Once he shows up from the mainland, that is, as he's pretty much MIA for most of the film (I can't say much since, well, no one has ever seen this movie before!). Likewise, our other illustrious "marquee value" guest stars ‒ The Munsters own Yvonne De Carlo and Mickey Rooney (during his infamous "will work for drug money" phase) ‒ also receive a fair amount of on-screen attention before being killed off.
Discovering their would-be host is nowhere to be found, the assortment of strangers ‒ as led by the multifaceted Mr. Robinson himself ‒ quickly begin to put 2 and 2 together, even before the body count starts! Sure enough, the men and women who have gathered in the hopes of laying claim to a shitload of stolen gold start to wonder if it's the sort of thing they really want to die for. By then, it's too late, of course ‒ Mickey Rooney and his boat are long gone (literally), leaving a mysterious, apparently super-human prowler roaming the island's dense foliage and unforgiving marshes, taking every opportunity to conserve whatever's left in the pantry by disposing of anyone dumb enough to wander off from the others. Naturally, everyone wanders off anyway.
As the weekend rolls on (interestingly, there was another, similarly-themed proto-slasher made that same year entitled Have a Nice Weekend, which is almost as hard to find), the remainder of our guests begin to grow uneasy around even themselves. And then, just when you think you're going to be treated to an average confrontation between panicky men and women, Chris Robinson reminds us he is fully capable of hiding a trick or two up his sleeve. This is exemplified via a climactic twist when a guy who looks like a Teddy Page-era Richard Harrison stunt double breaks out into a martial arts showdown with a portly non-actor who bears a weird resemblance to an overweight Oliver Reed playing a karate master version of Saddam Hussein.
Now, I dunno about you, but the sight of Richard Harrison and Oliver Reed wannabes kung-fu fighting to the death in the midst of a horror film ‒ complete with some slightly funky musical accompaniment ‒ is enough to color me impressed. Sold! But that's just the tip of the iceberg the murky Florida waters of The Intruder hold for us. Robinson's script is just as odd and delightfully flawed as you would pray it would be, while the film's correspondingly peculiar cast ‒ which is highlighted by a great selection of unknowns ranging from playwrights to red belt martial art masters to stand-up comedians, all of whom were either shooting for a new point in their careers or just doing the director a favor ‒ commit surprisingly decent performances.
After several years spent in limbo for restoration, Garagehouse Pictures has given the world of home video what could very well be one of the most significant discoveries of the age. Scanned in 4k from the only existing 35mm print and presented in its original 1.85:1 aspect ratio for this 1080p MPEG-4 AVC encode, The Intruder looks quite beautiful considering the film sat rotting in a pair of metal canisters somewhere out in the Mojave for nearly forty years. In fact, I say it looks about perfect for a lost '70s horror flick. Garagehouse also digitally restored the film's audio from the original optical tracks, giving us a juicy LPCM 2.0 mixdown. We even get English (SDH) subtitles, which is more than many major labels do for films that were released!
You probably wouldn't expect very many extras for a movie that probably never even had so much as a mock-up one-sheet produced. Nevertheless, the folks at Garagehouse Pictures have given us a handful of goodies to go along with this previously-lost oddity. First off is an audio commentary with the one and only Chris Robinson himself. If you've ever found something from your past and were treated to a flood of fond memories, you will no doubt know how the man feels as he pauses every now and again betwixt the many amazing reminiscences he recalls from this project to actually reflect on the fact his lost celluloid child has been given a long-overdue chance to be seen by all. Frankly, that might make you love the movie even more.
Next up is an older interview with Mr. Robinson (as recorded by Ballyhoo Motion Picture's cult movie historian Daniel Griffith in 2008), which shows a less-emotional Robinson at a point in time where he had given up all hope that his little movie would ever be found. Let me just say that both of the aforementioned extras deserve your attention, as do Harry Guerro's wonderful liner notes. An assortment of trailers for other Garagehouse Pictures releases rounds up this incredible (and Region Free!) blast from the sleazy exploitation cinematic past. Which is definitely something to cheer about. (Just watch out for those spoiler-heavy chapter names!)
It isn't every day a movie everyone essentially forgot about (whether they wanted to or not) is uncovered. It's even less common for something this obscure to be given as much love and attention as Garagehouse Pictures have shown The Intruder. Even if you aren't much of a vintage cult regional horror movie enthusiast, this is the sort of dedication that requires your attention. In fact, I would go as far to say the rediscovery and restoration of this soon-to-be-cult-classic may very well be one of the most significant releases to home video ever. This was, after all, a movie which we should have been able to grow old possessing a soft spot for. And now, thanks to Harry Guerro and Garagehouse Pictures, we can.
Highly Recommended.