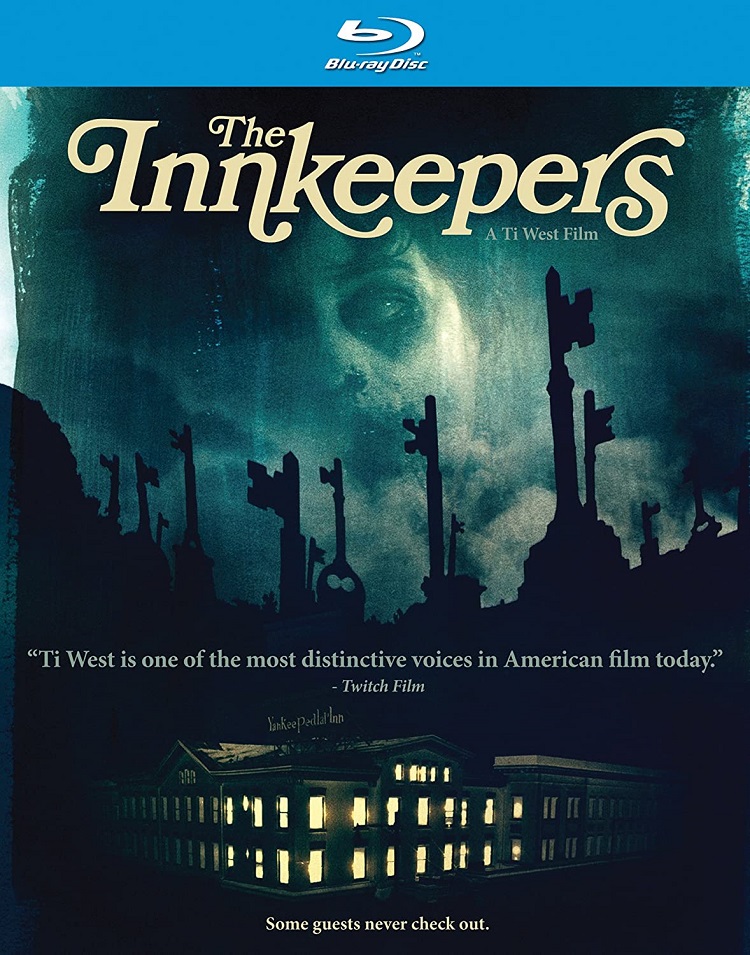 The Film
One thing's for sure about indie horror filmmaker Ti West — he's a superb craftsman with an astute compositional eye. Every frame of his latest film, The Innkeepers, feels carefully assembled, and the way his camera glides and tracks through its environments creates a sense of visual poetry often unseen in modern slashers. There's one thing I'm not sure about though — whether West has much esteem for the genre he's working in.
Like previous cult fave House of the Devil, which put a spin on the babysitter-in-peril trope, The Innkeepers mines shopworn scenarios and characters and plunks them down into a film that's ever so slightly tongue-in-cheek. For the most part, West plays it straight — we're not talking about insufferable winks to the audience about how he's so far above this material — but there's no shaking the feeling that The Innkeepers is more of an exercise in form than a full-blooded, committed horror film.
Sara Paxton and Pat Healy star as Claire and Luke, the only two staffers working at the century-old Yankee Pedlar Inn in its final days before it's shut down for good. The hotel is nearly empty, save for an actress-turned-psychic (Kelly McGillis), a harried mother and her young son (Alison Bartlett, Jake Ryan) and an elderly man on a nostalgia trip (George Riddle).
The gawky, asthmatic Claire is fascinated by Luke's paranormal investigation gear and a website he's built showing all the mysterious images he's captured in the hotel. But over the course of the inn's final weekend, the pair discovers more than just a few photographic orbs and some muffled EVP recordings.
I admire the way West allows the film to very slowly unravel. He builds a slow-burn tension that all but ensures contemporary mainstream horror audiences (i.e. 15-year-olds) won't have any time for it. Still, a healthy amount of tension is borrowed from our collective understanding about what's supposed to happen in a movie like this. A creepy old hotel with almost no guests, a haunted past and a dank basement is going to have ghosts around every corner, right? West craftily exploits our expectations, and while it's clever, it also makes it hard to fully embrace the film.
The Blu-ray Disc
Granted a 1080p high definition transfer in its original 2.40:1 aspect ratio, The Innkeepers looks fantastic on Blu-ray, with a clarity and stability of image that doesn't waver even in the many shadowy or dark shots. The muted color scheme remains consistent and true throughout, and fine detail is healthily represented.
The 5.1 DTS-HD Master Audio is also uniformly excellent, giving the film's creative and haunting sound design a perfectly clean and clear exhibition. A disclaimer at the beginning of the disc urges you to play the film loud, and the subtle sound effects make a choice like this pretty essential to the film's mood.
Special Features
Two commentary tracks — a technical-focused one with West, two producers and the 2nd Unit director and a more anecdotal one with West, Paxton and Healy — make up the bulk of the extras. A short behind-the-scenes piece gives a glimpse at production, where the cast and crew all stayed in the Yankee Pedlar — a real hotel in Connecticut — throughout filming. The disc also includes a theatrical trailer.
The Bottom Line
There's much to like about The Innkeepers. Even if one isn't fully onboard with what often feels like a formal exercise, West's visual aplomb and filmmaking smarts are wholly apparent.