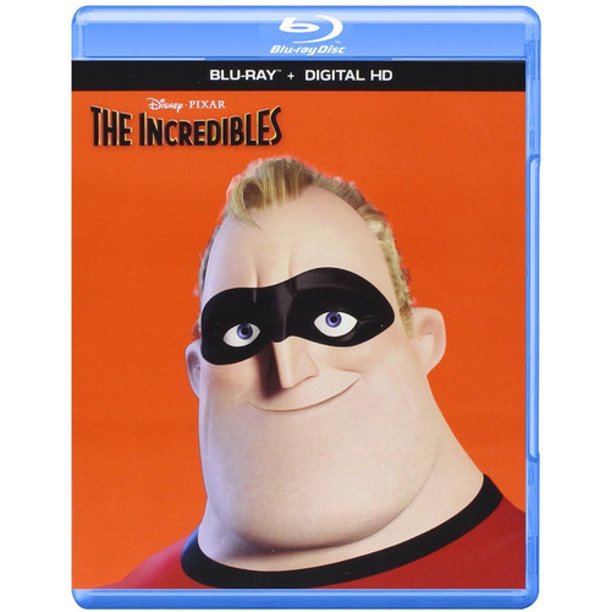 The Incredibles is an imaginative story that makes the most of being an animated film, as evidenced by the stunning action sequences, but its real strength is built on the believable characters. Written and directed by Brad Bird, the film is an engaging drama about a man struggling to balance career and family set in a superhero world.
An action-packed prologue introduces Mr. Incredible (Craig T. Nelson) as he fights crime and helps people, but lawsuits by the ungrateful result in legislation requiring superheroes to give up using their powers. Fifteen years later, Mr. Incredible is now known as Bob Parr and he works at an insurance company. He's married to Helen (Holly Hunter), who used to be Elastigirl. They have three kids, Violet (Sarah Vowell), Dash (Spencer Fox) and infant Jack-Jack (Eli Fucile and Maeve Andrews) as Jack-Jack. Bob misses the hero life so he accepts a secret assignment from a stranger named Mirage (Elizabeth Peña) that requires him to use his powers in order to test out a robot, but not is all as it appears. Mr. Incredible soon discovers a fiendish plot by the evil genius Syndrome (Jason Lee) but is captured, causing his family to go looking for him.
The Incredibles makes a spectacular debut in high definition, which is no surprise because Disney/Pixar is a name to be trusted when it comes to their animated films on Blu-ray. The picture is given a 1080p/AVC MPEG-4 encoded transfer displayed at an aspect ratio of 2.40:1 and looks awesome. Primary colors are bright and bold. Blacks are deep without crushing. Details reveal the great textures the animators created. Facial features like wrinkles and freckles can be seen and the fine strands of hair on each character. The different types of material of clothing and the stitching on Mr. Incredible's old costume also stand out. Exterior locales are well rendered as well from city structures to the Nomanisan's jungle foliage, which looks as realistic as the forest foliage in Return of the Jedi.
The English DTS-HD Master Audio 5.1 track is an immersive experience that resembles a theatrical presentation and is demo quality. All the speakers come to life with different location-specific ambiance. The subwoofer frequently thunders during the action sequences, and effects can be heard moving through channels. Dialogue is always clear and positioned well. When Frozone is looking for his costume, his wife is in the front part of the house, meaning behind the viewer, so she is heard in the rears. John Barry, composer of 11 James Bond films, was the first choice to do music, but when he stepped aside, Michael Giacchino took the reins and filled the score with Bond soundtrack homages.
There are so many extras it required more than one Blu-ray to house them. Fans get two audio commentaries to learn about the film's creation, one by Bird and producer John Walker and a second by a team of animators. "Boundin'" (HD, 5 min) appeared in front of the film in theaters, but is one of the more forgettable Pixar shorts. There's an optional commentary by director Bud Luckey. "Jack-Jack Attack" (HD, 5 min) was a short created for the DVD release of The Incredibles that looks at what went on as Kari babysat Jack-Jack.
"Jack-Jack Attack Exploded" (HD, 5 min) offers a PiP commentary about the short. "The Incredibles Revisited" (HD, 22 min) finds Bird, Walker, and other crewmembers discuss the film's creation. "Paths to Pixar: Story Artists" (HD, 6 min) shows how storyboarding helps the creation process. "Studio Stories: Gary's Birthday" (HD, 1 min) reveals Pixar office shenanigans. "Ending with a Bang: Making the End Credits" (HD, 2 min) is self-explanatory. "The New Nomanisan: A Top Secrets Redevelopment Plan" (HD, 4 min) offers an array of promotional spots after the government has turned Syndrome's island into a vacation spot. "Deleted Scenes" (HD, 35 min) that were storyboarded but didn't make the cut are introduced by Bird.
"Classic Content" (SD) contains all the special features from the aforementioned DVD. First, there's the "Making of" (28 min) followed by topic-specific section: "Story" (7 min), "Character Design" (6 min), "E Volution" (3 min), "Building Humans" (6 min), "Building Extras" (2 min), "Set Design" (2 min), "Sound" (3 min), "Music" (5 min), "Lighting" (3 min) and "Tools" (3 min). "Mr. Incredible and Pals" (4 min) is animated in the Clutch Cargo style with different voice actors. There's optional commentary by the feature film voices of Mr. Incredible and Frozone. "NSA Files" is a gallery about the different heroes of this universe. Two features introduce cast members: "Who is Bud Luckey?" (4 min) and "Vowellet – An Essay by Sarah Vowell" (10 min). An "Art Gallery" (HD) closes out the set. All the Easter Eggs (SD) and Publicity (SD) materials gathered.
For an incredible film presented on an incredible Blu-ray, The Incredibles makes a perfect choice. The 4-Disc combo Pack also comes with a DVD and Digital Copy of the film as well as a Movie Voucher for the upcoming Cars 2.