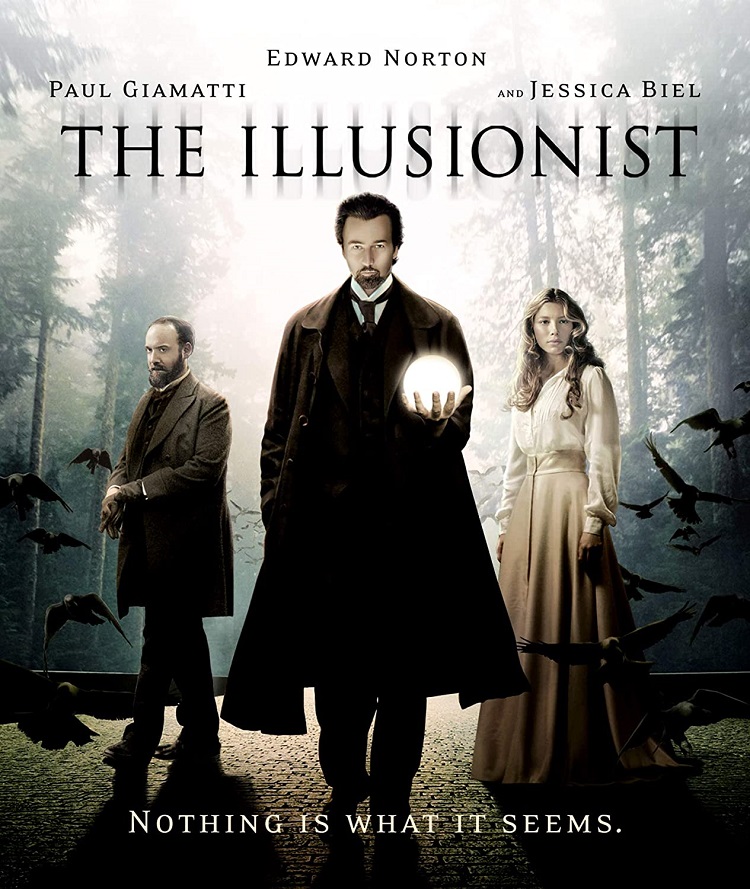 There was a time in which both Christopher Nolan's The Prestige and Neil Burger's The Illusionist played at the theater at which I worked. They were only released within a month of each other, but, as I recall, Nolan's film seemed to have attracted more of a crowd based on cast and the fact that he made Batman great again. Burger's film started off small and then slowly found its audience based more on word of mouth than pre-release buzz. And while both are centered on magicians, they are both very different in terms of plot and direction. They both work well in their own ways, but The Illusionist, which just received a new Blu-ray release from MVD Entertainment Group, certainly has the look and feel of something not only set in the 1880s, but one that was released during that time, too.
Burger's film is mostly told in flashbacks and with some accompanying narration by Inspector Uhl (Paul Giamatti). The plot follows the magician known as Eisenheim (a great Edward Norton), who stuns audiences not just by making birds suddenly appear, but also by having the ability to summon the dead to the stage.
In addition to being very popular with townspeople, Eisenheim has found himself in a rivalry with Crown Prince Leopold (Rufus Sewell), due to the fact that the two share a love interest for the beautiful Duchess Sophie von Teschen (Jessica Biel). She is engaged to the prince, but Sophie and Eisenheim were close friends during their childhood years. Their different statuses (he a peasant, she a duchess) forbade them from seeing each other, until their adult years when they reunite and sparks fly again. But with Leopold having the power to do anything he pleases, he commands Uhl to arrest Eisenheim for necromancy.
The Illusionist starts off with a sepia-tinged look and some old-fashioned credits to make it seem like we have been transported to a time when movies were becoming a new thing. Dick Pope's cinematography, for which he received an Oscar nomination, is astounding to look at, especially with the new Blu-ray transfer. One minor complaint, though, is that some of the imagery is almost too dark and, at times, looks like we're watching a movie with tunnel vision.
Uhl's narration pops up here and there throughout The Illusionist, becoming somewhat of a distraction when it's not present for a period of time. As the inspector who is friendly with both the magician and the prince, though, Giamatti delivers a tremendous performance as someone trying to find equal ground and not just take one side over the other.
The rest of the cast is terrific as well, with Sewell excelling as the sinister and controlling Leopold, who will do anything to get his way. Biel gives what may be the best film performance of her career as a woman torn between two men but able to still come out strong and confident.
The Blu-ray for The Illusionist comes in a 1080p widescreen format with a 1.78:1 aspect ratio. As previously mentioned, the visuals look terrific, but there are some moments that look a little too dark, and that could just be the movie itself. There is also one brief second in which the film has a transfer glitch and some multi-colored pixels appear on the screen. The audio is a 5.1 DTS surround sound track. It's a little soft on the voices, but Philip Glass' mesmerizing score comes across terrifically. The special features come with an audio commentary by Burger and two featurettes from previous releases that delve into the making of the movie.
The Illusionist is a slow-burning mystery that has a lot of twists and turns, especially toward the end. It may have a few too many tricks up its sleeves at times, but it's a fun ride with a beautiful look to it and great performances all around. Overlooked upon its initial release, this new Blu-ray will, hopefully, spark up some more conversation and have its following grow.