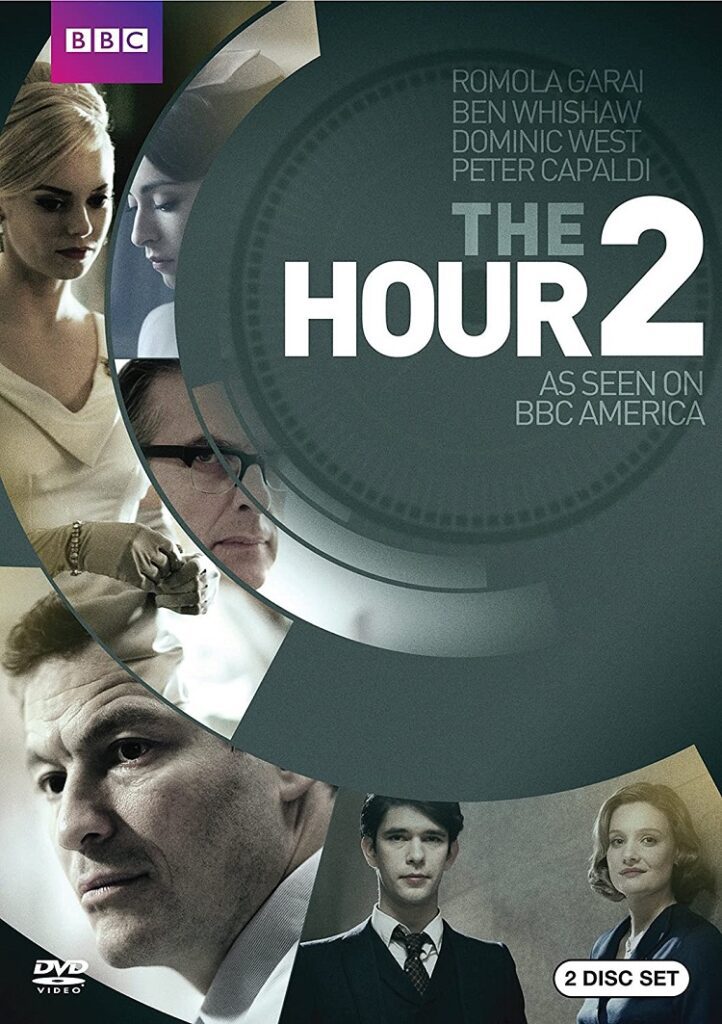 After having viewed the second six-episode installment of one of the BBC's most little-known and underrated shows in the United States, I can only say that I sure hope this isn't the final hour for The Hour. From the moment a bearded Freddie returns from his beatnik sojourn abroad with his pixie-haired French activist wife by his side, to the climax, which shall not be spoiled for you in this review, the momentum of the show increases so much that ceasing the series would be as big a blow to the storyline as it would be to the show's most ardent fans.
The strengths of series two are quite pronounced and demonstrate that the writing team has gotten into a groove when it comes to the characters and how they confront conflicts both on the job and in their personal lives. No longer are they simply ambitious journalists with a hunger to expose the harsh realities of a society that Harold Macmillan claimed "never had it so good." Now they're fully developed individuals with pasts, dreams, and feelings that until now they'd barely exposed.
We see Hector (Dominic West) struggle to rebound from his vices, as well as his ineptitude in the ways of love, and Bel (Romola Garai) negotiating her duties as an objective, hard-hitting news producer with her own sense of humanity, while simultaneously trying to forge a romantic relationship with another driven producer at a competing news show. The formerly rumpled but brilliant Freddie (Ben Whishaw) has evolved into a sleeker, more confident investigative reporter after having been invited back to the BBC to serve as co-anchor of The Hour. With work and life experience under his belt, he now seems to lead the pack rather than stray from it. And the ever-saucy Lix (Anna Chancellor) reveals her previously veiled emotional side when her former flame, Randall (Peter Capaldi), joins the team as Head of News.
Thankfully, the supporting cast wasn't left out in the attempt to flesh out the characters. Hector's wife, Marnie (played by Oona Chaplin, granddaughter of Charlie), attempts to become a star in her own right, the effects of which give Hector's previously upright and boring persona more dimension and makes Marnie less of an apron hanger and a greater asset to the show. Newcomer Kiki Delane, played by the stunning Hannah Tointon, is the premier singer/dancer at El Paradis, the epicenter of corruption in this series, and it's essentially her choices that decide which turns the season takes.
In fact, nearly all the female characters have pivotal roles in The Hour 2, which is an interesting twist for a plotline set in 1957. But following the Suez Crisis, when Britain's ruling gents were lambasted for their mishandling of the affair, it makes sense that a smartly written show would depict women as catalysts of change and their male counterparts either as pawns caught in a vicious cycle of unscrupulousness or as "angry young men" trying to turn the tide. Scriptwriter Abi Morgan, who was criticized last season for writing dialog that didn't quite fit the period, definitely made up for those inadequacies with a complete overhaul in character development and by doubling the intensity of the first series.
This two-disc set includes a behind-the-scenes bonus feature on the second disc. Enjoyable viewing it is, but it recounts every plot point from start to finish, so for heaven's sake, do not delve into that matter before completing the second series.