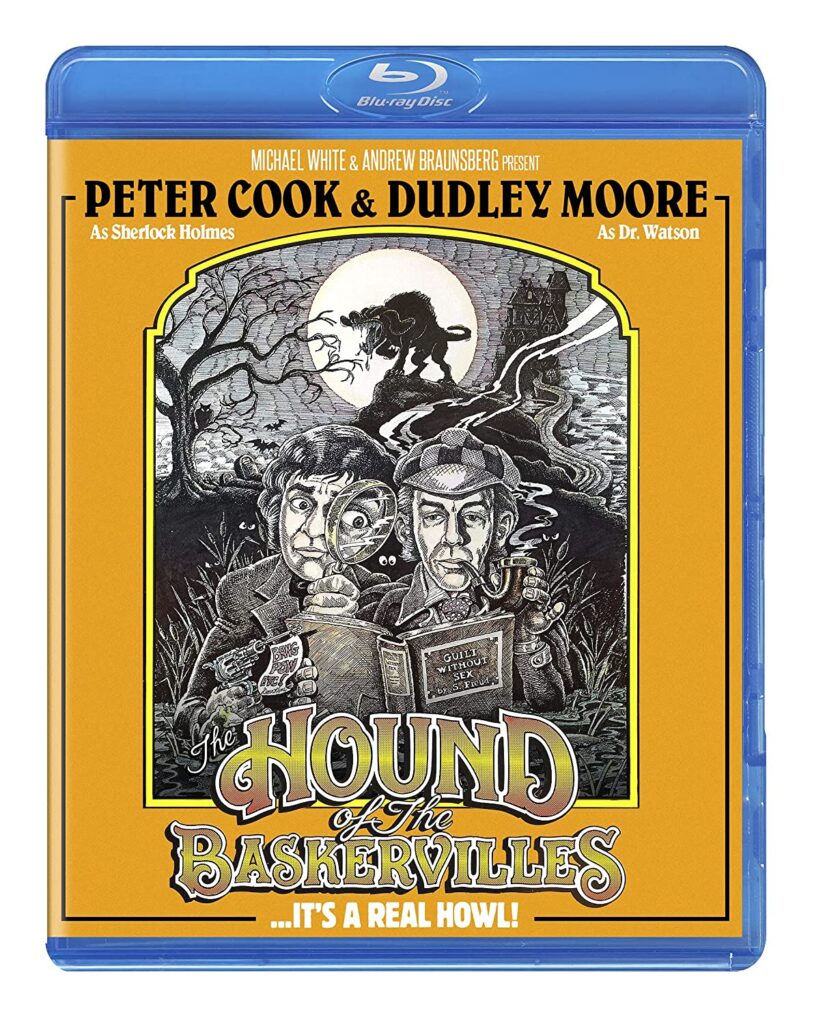 Woe to the viewer who tries to sit through director Paul Morrissey's take on The Hound of the Baskervilles, starring Peter Cook as Sherlock Holmes and Dudley Moore as his sidekick, Dr. Watson.
I made it to the end, but I wanted to snuff it.
So, I'd like to discourage you from seeing this piece of offal. Moore & Cook are legends of British comedy, a dynamite duo whose film work together is in short supply (see Bedazzled [1967]). In this dire spin on the Arthur Conan Doyle classic, though, none of their chemistry shows.
Holmes is tired. Asked to investigate the deaths on the moors near Baskerville Hall—and whether a mad dog is the culprit—he sends Watson in his stead. Joined by Sir Henry Baskerville (Kenneth Williams, a human daffodil so beyond 'nelly' he might be the film's sole redeeming player), Watson makes little to no progress. After a brief holiday to see Mum (Moore again) proves a bust, Holmes catches up with Watson. By then, the strange events at Baskerville Hall have taken a lunatic turn.
This is an unfunny film, shrill even. I'd have thought the talent assembled would have been aces. But a half-hour in, I knew it was hopeless. The movie is a chore to watch. At 85 minutes, it's an interminable din of poor decisions that ricochet until the only thing you hear is your burning wish to fry the Blu-ray. I can't even recommend the technical aspects. Little here—not the cinematography, or the set and dress work—has any merit. It's shabby drabness.
Is this something I can diagnose? I've seen plenty of horrible comedies. I sometimes catch myself laughing at them. The Hound of the Baskervilles did nothing for me. Nary a chuckle escaped my quivering lips. And Moore & Cooke (who co-wrote the screenplay with Morrissey) throw everything at the screen. There are puns, and gross-out gags (e.g., an Exorcist spoof, an over-urinating chihuahua). Bits of Monty Python absurdism, of vaudeville and slapstick, flit in and out. There is a hefty, if boring, dose of gay innuendo and drag. Hell, the blessed Spike Milligan has a cameo and barely emerges unscathed. The formlessness of it all jars. None of it sticks. I wonder if it's intentional.
Moore & Cook make an effort, Moore especially. In Peter Sellers fashion, he plays three roles (the third as a one-legged runner). He also contributes the piano score, itself a ghastly parody of an awful silent movie soundtrack that never quits. It's so willfully bad, I'm curious if he and Cook shared a sick private joke—a dare to see how much they could get away with, presenting an anarchic comedy so wracked, so contemptuous, it achieves a non-Zen state of anti-bliss. But how does that work? Take the money and run, no matter the impact on their reputation? (Which suffered none, I'll add. The film sat on the shelf for three years. Moore became a star with Blake Edwards's "10" [1979]. An unmitigated creative disaster, The Hound of the Baskervilles didn't [so far as I can tell] cause much of a stir anywhere. Until about a month ago, I didn't even know it existed.)
The movie needs a guiding hand, some cinematic, creative resistance. Known for directing a slew of trashy Andy Warhol productions, Morrissey doesn't shape the material. He lacks what it takes to provide structure and rhythm—to know how to give the comedic jumble any semblance of fitting together, of getting it to flow. Everyone responsible seems unable to stretch what could have been an amusing sketch into a feature-length outing of interest. Moore & Cook couldn't hack it, and (on the evidence) neither could Morrissey.
What a waste. The Hound of the Baskervilles is a turkey.
The Kino Lorber Blu-ray features the trailer for the movie, plus trailers for other lesser-known comedies: C.H.O.M.P.S., National Lampoon Goes to The Movies, La Cage Aux Folles II, Almost Summer, One More Train to Rob, and The Statue.