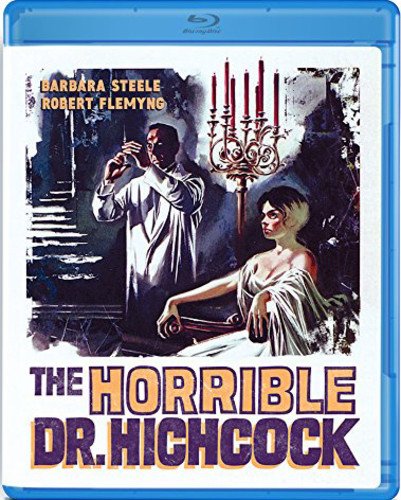 For Italian filmmakers, the 1960s were as versatile of a period as ever, especially for the ever-expanding realms of fantasy. It was a time when sword and sandal peplums, space operas, James Bond-ian espionage adventures, Poliziotteschi crime dramas, stylish giallo thrillers, and one of the country's best-known cinematic exports ‒ the spaghetti western ‒ ruled the screens. The decade also epitomized another unique motion picture subgenre: that of the gothic horror flick. From the late '50s to the late '60s, Italy's gothic movement brought forth a number of memorable, atmospheric titles from the likes of Mario Bava, Antonio Margheriti, and Mario Caiano (to name a few) ‒ many of which have gone down in horror movie history. Of course, as is the case with any popular movie trend, there are always bound to be a few duds in the case.
Personally, I have feel The Horrible Dr. Hichcock falls into the latter category. Directed by the man who all but started the entire craze himself, Riccardo Freda, who opened the floodgates in 1957 with the acclaimed black-and-white classic I Vampiri, this 1962 color effort ‒ starring the period's greatest scream queen, Barbara Steele ‒ is something of a conundrum. Even 54 years later. While the sight of flesh ‒ be it sexual or otherwise ‒ was not entirely uncommon in European films from this point in time (though the former would usually be sheared from prints when released in America), The Horrible Dr. Hichcock's main subject of notoriety somehow managed to slip past censors throughout the world.
And though the subject of necrophilia isn't as controversial today as it was nearly thirty years ago, when Germany's Jörg Buttgereit earned both a name for himself as well as a ghastly notoriety for his horror films, beginning with Nekromantic, it was certainly not a subject of discussion in 1962. Yet, somehow, Riccardo Freda and screenwriter Ernesto Gastaldi coyly slipped this potentially groundbreaking story about the prominent eponymous doctor (UK actor Robert Fleming, who probably had a lot of explaining to do back home), who enjoys slipping it in the corpses of beautiful young women. Although, with such slim pickings about the land, Dr. Hichcock has developed a little game he joyfully plays with his fetching young bride (Maria Teresa Vianello).
In order to do this, he routinely prepares his wife for their ritual via a hypodermic needle filled with… something. Alas, the demented doc administers too much one evening, to the point where his plaything no longer has to pretend! Disillusioned, Hichcock decides to venture off into the world, returning 12 years later with a new bride, Cynthia (Barbara Steele). With his estate now occupied by a creepy maid (Harriet Medin), the tortured screams of the hired help's unseen and allegedly mad sister, and nightmarish visions of ghostly figures and very peculiar habits from her newfound husband, Cynthia soon begins to wonder what she has got herself into. Fortunately for her, a handsome young doctor who likes living women (ironically played by an actor named Silvano Tranquilli), is on-hand to hopefully save the day.
My first experience with The Horrible Dr. Hichcock ‒ which is essentially a gothic tribute to the work of Alfred Hitchcock ‒ was in '93 via a mail-order videocassette from Sinister Cinema, wherein it was double-billed with Jess Franco's The Awful Dr. Orlof(f) ‒ a low-budget black-and-white Spanish take of the 1959 French masterpiece Eyes Without a Face. I liked the second title much better, though neither were titles I would go out of my way to watch again any time soon (which is odd, since I've seen bona fide classics such as Black Sunday, Nightmare Castle, Castle of Blood, and pure exploitative trash such as Atom Age Vampire ‒ none of which were filmed in color ‒ several times over). It wasn't the best print in the world, but it sufficed ‒ especially since I felt absolutely nothing for it.
Now, while I realize a lot can change over 23 years, this, the second time I have tried to sit and watch the movie from the get-go, I once again found myself focusing on a more interesting subjects: the ceiling. Despite a story featuring two good leads, a subject no one else would have dared to touch at the time, and a great atmosphere, The Horrible Dr. Hichcock still fails to grip my either my imagination or attention. Perhaps it's because I seem to find gothic horror is far more effective when it is in black-and-white. Maybe it's the noticeable edits to this, the bastardized American version of the film, which was shorn of a good twelve minutes for its initial US release in '62, as opposed to a (supposedly) uncut UK variation. Or is my disinterest in the film due to the possibility that it truly isa dull, boring movie?
Previously released to DVD in a slightly longer version a few years back by one of those illustrious grey market video labels, The Horrible Dr. Hichcock returns to bore anew for its first legitimate digital home video release from Olive Films. Sadly, the print used here ‒ made possible courtesy the Paramount Pictures library ‒ is that of the eviscerated American cut (presumably a pan-and-scan 35mm TV print, which has been further matted), complete with anglicized credits and re-edited sequences, making this release all the more of a bummer to someone who was hoping to see the original Riccardo Freda version. The cropped 1.78:1 widescreen presentation is an eyesore, sporting numerous imperfections and looking about as flat and dreary as the actual moviegoing experience itself.
No special features are included, but English (SDH) subtitles are offered up in case the decent DTS-HD 2.0 Mono English audio track also fails to capture your attention from the ceiling.
For diehard fans (heh) only.