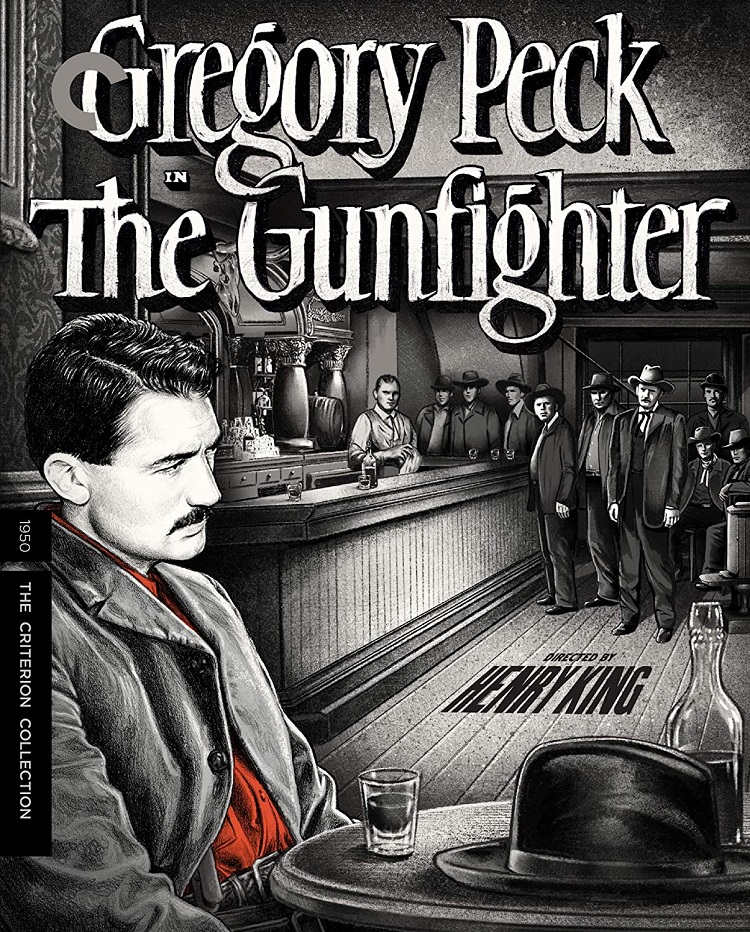 Set in the Southwest Territory of the 1880s, a Texan named Jimmy Ringo (Gregory Peck) was known the fastest gun. While this designation has earned him respect, it also causes some to fear him and others to test the legend, a burden that The Gunfighter carries in Henry King's taut western.
While en route to Cayenne, Ringo stops off at a saloon. A kid named Eddie (Richard Jaeckel) starts running his mouth. Ringo tries to avoid a confrontation but is forced to kill him. Even though he was in the right, it is suggested he leave town because the kid has three brothers who won't be as understanding.
In Cayenne, his old friend Mark (Millard Mitchell) is the marshal. He wants Ringo out of town before any trouble occurs. Ringo wants to see his old flame Peggy (Helen Westcott), who had his son, and refuses to leave until he can talk to her, so he awaits in the saloon.
Naturally, word gets out. Boys ditch school to get a peep through the window. The townswomen are flustered that a murder who killed 50 men, a number he denies, is in their midst. Jerry Marlowe (Cliff Clark) wants revenge for his son, though it's unclear if Ringo killed him. Hunt Bromley (Helen Westcott) wants to prove he's the fastest gun. And Eddie's three brothers who weren't understanding.
It's understandable that Peggy didn't want a gunfighter as a husband or a father to her child. But as the story progresses, the viewer learns Ringo is not the monster some think. Sure, he's killed a number of men, but from what is shown, his options might have been limited to him or them. He wants to become a changed man, but will he be given the chance?
The screenplay by William Bowers and William Sellers creates very believable characters driven by different motivations. The ending wraps up the story in a satisfying manner that makes sense. Peck delivers a marvelous performance as a man with a stern exterior to stave off those who only know the legend while those close to him get to see the sympathetic figure trapped inside.
The video has been given a 1080p/MPEG-4 AVC encoded transfer displayed at an aspect ratio of 1.33:1. The liner notes reveal "This 4K digital restoration was supervised by the Twentieth Century Fox Restoration Department in 2015. A new digital transfer was created from a 35mm duplicate negative and restored at Cineric in New York." The film grain looks good, but gets a bit busy when the daytime sky is on screen. Blacks are inky. There are good texture details but spots of soft focus.
Also in the notes, "the monaural soundtrack was restored from a 35mm soundtrack print at Deluxe in Hollywood." The dialogue is clear. Alfred Newman's score has good fidelity. There is a very faint hiss on the track.
The extras are:
Gina Telaroli (HD, 23 min) – the filmmaker talks about director Henry King
J.E. Smyth (HD, 23 min) – In video essay, the film historian discusses the career of film editor Barbara McLean and her work on this film
Recorded for AFI's Oral History Collection, audio interviews with Henry King (36 min) in Jan and July 1971 and Barbara McLean (36 min) in Aug 1970
The Gunfighter is a film deserving a place of recognition in the Criterion Collection thanks to a story that could be told in any genre and a great leading performance by Gregory Peck. At 85 minutes, it moves at a great pace. The new high-def digital restoration and transfer look quite good.