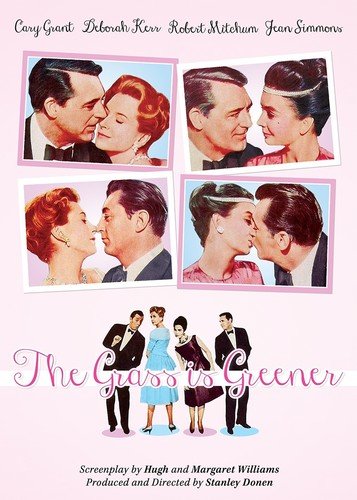 I guess Memorial Day weekend doesn't really rate in the DVD-seller's handbook. There is a whole lot of not-much coming out this week. There's a few bare-bones oldies, a bunch of random TV, and a mess of stuff I can't imagine anyone caring about. Seemingly for a guy like me, Doctor Who would be the easy choice, but poor packaging has made me not give it the gold star and pass it over for something else. Anything else.
And with that I've chosen an oldie I've never heard of – The Grass is Greener. The description – a befuddled English earl putters around his grand old estate while a bull of an American millionaire crashes into his life and seduces his sophisticated lady – reads like the boilerplate of many a 1960s comedy. It sounds utterly forgettable and since you never hear anyone talking about it, apparently it was utterly forgettable.
The rub lies in its stars: Cary Grant as the earl, Robert Mitchum as the American, Deborah Kerr as the lady. Throw in director Stanley Donen (Singing in the Rain, Charade) and you've got a mix that screams classic. Except, well I guess not since it isn't. But surely with all that talent there is at least something worth watching. Or at least enough to make it this week's pick.
It comes in Blu-ray and DVD editions and apparently has no special features worth talking about.
Also out this week that looks (mildly) interesting:
Doctor Who: Series Seven – Part Two/Doctor Who: The Snowmen: I'm very much of fan of the new Doctor Who and I own all previous seasons, but I will not be purchasing either of these sets. Not on your life. I'm okay that the series is now split widely in half (with the first half running in early fall, the second in late spring) with a Christmas episode riding in the middle. It stretches each season out a bit and if that's how they want to run it, fine by me. But to sell each half separately and the Christmas episode on its own is just maddening. I'm not going to spend $25 on half an episode, another $25 on the other half and an additional $15 on the Christmas show.
This is especially true since they will undoubtedly box the season up into one set at some later point. Why not just do that now and save everyone the trouble? The answer is marketing, of course, this way they can bilk us of a few more dollars. Screw that, I say; I can wait.
Longmire: The Complete First Season: I'd not heard of this show but it stars Lou Diamond Phillips and Katee Sackhoff and is a western-style crime show which has got me intrigued. Read Lorna Miller's review to learn more.
Cleopatra (50th Anniversary Limited Editon): This film gets more written about it for the record-breaking expenses and behind-the-scenes shenanigans than the actual movie, it's got scores of fans, and is now an indisputable classic. There still doesn't seem to be word on what this anniversary Blu-ray will contain but a similar UK release last year was loaded with extras.
Beetlejuice: The Complete Series: I have a very limited memory of watching this cartoon based on the movie as a kid. I seemed to have liked it but details are fuzzy. Still, it is nice of them to have boxed up the whole set in a nice-looking package.
Father Goose: A pretty ridiculously silly Cary Grant comedy gets another bare-bones DVD release.
Life is Sweet (Criterion Blu-ray): I've only seen one Mike Leigh film (Happy Go Lucky) but the critics love him. And now this one gets the Criterion treatment.
Swimming to Cambodia: A movie in which one man sits behind a desks and tells stories. Boring unless that one man is Spalding Gray and his stories are about filming the classic movie The Killing Fields in South East Asia (and its being directed by Jonathan Demme.).