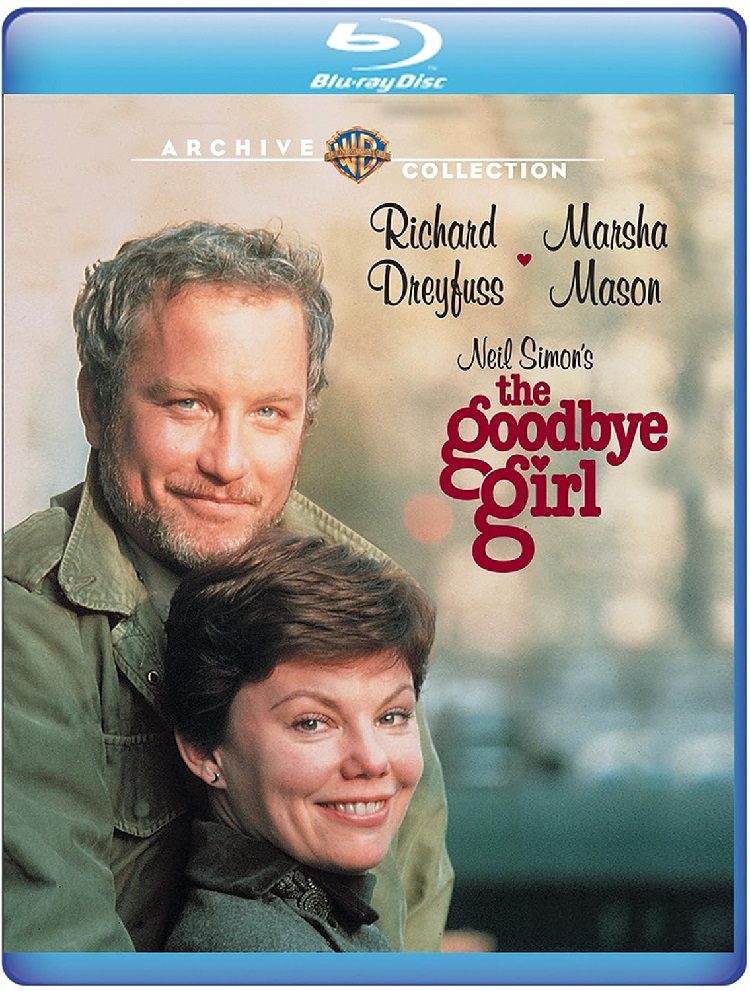 If nothing else, Neil Simon's award-winning 1977 precursor to the contemporary rom-com, The Goodbye Girl is of a certain cinematically historical significance, inasmuch as it was one of a few films written by Neil Simon that didn't start out as a Broadway play. Granted, in the years since this multiple-Oscar winner first premiered, however, The Goodbye Girl has not only garnered a musical Broadway makeover, but it has also received the dubious honor of getting its own lackluster TV remake ‒ something that, sadly, has happened far too many times with Neil Simon tales (just ask anyone who had the misfortune of regularly watching TNT Originals in the late '90s and early 2000s, and watch as they recall the horror).
Here, a recently launched star by the name of Richard Dreyfuss joins Simon's then-wife (and muse), Marsha Mason, who starred in many of her former hubby's works, presumably because Neil was tired of sleeping on the couch. Naturally ‒ despite the fact Dreyfuss receives top-billing and walked away with the Oscar when it came time to hand out the award ‒ Marsha Mason is the real star here, and there's absolutely nothing director Herbert Ross or the audience can do about it. In fact, watching The Goodbye Girl makes me wonder just how much the film must have inspired the writers of SCTV back in 1981 when they penned a hilarious parody of Simon, Mason, Dreyfuss, et al in a seasonal sketch entitled "Neil Simon's Nutcracker Suite."
For poor Paula (Mason), everything is going wrong. Her self-absorbed actor (read: actor) of an ex-boyfriend wasn't courteous enough to tell her he wasn't coming back from an acting gig, which she only learns from a letter he left behind. Worse still, the cad in question decided to sublet the apartment Paula and her wiser-than-average ten-year-old daughter (Quinn Cummings) shared with him, which our heroine unceremoniously discovers late one rainy night. Thus begins a rocky roommate situation with another, slightly off-balance actor (read: actor), a Chicagoite named Elliott (Richard Dreyfuss, at the beginning of his post-Jaws career, which then went into hibernation for nearly a decade), who doesn't cut corners when it comes to speaking his mind.
Yet, despite Paula's blaming everything that goes wrong on the new guy, Elliott isn't that bad of a fellow, which she slowly learns as their quirky situation slowly blossoms into an awkward prelude to something resembling a halfway decent romance. But it's what goes on outside of the apartment where most of the gold is found in The Goodbye Girl, as Dreyfuss struggles with a crazy director (the great Paul Benedict) who thinks he should play Richard III as a flamboyant queen; a production which also features uncredited bit parts by not only a young Powers Boothe, but '70s porn and Italian horror icon Robert Kerman (aka R. Bolla), too! Barbara Rhodes co-stars in this charming '70s comedy, featuring a memorable cameo by Nicol Williamson.
Once again, the Warner Archive Collection has gone the extra mile for a fairly forgotten flick like The Goodbye Girl (it seems the big Oscar winners become the most overlooked as time goes on), striking up a new HD print just for the occasion. Undoubtedly the best the movie has ever looked, The Goodbye Girl makes her Blu-ray debut in a beautiful 1080p transfer, having been properly cleaned-up and color-corrected ‒ a far cry from the lamentable Standard-DVD release which has been out of print for years. Accompanying the feature film is a newly encoded DTS-HD MA 2.0 Mono audio selection, itself restored from original elements. English (SDH) subtitles are also included in this release, with only a theatrical trailer as an extra.
But don't say Goodbye to this Girl just for that: at least we've been spared from enduring the TV remake with this release!
Highly Recommended.