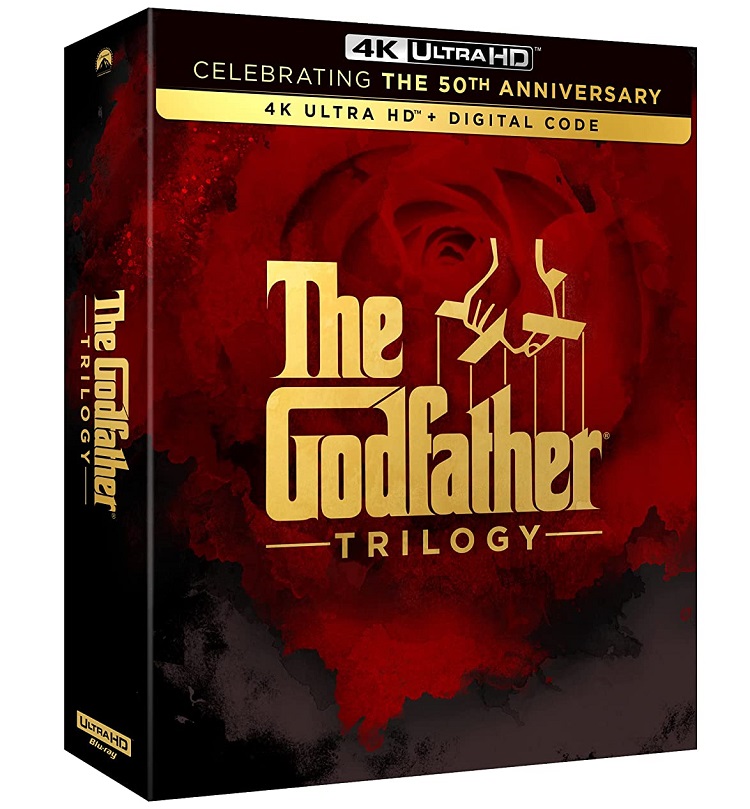 What else can one say about The Godfather saga? The whole trilogy (at least parts 1 & 2) set the standard for the modern gangster/mafia genre. Without it there's no Goodfellas, The Sopranos, Casino, Sexy Beast, Once Upon a Time in America, etc. So many scenes, performances, lines of dialogue, and behind-the-scenes stories have been etched into film and popular culture since the 1972 release of the original masterpiece.
The epic saga of a New York mafia family and their struggles to protect their empire from rival families as the leadership switches from the father to the youngest son; the youngest son's eventual taste of power; and his subsequent downfall during old age is still studied in film classes to this day.
Available in a deluxe limited edition and standard 4K sets, the trilogy can now celebrate its 50th anniversary properly and should be mammoth additions to any true film lover's collection, assuming if you don't own all previous DVDs and Blu-rays, or just looking for any reasonable excuses for upgrades.
It not only has fully restored presentations of Godfather and Godfather Part II, but it also has three cuts of Godfather Part III that includes the original theatrical version, the 1991 re-release, and the recently reconstructed Mario Puzo's The Godfather, Coda: The Death of Michael Corleone.
You're also treated to introductions/commentaries by legendary filmmaker Francis Ford Coppola and hours of special features including new and legacy content such as home movies, restoration comparisons, additional scenes, filming locations, four short films, photo galleries and storyboards, and much more.
Make this an offer you really can't refuse! [Read Kent Conrad's review]
Other releases:
The Flight of the Phoenix (Criterion): James Stewart leads an all-star cast in Robert Aldrich's sweltering adventure drama about survivors (including Ernest Borgnine, Richard Attenborough, Peter Finch) having to work together to get out of the remote Sahara or die trying.
Eastern Promises (Kino 4K UHD): David Cronenberg's harrowing crime thriller starring Viggo Mortensen as a Russian-born driver for one of London's most infamous organized crime families of Eastern European origin. His carefully maintained existence is tested once he meets a hospital midwife hospital (Naomi Watts) and has to choose between her and the family.
Nightmare Alley: Guillermo Del Toro's Oscar-nominated remake of the 1947 film noir classic starring Bradley Cooper as an ambitious carny who meets a female psychiatrist (Cate Blanchett) that is more lethal than he is.
Mad Dog Morgan (Indicator US): The late Dennis Hopper stars as Irish outlaw Daniel Morgan, who is wanted, dead or alive, in 1850s Australia. Also starring the late David Gulpill as a hunter who becomes his closest ally.