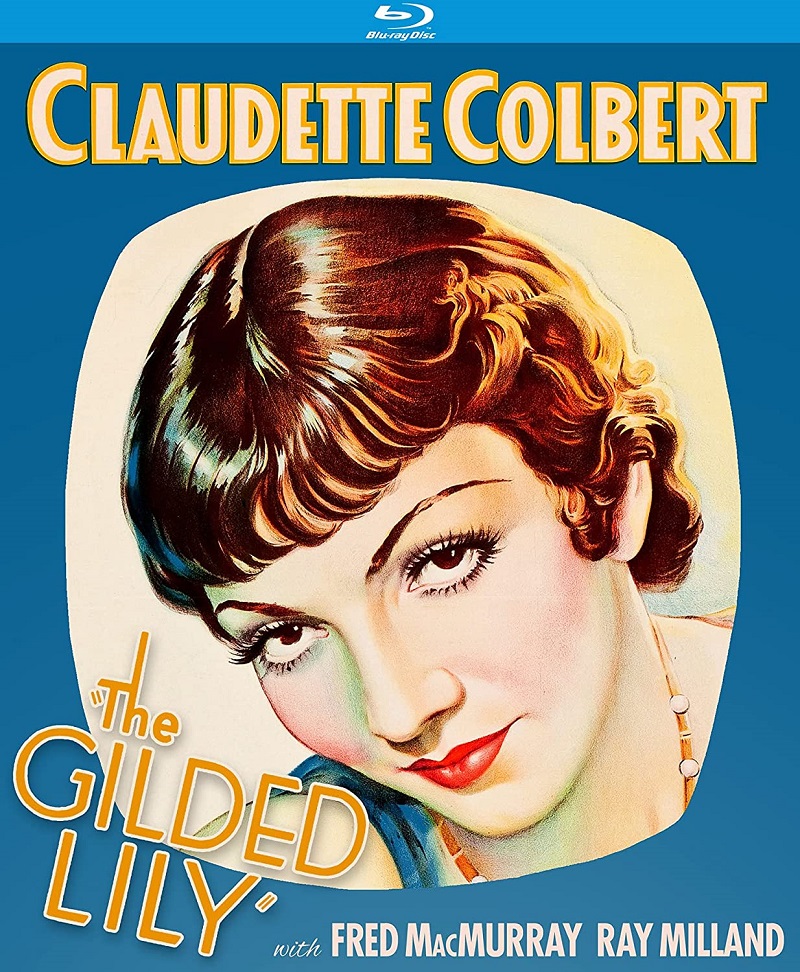 By the time The Gilded Lily was made in 1935, Claudette Colbert was a huge star. She'd gained notoriety in Cecil B. Demille's The Sign of the Cross (1932) and won her first Academy Award with It Happened One Night (1934). So much was her success that The Gilded Lily seems like a step backward. Or maybe a step sideways since it seems very much like a limp attempt to recreate the magic of It Happened One Night. Looking at it from the perspective of Colbert's career, it seems like blip, a small misstep in a career that was rocketing upwards.
But to look at it from Fred MacMurray's eyes, The Gilded Lily is his first step towards stardom. He'd had some success on the stage prior to this film but he'd only landed a few small, mostly uncredited film roles up to that point. It was quite a coup for him to land a role this big next to one of the biggest female stars in the world. The film launched his career making him a household name for decades.
All of this comes from a modern perspective, looking back on two stars respective careers. At the time, The Gilded Lily did well at the box office and with critics. Colbert and MacMurray went on to star in six more films together. It is a fine film, filled with some comic moments and genuine chemistry between the three stars (Ray Milland is the third spoke in the love triangle). It is well worth watching; it just lacks that extra spark that makes a good film great.
Colbert plays Marilyn David, a stenographer in New York City and MacMurray is Peter Dawes, a newspaperman. The two are good friends who meet every Thursday night to sit on a bench, eat popcorn, and watch the world go 'round. One night they get to talking about romance and she wishes she could find an uncomplicated man with whom she could live the simple life. Peter laughs at that and says he doesn't think she'd like the simple life.
On her way home, she gets to test that theory as she runs into Charles Gray Granton (Milland), who seems like the simplest of simple men. He is unencumbered and unemployed and very happy. Or at least she thinks those things are true. They meet on the subway when she saves him from an altercation with a guard. They flirt and laugh and have a grand time. They meet several times that week and fall in love.
Unbeknownst to her, he is actually an English Duke and engaged to another woman. But he truly does love Marilyn so he heads home to break the engagement off to avoid scandal. Peter, who is really more of a gossip columnist than a journalist, gets word that a Duke and his father have been secretly gallivanting around the city and snatches some photos of them boarding the boat. When Marilyn sees the photos, she decides that Charles must have been slumming with her and falls into Peter's arms all upset.
Peter figures this setup will make a great story and writes multiple articles about how Charles was madly in love with her but Marilyn pushed him away, giving up the royal life. She becomes a sensation, known as the "No Girl" and Peter makes it work for both of them. He sets her up as a singing comic act at a local club and continues to write articles about her life, making most of it up.
Meanwhile in England, Charles sees the articles and is both heartbroken and nearly ruined by the scandal it causes. Romantic comedic situations ensue. Naturally, there is an eventual meeting between Charles and Marilyn and a last-minute dash through the snow so that Marilyn can finally be with….well, I won't spoil who she winds up with, but for anyone who has seen more than a couple of these types of films, it won't be hard to guess.
It's fine. It is a perfectly enjoyable little film. The three leads are always a joy to watch and this is no exception. It is easy to see why Fred MacMurray became a star. He must have been a nervous wreck on set, this being his first big film and all, but on screen, he has an easy-going charm. There aren't as many laughs as I would like and it lacks that certain something, but really it's fine.
Special features include a very informative film commentary from Kat Ellinger who does a nice job of giving some background information to the film and its stars and adding some depth to a pretty light movie. Also included are some trailers for other Kino Lorber releases.