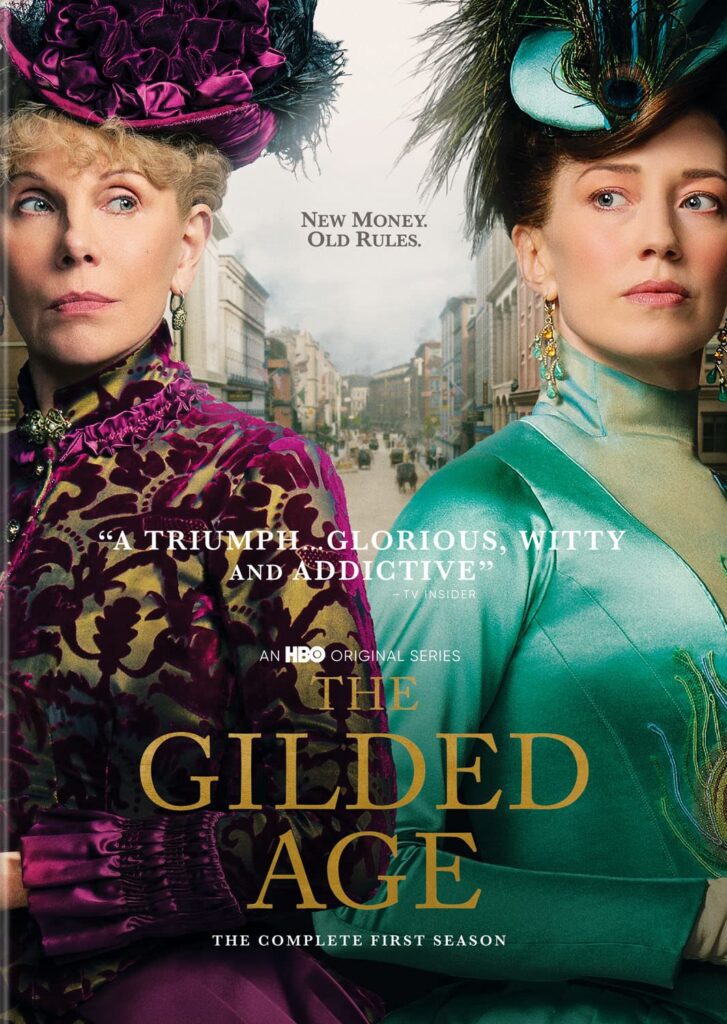 While this period drama originates on HBO and is based in New York, its DNA is wholly derived from the past work of its creator, Julian Fellowes, better known as the creator of Downton Abbey. Aside from the setting and U.S. cast, the show feels like it belongs on BBC, which has its pros and cons. 
If you like Downton Abbey and any other stuffy English dramas descended from Upstairs, Downstairs, you'll be right at home with this show that attempts to wring high drama out of nonsensical high class fluff like the right way to set a table or the optimal time for a young lass to make her society debut. If you're more in tune with the steamy and modern-tinged antics of Bridgerton, complete with its color-blind casting and disregard of adherence to history, this probably isn't the show for you.
The series leads us into its setting via a winsome young upper-class lady named Marian (Louisa Jacobson) who finds herself penniless after her father dies, forcing her to seek refuge with her two wealthy aunts (Christine Baranski and Cynthia Nixon) in New York City. Those aristocratic aunts are part of old money, and are deeply skeptical of their new neighbors across the street, The Russells (Morgan Spector and Carrie Coon), who have built a massive new fortune but have no connection to New York society.
While the show progresses well enough through its nine-episode first season, it felt flat to me, with such low stakes that the only real drama comes from a train derailment that leads to a potential murder rap for the rail line's owner, Mr. Russell. Aside from that, it's primarily just society gamesmanship as Mrs. Russell tries to wrangle her way into society, Marian learns whether to pursue love or social standing, and the aunts try to be the gatekeepers for the way things used to be. Although it's on HBO, there's only one racy bedroom scene, but even that is just a failed seduction attempt. It doesn't help that Jacobson is as bland and unmemorable as any leading lady in recent memory, the equivalent of white paint, with the charisma and acting range to match.
Baranski gets a bit of mileage out of her cranky dowager role, but with the casting addition of Audra McDonald, her principal co-star from The Good Fight, it gives the impression that this show is just something they did as a lark during hiatus from their other, much better, series. The same goes for Cynthia Nixon playing the good cop aunt opposite Baranski while she waits for the next season of And Just Like That…
The cast seems to be so directed to keep the class level high that all of the characters come off as uptight, stilted, and one-dimensional, with one notable exception. Nathan Lane pops in on a couple of episodes as a scenery-chewing Southern gentleman, complete with preposterous Colonel Sanders facial hair and accent, an arrival so jarring in the show's overall staid presentation that it ends up feeling like a shark-jumping event.
While the show's exteriors give the impression of too much CG compositing and feel far too clean and empty, the elaborate costumes and amazingly expansive interiors are quite lovely. Also earning high marks is the score by the Gregson-Williams Brothers, usually working separately across films, TV, and video games but teaming up to spectacular results here. The show has great acting and production talent, it just needs far more interesting writing to make it all worthwhile.
The extensive bonus features include an exclusive look at the creation of the show, along with inside-the-episode featurettes for more detail on each specific installment. There are also deep dives into the characters, a set tour of the immense Russell House led by Carrie Coon, a look at the black elite of historical New York, more info on the production design of the show, and a feature on the classic squabble between old and new money. Many of the features are also available as extras on HBO Max, but this set represents the only way to collect and own them in physical form.