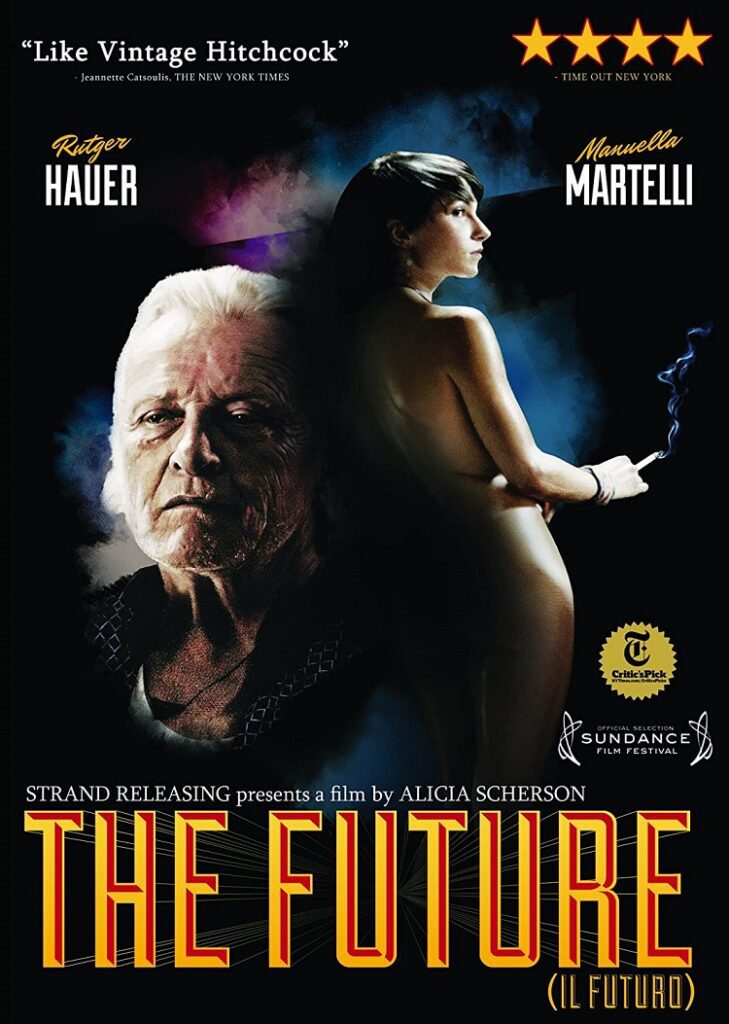 Alicia Scherson's The Future is an absorbing motion picture with no shortage of challenges for the audience. The 2013 feature from the Chilean director of 2009's Turistas is a little hard to dig into at times but its resolve and distinctiveness carries many rewards.
Based on the 2002 novel Una Novelita Lumpen by Roberto Bolaño, which still hasn't been translated into English, The Future weaves a tale that is as bizarre as it is erotic and as ridiculous as it is emotional. Scherson's flick pushes through countless twists and turns to achieve what is less a satiating conclusion and more a symbolic exorcism for its hero.
Manuela Martelli is 19-year-old Bianca and Luigi Ciardo is her teenaged brother Tomás. Their parents have died in a car crash and they are orphans meandering through life. Bianca tries to cope by getting a menial job at a hair salon, while Tomás hangs out at the gym. He eventually makes two friends (Alessandro Giallocosta and Nicolas Vaporidis).
The beefcakes move in with the orphans and begin a relationship that is, to say the least, odd. Eventually, they bring up the idea of robbing a former Mr. Universe and actor dubbed Maciste (Rutger Hauer). This requires Bianca to serve as the decaying and blind performer's companion of sorts. She agrees to help and starts to forge a relationship with Maciste.
The Future is told through the eyes of Bianca. She provides narrative and attempts to navigate the strange new surroundings of being an orphan, all the while dealing with her own issues of confidence. She is assured of her beauty, she tells a character in the salon, but she's not so sure how smart she is.
The film takes about 40 minutes to even bring up the idea of the heist. It takes its time to set up its characters and their respective narratives, mostly keeping the emphasis on Bianca. The two muscleheads land like vultures, sensing opportunity and feebleness. Bianca's strength wanes, in part windswept by sexual attraction and their immediate companionship.
But their presence gradually becomes tense, which merges with the level of relief and sanctuary Bianca feels in the arms of Maciste. It's no wonder Hauer's character was once Hercules on the big, golden screen. He leaps to the rescue, but there are no bare confidence-building scenes. Bianca must save herself. Maciste's part in the drama involves sandwiches.
There is a sexual foundation to the bond between Mr. Universe and Miss Independent. Maciste tosses Bianca over his shoulder, as though saving her from a pit of trolls, and eventually diverts into a sense of mischievousness that finds the two rolling through his lavish sheets.
He massages her naked form in oil, makes her sandwiches while telling her tales of old Hollywood. He lets her ask questions about death and about what animal he'd like to be. Their intimacy intoxicates, even as the incongruity of the whole venture is never far from view. Bianca has to find the bloody safe.
Scherson is focused on what goes on inside the heads of the characters, but there's also a splash of Hollywood magic skulking by way of the movie's setting in Rome. She has a character walk through Cinecittà, that consecrated site where all life begins, and splashes a boyish Hercules in the same setting as he chucks a rock.
All the while, The Future is fixed on where Bianca and Tomás will end up. Bianca insists that she thinks only about the future, even as she does what's necessary with Maciste and even as it evolves into something more. The ambiguity of what comes next is all that can fulfil. Bianca's last moment with Maciste seals this.
Scherson hasn't crafted an easy movie in The Future, but there's a lot of splendour in the cobwebbed manor. Martelli and Hauer have tremendous chemistry, while cinematographer Ricardo de Angelis' navigation of the film's many nude landscapes is beautiful. This future may be unclear and peculiar, but it's still a hell of a journey.