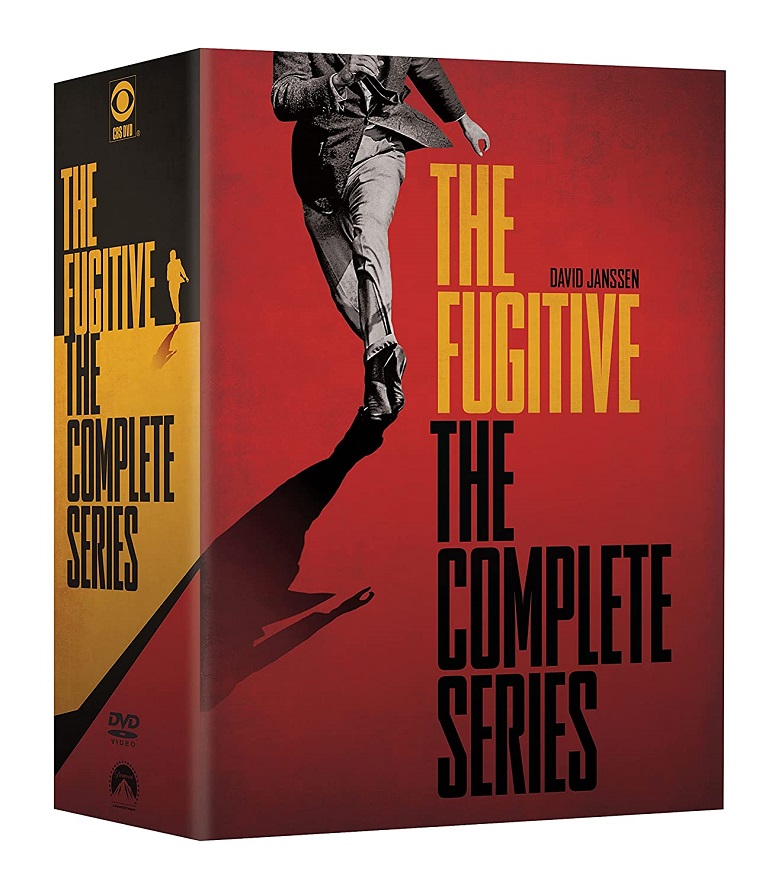 Hello, PotW readers. Mat 's desktop computer went to that great IT department in the sky over the weekend, so while he selected some titles that looked interesting (see below), he didn't make his Pick. But the show must go on, so this week is going to be a joint effort, and I didn't need to peruse the new releases long before I knew what I was going to select.
The Fugitive ran for four seasons and starred David Janssen as Dr. Richard Kimble, who is, as narrator William Conrad first tells viewers during the opening credits of the second season,
"an innocent victim of blind justice, falsely convicted for the murder of his wife … reprieved by fate when a train wreck freed him en route to the death house … freed him to hide in lonely desperation, to change his identity, to toil at many jobs … freed him to search for a one-armed man he saw leave the scene of the crime … freed him to run before the relentless pursuit of the police lieutenant obsessed with his capture."
With a relationship inspired by Victor Hugo's Les Misérables, Lt. Phillip Gerard (Barry Morse) forces Kimble to travel from town to town, picking up work where he can get it. This premise helps hide the fact that The Fugitive is an anthology show, telling stories with different characters and settings that Kimble is inserted. The show also deals with its central mythology and many episodes involve Kimble's hunt for his wife's killer, including the classic two-part series finale.
The Fugitive is one the television's best dramas because of its writing and the talented actors that bring the scripts to life. David Janssen is outstanding as Kimble, playing a wide range of emotions as a man on the run who finds himself in a variety of situations and roles. Gerard is a well-developed nemesis for Kimble. He's a smart, no-nonsense lawman whose belief in the justice system fuels his obsession. Their paths cross throughout the four seasons and those moments are the series' highlights
Available for a second time, now at a lower suggested retail price and minus the bonus disc of extras, The Fugitive: The Complete Series is my Pick of the Week.
Also out this week that looks interesting (to Mat):
Mr. Turner: Timothy Spall has gotten rave reviews for his depiction as the artist J.M.W. Turner. I'm not at all familiar with his art, not have I watched many films by Mike Leigh, nor do I generally care for films about artists, but I'm willing to give it a shot.
Selma: Another historical drama that got rave reviews. This one's about Dr. Martin Luther King and the marches in Selma, Alabama during the civil rights movement.
Mr. Selfridge – Season 3: I keep meaning to watch this Jeremy Piven PBS drama about a flamboyant department store owner.
Black Sea: Jude Law stars in this pretty predictable-sounding thriller. He's the veteran seaman who loses his job but is given one last chance to dive deep in a submarine to find lost U-Boat gold. Deadly drama ensues. We've seen that film several times before but I'm a sucker for a good submarine drama.
Father Brown – Season Two: Based upon the G.K. Chesterton stories Mark Williams plays the titular priest who solves crimes in his spare time. Our own Kent Conrad didn't much care for season one but I'll usually give any old British mystery a try.
Also for a moment allow me to get slightly nerdy and just notice that this week brings us two DVDs from actors who were in the Harry Potter films (Timothy Spall played Wormtail, and of course Mark Williams played Arthur Weasley). Hurrah for Potter actors getting other roles!
Masters of Sex: Season 2: This Showtime series based upon sexologists Masters and Johnson in the 1960s, has gotten a lot of buzz and I keep meaning to give it a go.
Parenthood: The Complete Series: I got through about the first half of the first season of this drama-comedy. It wasn't that it was bad, it just wasn't that good either. One of those shows I kind of enjoyed but not enough to make me keep coming back and so I didn't. Still, I always appreciate entire series getting a full release.
Fifty Shades of Grey: Whoever cast this movie has got to be hoping nobody watched The Fall as there is no way I could ever see Jamie Dornan as a sex object after watching him play such a creep on that series.