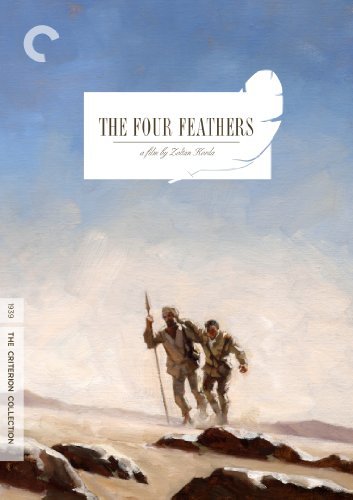 Harry Faversham (John Clements) comes from a long line of heroic officers in the British army. But ever since he was a young boy listening to his father's horrific tales of war, he began to agonize over the fact that someday he would find himself in the middle of a battle. But after his father passes away, Harry feels that his family obligation is over, and when his regiment receives notice that they are about to deploy to Egypt he decides to resign his commission.
While his father may be dead, his fellow officers and friends take exception with his decision and brand him a coward by sending him three white feathers to show their disgust. Harry might be able to handle the derision of his compatriots, but when his fiancé turns her back on him, he takes her rejection as the fourth feather.
Realizing his mistake and understanding what will become of his life because of his cowardice act, he decides to set off to Egypt and make them take back their feathers. To accomplish this, Harry dresses as an Arab and disguises himself as a mute slave for the enemy army in order to meet up with his former regiment.
Before Harry can accomplish his plan, his regiment is decimated by an attack. One of his friends is left for dead in the desert and the other two are prisoners. This setback in plans is actually a benefit to his ultimate goal as he must bring one man safely across the sands and then stage a daring rescue for the survivors.
The film is one of many adaptations of the novel written by A.E.W. Mason, but this 1939 version directed by Zoltan Korda is considered by many to be the best. Considering how long ago it was made, the visual quality holds up really well and looks like it could have been filmed in the'50s or '60s. The colors are slightly muted, but that is to be expected.
Unlike many older DVD releases, there are several special features on the disc. There is an "Audio Commentary by film historian Charles Drazin," "Interview with David Korda", and "A Day at Denham."
David Korda is the son of Zoltan who shares his family story and his experiences with his father and the movie industry. The other feature is an interesting short documentary on Denham Film Studios in England, which gives a behind-the-scenes look at some of the films shot there as well as the basic workings of the studio. Even the insert in the front cover contains an essay on the film by film critic Michael Sragow.
The redemption of a man always makes for an interesting story, but the idea of an officer in a time of war who must prove himself opens up a lot of possibilities. The fact that the film takes place during the 1885 Mahdist War in Africa also gives the film a very exotic flavor.
The style of direction is much different than what is used today as Zoltan likes to use static cameras, something his son mentions, not only because of personal style but also because of the practicality of moving around giant cameras that were quite difficult to move.
While some of the secondary characters seem a little too bland and generic, the fact that Captain John Durrance (Ralph Richardson) who loves Harry's fiancé as well, is willing to step aside and accept the fact that she did not choose him is refreshing to see. The honor and integrity of the men is something that feels missing in modern films.
If you're a classic film buff you will probably enjoy the film. It does feel like it runs a little too long in the middle and it doesn't delve quite enough into the characters and their motivations, but it's a nice piece of viewing history. And if you're not into older films there's a 2002 version starring Heath Ledger and Kate Hudson. Whether or not it's a good version is yet to be determined by this reviewer, but it's certainly got potential.