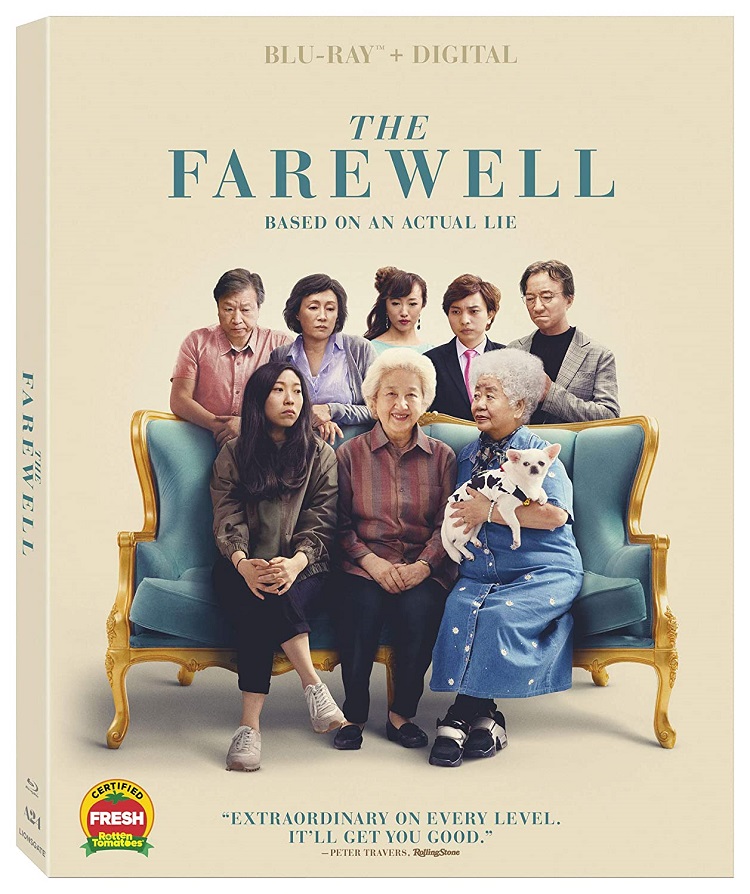 When someone is diagnosed with a terminal illness, the automatic assumption is that the person should know what they have and how much time they have left to live. At least, that's how the American culture would perceive it. For Asian culture, they traditionally withhold the information from that person so it doesn't cloud their mind and have them live their last days in fear and with depression – knowing they are going to die. For Billi (Awkwafina), an Asian American living in New York, she has trouble understanding how her family is able to follow a traditional method such as not telling someone they are going to die, especially when it is someone to whom she is close.
In the past year, Awkwafina has proven herself to be a charismatic actor with Ocean's 8 and Crazy Rich Asians. With The Farewell, she shows that she is able to dive into a dramatic role without any hesitation, and it pays off tremendously. She is a powerhouse as Billi, a woman who is torn between whether she wants to tell her Nai Nai about her condition because it's right, or if she should follow the tradition of her culture.
The Farewell is Lulu Wang's semi-autobiographical account of what happened to her family when her paternal grandmother, called Nai Nai (Zhao Shuzhen), was diagnosed with Stage 4 lung cancer. The family knows her time is short, but Nai Nai does not. When Billi's parents (Tiz Ma and Diana Lyn) inform her of the situation, Billi is confused. How could someone so close to her not know of her diagnosis? Even worse, why would the family hide it from her?
The family stages a wedding for Billi's cousin as a way to get everyone together to say goodbye to Nai Nai one last time. In the wrong hands, this could have resulted in slapstick-style hijinks ensuing and tawdry humor. But under Wang's direction, she's able to ground the film to make even the most impossible scenarios seem like something that could actually happen to anyone. And it helps, too, that this is based on something that actually happened to her, so she has firsthand experience in a crazy situation like this.
Despite the film mostly taking place in China, and with most of it being in Mandarin, The Farewell has many elements to which people of different cultures can easily relate. From the grandmother who is still active and not afraid to speak her mind, to the awkward wedding that has many showing off that they can't sing, this is a movie that doesn't just cater to one demographic.
The Blu-ray release for The Farewell comes presented in 1080p high definition with a 16×9 widescreen presentation and a 2.40:1 aspect ratio. The image quality perfectly captures a lot of the beautiful imagery in China. The audio is an English and Mandarin 5.1 DTS-HD master track, and every line of dialogue comes across smoothly.
The special features are a bit sparse on this release. There's an interview with Wang called "Nothing but the Truth," in which she goes over how her family's true story became the inspiration for the movie. Another feature is an interview with Awkwafina called "Going Home." There are two deleted scenes that, in total, last about three minutes and didn't seem to add a whole lot to the film. Lastly, there is an optional commentary track to accompany the movie that features Wang and cinematographer Anna Franquesa-Solano.
The Farewell is an excellently written drama that features a lot of great comedic moments and isn't too heavy on the subject matter. Wang showcases a fictionalized account of her family's story masterfully with characters who are fleshed out and to whom we can connect. It's a film that makes us both laugh and cry, and, in the end, shows us the importance of the family bond.