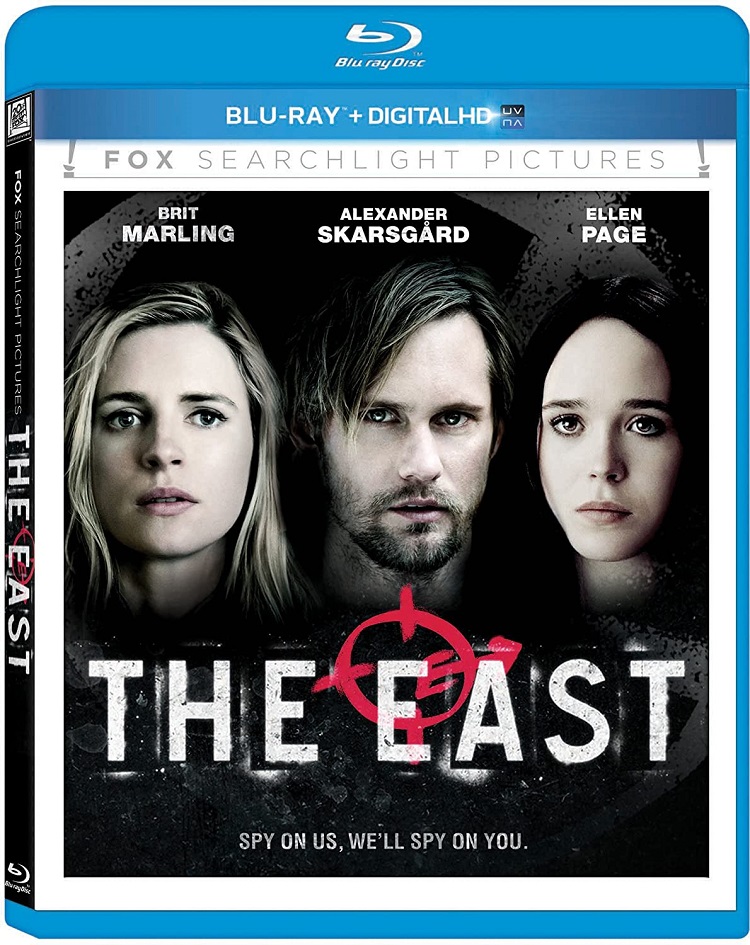 First, there was Gregory Nava's El Norte in 1983. Next, Victor Erice followed suit by delivering El Sur unto us that same year. And then, nothing – not a single motion picture with a Spanish-language direction came about for years! And while up-and-comer Zal Batmanglij's latest magnum opus, The East has about as much to do with the aforementioned peliculas as frozen yogurt has to do with raw ore, I just think it's a shame nobody made a movie called El Este, so I'm assigning this one that name for just a brief second in time for absolutely no specific reason whatsoever. Look, just humor me here, OK?
Inspired by screenwriters Brit Marling and Zal Batmanglij's experiences dabbling in the traits of those dirty stinking anarchist hippie folk, The East brings us this independent, eco-centered thriller wherein Ms. Marling herself stars as a former FBI agent now under the employ of a private intelligence firm. Tasked by her boss (Patricia Clarkson) to infiltrate an eco-terrorist activist sect known as "The East" – who have taken it upon themselves to "punish" those corporate bigwigs whom the government hold unaccountable for their atrocities to mankind (oil spills, toxic drugs, et cetera).
Naturally, she finds them – and is introduced to their hygienically-challenged freeganism ways as well as the precarious grounds on which their movement is balanced. This allots her an opportunity to get closer to the group's leader, the curiously-named Benji (Alexander Skarsgård). And get closer she does – eventually beginning to sympathize with the sect's illegal activities. Ellen Page, Aldis Hodge (Leverage), and several other mostly-unknown actors and actresses – including a low-rent Johnny Depp impersonator – are part of the anarchist gang, while Jason Ritter (looking more like his pappy every day) co-stars as Marling's oblivious husband.
Co-produced by Ridley and Tony Scott's team (the latter of whom still continues to get screen credit for numerous projects despite being dead), The East is a moody, modest melodrama that is a pretty slow and talky effort overall, but which is surprisingly satisfying all-around despite bearing a fairly weak (or rather, ultimately expected) ending. Of course, Ellen Page is the movie's weakest link on account of her being Ellen Page and all, but even she does a fairly nice job shortly before she calls it a day in the film. Fox brings this Fox Searchlight production to Blu-ray in a beautiful MPEG-4 AVC/1080p transfer with a 5.1 DTS-HD Master Audio English accompanying.
French DTS 5.1 and Spanish Dolby Digital 5.1 tracks are also available here, and the release comes with English (SDH), French, and Spanish subtitles. Special features include several deleted scenes, six behind-the-scenes featurettes, the film's theatrical trailer, and a 17-minute sneak peek item focusing on the movie (which no doubt aired on one of the many unnecessary cable TV stations that focuses on things you could be watching). Frankly, the bonus items here aren't too terribly interesting (a common trend these days), so I'd just settle for watching the main feature and leaving it at that.
But of course, the key phrase there is that I would recommend The East – or El Este, if you prefer – to you were you to directly inquire about it with me. So long as that kind of flick is your cup of reclaimed tea to begin with, that is.
El Oeste is due out sometime in the next couple of millennia or so.