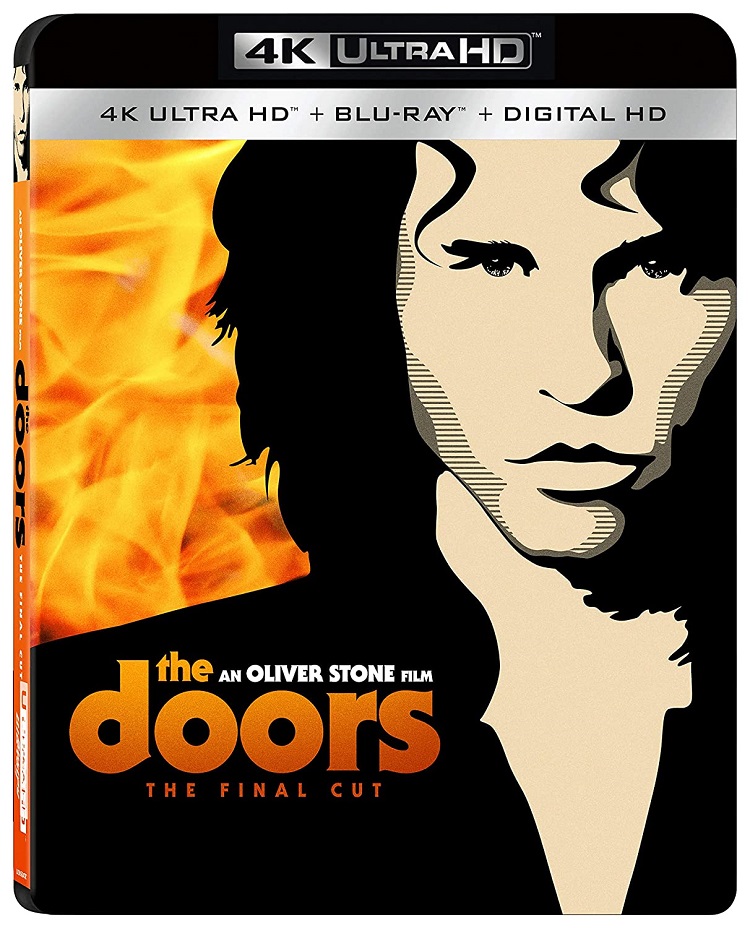 Although the movie is named after the band, it's really all about the rise and fall of Jim Morrison. The rest of the actors playing band members have barely any lines, and are resigned to glumly standing around pretending to play their instruments for most of their screen time. The film loosely tracks the band's formation in the '60s to their dissolution in the '70s, but director/co-writer Oliver Stone is mostly interested in charting Morrison's emergence as a rock god.
I hadn't seen the film since its theatrical release, but the concert scenes in particular are clearly superior to their original incarnation thanks to the new Dolby Atmos sound mix. Kilmer's masterful performance as Jim Morrison still towers over anything else in the film, leaving precious little room for anyone else to shine, including Meg Ryan as Morrison's long-time girlfriend, a minor role that was well beneath her box-office status at the time. I remembered Kyle MacLachlan as Ray Manzarek, but had no recollection of Frank Whaley and Kevin "Johnny Drama" Dillon rounding out the band. The film suffers a bit from Stone's over-emphasis on the drug culture of the time, but holds up remarkably well.
The brand-new 4K restoration was supervised by Stone and remastered from the original negative using Dolby Vision HDR. Colors are rich but not overpowering, and the blacks in dimly-lit concert venues are no longer muddy. The soundtrack has also been upgraded to Dolby Atmos, which seems to have been Stone's proudest achievement for this release as he worked to make the sound in the concert sequences more immersive than ever, a goal his team clearly achieved. As for that "final cut", the new version is actually three minutes shorter than the original, with the only cut being made to one scene that Stone now feels is superfluous to the ending. Unless you're a super fan of the film, the cut is hardly worth mentioning and not really noticeable. For what it's worth, both versions of the film are included in this package.
Oddly, the bonus features on the Blu-ray and 4K discs are entirely different, with only the 4K disc featuring brand new interviews with Stone and sound editor Lon Bender about the restoration process, while the Blu-ray offers a featurette about Morrison's time in Paris, deleted scenes, and a look at the band in Los Angeles. Further confounding: none of the bonus features or the shorter final cut appear to have made their way to any participating digital retailers at the time of this review. Still, there's enough bonus footage spread across the two discs to satisfy all fans of the film, and the new restoration and enhancement of the film make it well worth seeking out.