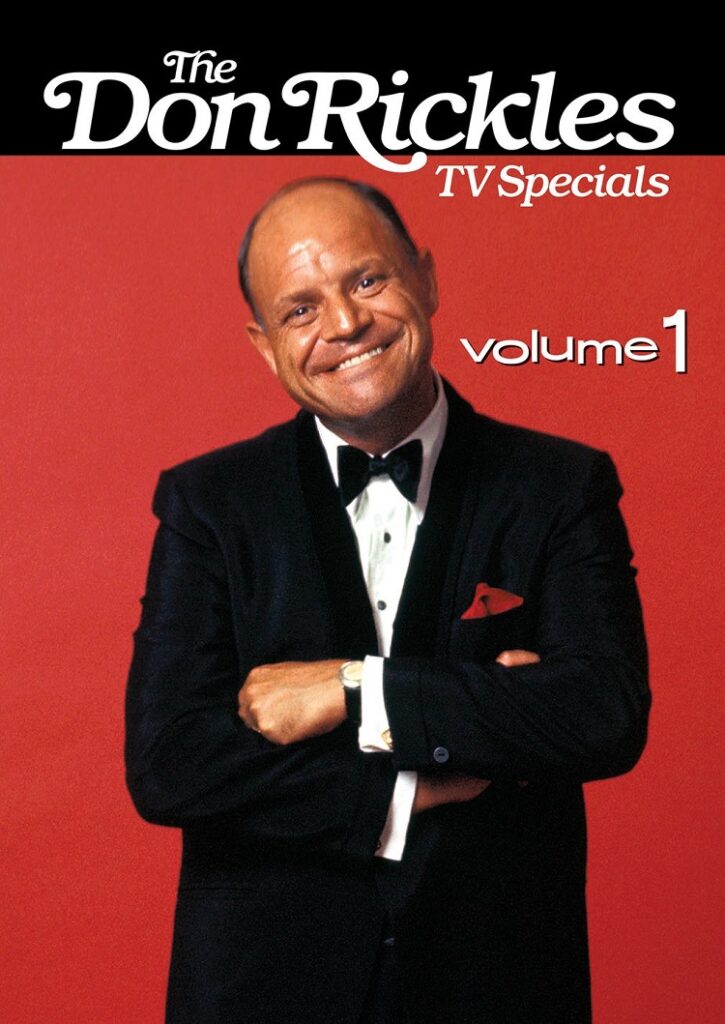 There is no question that Don Rickles is a national treasure. Not only due to the fact that he has been performing for more than 55 years, but more so because he has a talent unlike any other. A comedic talent that endures and allows him to say what the public is thinking, and not only get away with would be considered politically incorrect, but garners laughter from all.
As a stand-up comedian, Rickles can still fill theaters, but he has always struggled to play against type. You want a fast-witted, razor-sharp tongue? Rickles is your guy. If you want a versatile character actor, he may not be the first guy you call. Never has this been more obvious than in his TV specials of the early seventies which can be seen in this new release.
The Don Rickles TV Specials: Volume 1 will be released from Time Life on October 13 and contains 90 minutes of material including The Many Sides of Don Rickles (1970) and Don Rickles: Alive and Kicking (1972). It's ironic that The Many Sides… was on ABC, and Alive and Kicking was on CBS who also gave life to The Don Rickles Show that same year. Obviously there was recognition of Rickles' talent and appeal; they just didn't know what to do with him. At least not until NBC was able to glean a modicum of success by putting the character Rickles took on stage and put it into an environment in which it could flourish. CPO Sharkey would last for two seasons. (Ron reviewed the Season 1 DVD and a review of Season 2 is coming soon).
In both TV specials, Rickles plays against type in most of the poorly written sketches that leave even the legendary comedic talents of Harvey Korman, Don Adams, and Anne Meara chewing scenery.
In The Many Sides…, there is a clear effort to try and do something completely different. The show has a backstage feel to it when it opens with Rickles, Adams, Korman, and Robert Goulet sitting and talking in what is meant to be a casual environment. The comedy here should be comfortable amongst men that are clearly friends, but it seems forced as the others attempt to let Rickles do his thing. The backstage theme remains constant as they transition between sketches and a Goulet musical number. The most unusual and uncomfortable segment to be found on this single DVD release is when Rickles sits down with three psychologists to discuss his humor. The doctors don't seem to know why they are there, Rickles gets defensive, and the whole piece just drags without a clear direction.
Things get slightly better in Alive and Kicking simply because the special open with Rickles doing a little kicking as he does the audience work he is known for. Sadly, that is the highlight as we once again are subjected to poorly written sketches. There are pleasant cameos by Adams, Bob Newhart, Carroll O' Connor, and Johnny Carson, and Juliet Prowse performs an enjoyable dance number. Ultimately far more traditional than the first special, the writing causes this show to fall well short of "special".
Rickles introduces both specials with segments that are too short. Only slightly longer is the bonus feature in which Rickles receives the Legend Award from TV Land.
On the plus side, both specials look and sound great.
Recommendation: We love you, Don, but this was not the format to truly display your talent.
Mr Warmth! Don Rickles: The Ultimate Collection will be released later this month. It includes this DVD, as well as Volume 2, and both seasons of CPO Sharkey. Buy that, open it, and throw this DVD away.