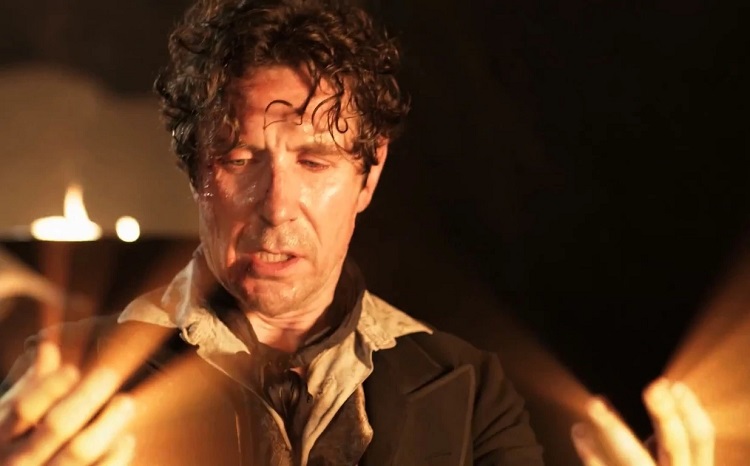 Debuting online on November 14, 2013, the mini-episode "The Night of the Doctor" revealed the origins of the Doctor played by John Hurt, who first appeared in "The Name of the Doctor," the final episode of the seventh series, and is now identified in the credits of "Night" as the War Doctor.
Watch it below before reading any further:
First off, it's wonderful to see the Eighth Doctor (Paul McGann) return for the 50th Anniversary celebration since he never got a fair shot at playing the character due to the poor reception the FOX TV-movie received. And to do so in such heroic fashion as we see him regenerate to become the Doctor the universe needs as the Time War rages on between the Daleks and the Time Lords will better the character's reputation, and hopefully lead to more appearances.
For fans concerned about how a regeneration between the Eight and Ninth (Christopher Eccleston) affects the numbering of the Doctors, which is how they are identified, show runner Steven Moffat told Doctor Who magazine, "I've been really, really quite careful about the numbering of the Doctors. He's very specific, the John Hurt Doctor, that he doesn't take the name of the Doctor. He doesn't call himself that. He's the same Time Lord, the same being as the Doctors either side of him, but he's the one who says, 'I'm not the Doctor.' So the Eleventh Doctor is still the Eleventh Doctor, the Tenth Doctor is still the Tenth."
The War Doctor returns with the Eleventh Doctor, the Tenth Doctor, and hopefully more surprises in the show's 50th anniversary special, "The Day of the Doctor," globally simulcast on November 23, 2013.
What do you think of this episode?