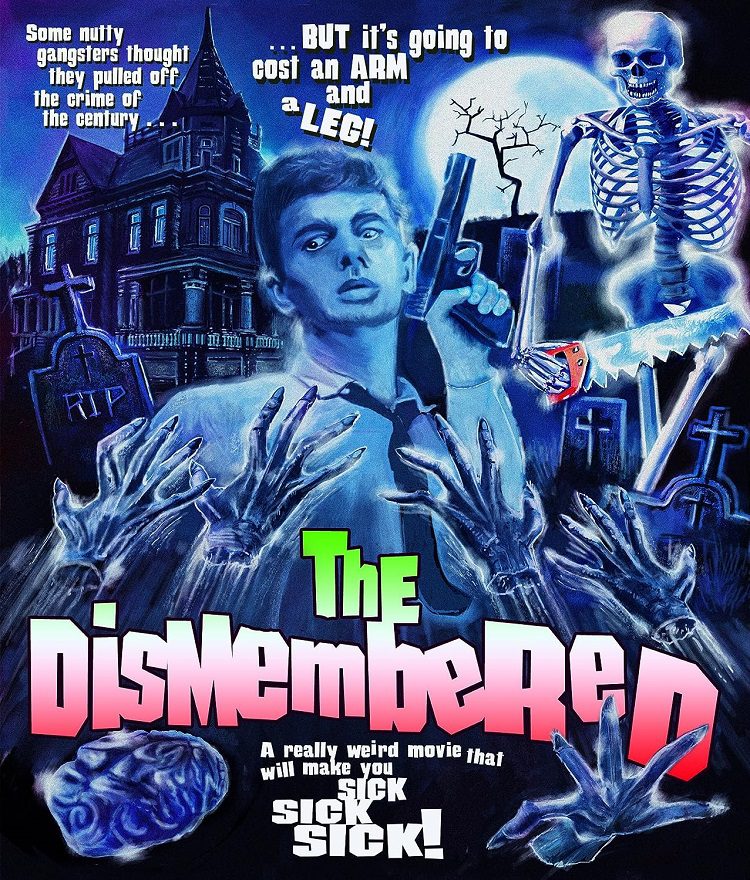 Picture, if you can, what might have happened had a very bored Charles Addams sat down for a few hours one sunny afternoon to jot down the general outline for a lighthearted episode of The Twilight Zone. But rather than seeing his little side project achieve fruition via its intended nationally broadcast television medium, the story wound up in the hands of amateur filmmakers instead. Expanding his original story into something that would still pass for "feature-length" by cinematic standards in 1962, an indie filmmaker in Philadelphia subsequently gathered together a few friends, even fewer dollars, and said "What the heck, let's give it a shot!"
By a remarkable coincidence, "What the heck, let's give it a shot!" was pretty much the exact same thing I said when I saw The Dismembered ‒ a completely forgotten 1962 horror-comedy from that illustrious land of cheesesteaks itself ‒ was making its way out of the cinematic crypt for a special Blu-ray release. And, providing one carefully treads into these murky, unfamiliar waters with just such an outlook, The Dismembered (or Oswald, You Botched It Again!, as the actual on-screen title read during the film's extremely goofy opening credits) can prove to be just as enjoyable as its city of origin's much more famous entrée.
But of course, not everyone likes cheesesteak.
Released the same year as genuine motion picture classics such as Dr. No, Lawrence of Arabia, To Kill a Mockingbird, Cape Fear, Lolita, The Longest Day, and The Manchurian Candidate, The Dismembered is about as far removed from that lot as can be. In fact, it even has a hard time fitting in with other regional horror movies released the same year, such as Carnival of Souls and The Brain That Wouldn't Die, in as much as The Dismembered not only acknowledges its own limitations (especially its budget restraints), but encourages its audience to not take much of the 65-minute black-and-white oddity too terribly seriously, either.
Featuring a cast of primarily unknown performers, The Dismembered opens as a daring jewel heist comes to a close. Getting away with their ill-gotten gains completely scotfree, a trio of robbers head towards a deserted estate neighboring an equally empty graveyard, where they intend to hole up until the heat has died down. Unfortunately for them, neither the estate or the graveyard are empty ‒ as they are both haunted by their own respective forms of disembodied evil. For example, within the house itself are five ghosts (as played by five different people of varying community theater acting skills, each clad in vintage clothes), most of whom enjoy killing.
Outside in the graveyard, on the other hand (an expression which takes on a more literal meaning here), are The Dismembered: a group of screaming (but surprisingly able) body parts which occasionally venture forth into the house to wreak havoc. Soon, our less-than-heroic robbers find out they picked the wrong spot to hide in, especially when the stagehands start to toss a tiny assortment of novelty Halloween props (a hand, a foot, a brain, et al) into the frame, resulting in The Dismembered's devoted cast of mixed nuts running around like they were in an episode of Scooby-Doo, Where Are You! fighting imaginary body parts.
As I said, not everyone likes cheesesteak.
Ultimately, The Dismembered is more about what it is as opposed to what it isn't. It certainly isn't a "good" movie, but it nevertheless shows a great deal of potential on the behalf of a few of its performers (especially Tim Sheldon, who plays the main robber) and its director, Ralph S. Hirshorn. Following some minor success with his 1959 short The End of Summer, Hirshorn reportedly went to Hollywood and began an official career in the film industry at Columbia Pictures. Alas, the passing of his father and a family business in distress prompted Hirshorn to return to Philly, effectively ‒ and abruptly ‒ kissing his movie-making dreams goodbye.
And it's definitely something of a pity. It probably takes a bit of a trained eye (or maybe just a stoned one), but you can see there was some promise afoot here. Sporting a weird early synth soundtrack by the Main Street Ghouls (!), an opening that comes pretty darn close to effective, and a finale which heavily borders on comically creepy, Ralph S. Hirshorn's The Dismembered hits home video for the very first time courtesy of the only 16mm copy of the film. Scanned in 4k for this special release by the folks at Garagehouse Pictures, The Dismembered looks rather nice on Blu-ray, all things (and there are a lot) considered.
Presented in a 1.66:1 ratio with DTS-HD MA mono sound, the work Garagehouse Pictures has done in bringing this lost "classic" to home video is quite commendable, and what we do get to see is more than satisfactory. A very animated audio commentary from Mr. Hirshorn himself is the first of a handful of extras here, which is moderated by another indie filmmaker from Philly, Andrew Repasky McElhinney. The End of Summer, Hirshorn's 1959 student short/calling card to Hollywood, is also included, as are several trailers for other Garagehouse Pictures releases and some extensive liner notes by Dan Buskirk, who has quite a lot of information to share with us.
In short, yes, this is one very goofy movie. But, depending on one's appreciation for low-budget regional horror films from yesteryear (which I must confess I have more than a wee bit of an affinity for), The Dismembered could be just what the doctor ordered. And besides, after 55 of years of being too obscure of a film to even be considered a truly lost title in the first place (I mean, really, how many movies can you think of that have fallen into such a bizarre predicament?), I think the least classic low-budget horror/comedy film aficionados around the world could do is to give this Region Free rediscovery from Garagehouse Pictures a look-see.
Order up some cheesesteak and give it a whirl.