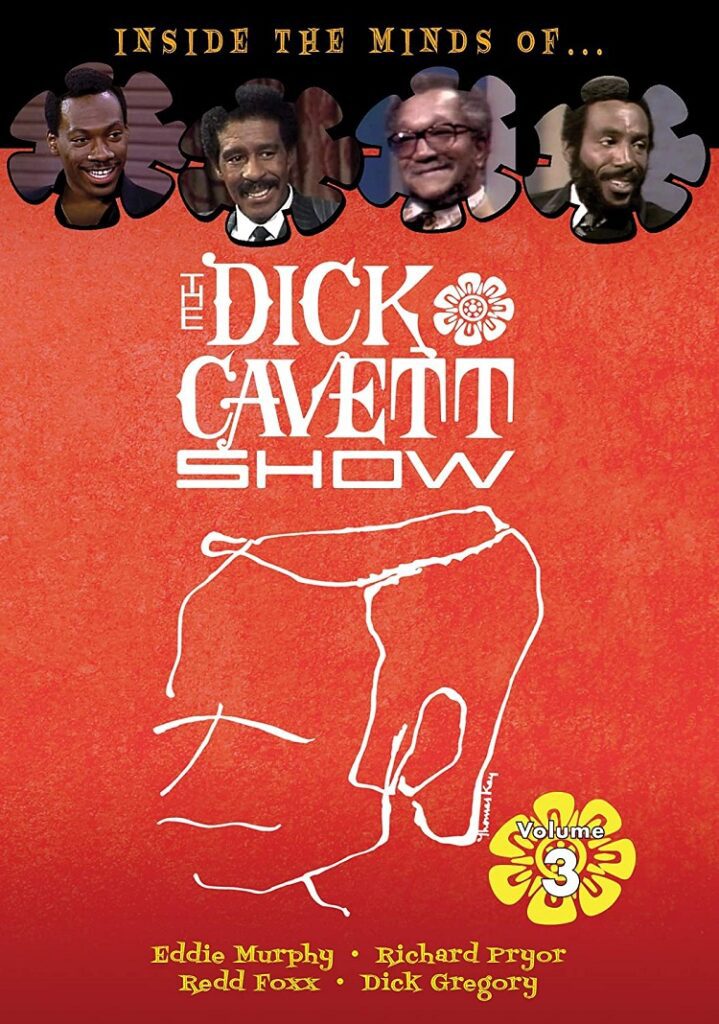 The Dick Cavett Show was a talk show that aired on different TV channels, broadcast and cable, from 1968 to 1996. S'More Entertainment is releasing The Dick Cavett Show on DVD, gathering episodes together under themes. Inside the Minds of… showcases comedians.
Released on April 9, 2019, Volume 3 presents African American comedians on a two-disc set. Although both discs are labeled with all four comics, Disc 1 presents Redd Foxx from July 14, 1969 on ABC; and Dick Gregory from June 17, 1972 on ABC and August 16, 1990 on CNBC. Disc 2 presents Eddie Murphy from November 4, 1985 and Richard Pryor from December 16, 1985, both from USA Network.
After the monologue and a chat with Richard Attenborough, Foxx performs stand-up, sits down with Cavett, and stays through the appearances of actress Patty Duke and conservative columnist James J. Kilpatrick. Foxx's routine is funny, dealing with a variety of subjects. Apparently, he goofs around off camera during Kilpatrick's time and is scolded by Cavett.
After actor Alan Arkin chats with Cavett about his projects, Dick Gregory, who had been on a solid-food hunger strike against the Vietnam War for 14 months at the time of recording, performs stand-up material with a political/racial slant during his '72 appearance. He then joins the panel. The '90 episode features him as the lone guest and is about his life and activism. There's an interesting exchange about Rev. Al Sharpton, who Cavett dismisses as a con man, but Gregory won't have it.
Odd at it seems from the outside, Eddie Murphy is pals with Cavett, and they often mention their spending time together. Running over an hour, it's a wide-ranging conversation that has some awkward moments when Cavett brings up racial topics. Uncle Ray gets some time to shine and is very funny. At Santa Monica's Mayfair Theater in front of a live audience, Richard Pryor goes from silly to serious as he talks about his influences and going into therapy.
The four men demonstrate during their appearances why they were stand-out comedians, but it's the times they aren't performing and just talking to Cavett when the men are at their most compelling. Volume 3 is a welcome addition to the series.
Volume 1 presents Robin Williams, Gilbert Gottfried, Richard Lewis, and Bobcat Goldthwait. Volume 2 presents a previous generation of comedians: George Carlin, Steve Martin, and Martin Mull.