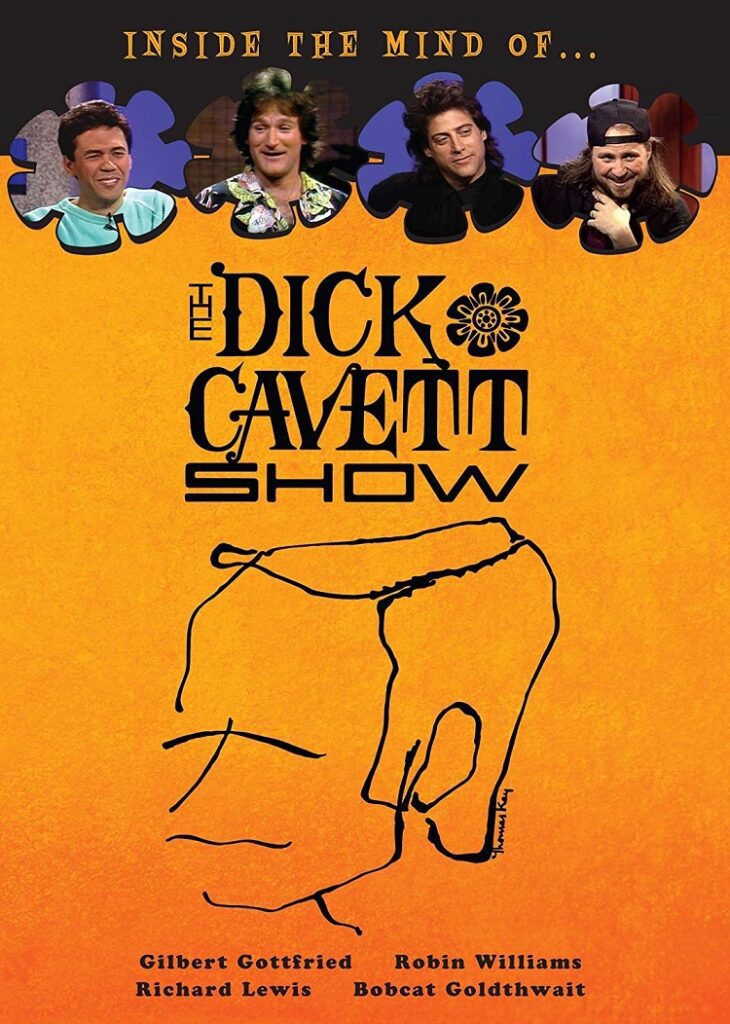 The Dick Cavett Show was a talk show that aired on different TV channels, broadcast and cable, from 1968 to 1996. S'More Entertainment is releasing The Dick Cavett Show on DVD, gathering episodes together under themes. Inside the Minds of… showcases comedians. Released on December 18, 2018, Volume 1 presents Robin Williams from May 16 and 17, 1979 on PBS. The remaining episodes of this volume aired on CNBC: Gilbert Gottfried from August 6, 1990; Richard Lewis from September 13, 1990; and Bobcat Goldthwait from March 13, 1992.
When the Williams episodes first aired on PBS, Mork and Mindy had just finished its first season and was a smash success in the ratings, coming in as the #3 show of the season, and he was just about to star in Robert Altman's Popeye. Williams is at his most interesting when contemplative between his moments of silliness. During the second part of the interview, Cavett tries his hand at improving with Williams.
Gottfried is promoting The Adventures of Ford Fairlaine and Problem Child. He does a number of Dice imitations throughout as the comic was in the news due to folks protesting the movie and Nora Dunn protesting his hosting of Saturday Night Live a few months prior. Also, Roseanne had recently made news with her National Anthem performance.
Richard Lewis had already done two seasons of Anything but Love and is at hysterical, unrelenting best. Cavett gets very few questions in as Lewis takes many amusing tangents in his responses. Bobcat Goldthwait is delightfully combative from the onset while promoting his feature-film directorial debut Shakes the Clown. There are no extras.
Volume 2 presents a previous generation of comedians: George Carlin, Steve Martin, and Martin Mull. Volume 3 presents African American comedians on a two-disc set: Redd Foxx, Dick Gregory, Eddie Murphy, and Richard Pryor.