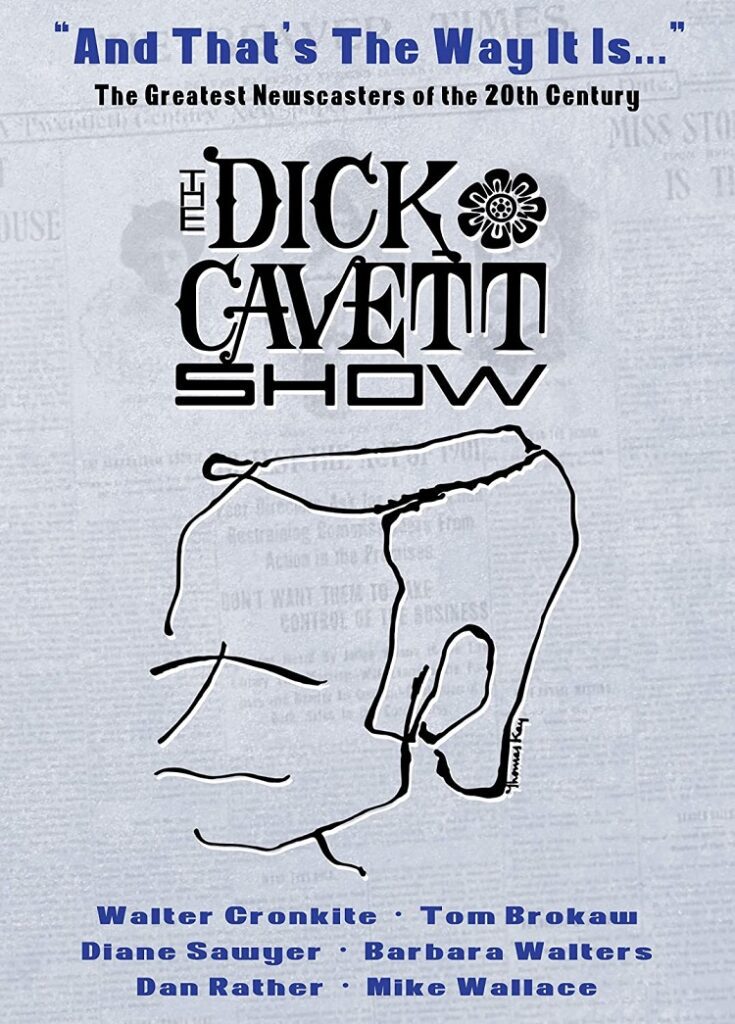 The Dick Cavett Show was a talk show that aired on different TV channels, broadcast and cable, from 1968 to 1996. S'More Entertainment is releasing The Dick Cavett Show on DVD, gathering episodes together under themes. "And That's The Way It Is…" showcases great newscasters of the 20th Century, in case the famous sign-off from Walter Cronkite didn't give it away.
Released on December 18, 2018, "And That's The Way It Is…" Disc 1 presents Walter Cronkite from May 16, 1974 on ABC for a 90-minute wide world special and March 24, 1982 on PBS, and Mike Wallace from June 30, 1970 on ABC and March 18, 1986 on USA Network. Disc 2 presents Barbara Walters from October 15, 1970 on ABC; 60 Minutes executive producer Don Hewitt with contributors Morley Safer and Diane Sawyer from November 18, 1985 on USA Network; and Tom Brokaw from May 29, 1989 and Dan Rather from October 26, 1991 on CNBC.
For the '74 interview, Cronkite is interviewed at his summer home in Cape Cod where Jaws was being filmed nearby. Interesting to hear his thoughts on his love of sailing, marijuana legalization, Watergate, the news media, and what goes into a nightly news broadcast. His wife Betsy joins them for the last two segments of the interview. The mics are huge and worn around their neck. The '82 interview occurs after he had stepped down from the CBS Nightly News and offers his thoughts on the current state and future of the TV-news business. The quality of the video during the introduction is poor but is fine during the interview portion.
60 Minutes reporter Mike Wallace's '70 interview finds him joining comedian Robert Klein and TV producer Joan Ganz Cooney, one of the founders of Sesame Workshop. After 12 minutes, FCC Commissioner Nicholas Johnson is the next guest and talks about the increasing power of television on politics. Wallace and the guests interact more with Johnson than Cavett does. The '86 interview finds Wallace promoting the paperback version of Close Encounters, which dealt with his famous interviews. Running only 18 minutes, it's a much more intimate discussion and he talks about his depression and the death of his son.
Barbara Walters, at that time, worked on The Today Show, and was promoting her book, How to Talk with Practically Anybody about Practically Anything. Actor Gig Young was already on the set. After 17 minutes, actor Melvyn Douglas joined them promoting I Never Sang for My Father, and then six minutes later, ABC news anchorman Frank Reynolds, who doesn't care for dirty political campaigning, especially on television. A couple of vintage PSAs have been left in the show.
The episode with 60 Minutes executive producer Don Hewitt and correspondents Morley Safer and Diane Sawyer starts with Teddy Ruxpin and its manufacturer Don Kingsboro for about eight minutes. The technology is fascinating, but Cavett is so ill-informed his questions are silly. Hewitt appears by himself until the last 12 minutes when he is surprised by Safer and Sawyer.
Tom Brokaw was anchorman of the NBC Nightly News and talked about the state of the news business. Dan Rather was anchorman of the CBS Nightly News and had recently written his memoir, I Remember so it's a more personal discussion. Interesting in our current climate to hear them talk about whether a reporter will ever say to a President that he lied. Rather says it won't happen in his lifetime. Would like to check in with the men now.
And that's the way "And That's The Way It Is…" is. These interviews are more engaging conversations than entertaining spectacles but they are certain to please news junkies and history aficionados. It's especially interesting to hear concerns some guests had about the news business and the power of television and how accurate they proved to be.